Dick Walters
Howard Phillip
John ' Killer' Mears
Preston Foster
Joe Berg
George E. Stone
Released by Astor Pictures | Directed by Sam Bischoff
Run time: 69 minutes

Proof That It's a Pre-Code Film
Several people are killed in cold blood.
The hero's final action could be interpreted as immoral, even though it leads to redemption.
The Last Mile: The Schmuck-shank Redemption
"Nice looking door, eh? Well, take a good look at it. You go through on the 13th."
Gas station owner Dick Walters is innocent; he and his partner had quarreled and then been held up, and a mistaken attempt to fight back left the partner dead and the police with a nice tidy sum of circumstantial evidence to pin on him. He's been put on death row with the hardened criminals, including 'Killer' Mears, who grasps onto the bars every night as if trying to pull himself through. His first night in, Dick gets to watch Joe Berg, or Cell #1 as he's commonly called, give his final goodbyes and go through the door at the end of the cell block. The lights dim, and, you know.
The Last Mile is the kind of movie you can either call stagey or stark. Produced by a poverty row studio with most of the action happening in terse arguments between disjointed spectators who can't see each other and can only scream at the void, it relies heavily on dialogue and dread. Each of the men in the movie know that their time is dwindling, made no easier by the sadistic jail guard who watches over them– he likes to taunt.
Because it leaves some time for dialogue and disposes of the all-too-frequent romantic plots you somehow get even in prison pictures, The Last Mile seems a lot more human than other similar stories. One notable character, Jackson (Daniel L. Haynes), the only black member of death row, even gets to philosophize on how 'separate but equal' will probably end up applying to the afterlife as well. "Get over to your black heaven," he imagines being told. "Over there by that garbage can."
Moments like that are heartbreaking, and honestly the completely sympathetic portraits of all of the men on death row is almost staggering. They're definitely not innocent, but they all feel unjustly pushed into a corner. That makes the jailbreak that composes the last 20 minutes a lot more interesting. The film is also willing to push the boundary a bit by making Killer Mears cruel but wholly practical, shooting those begging him for their lives with ease all while keeping the inmates in line with cunning and determination.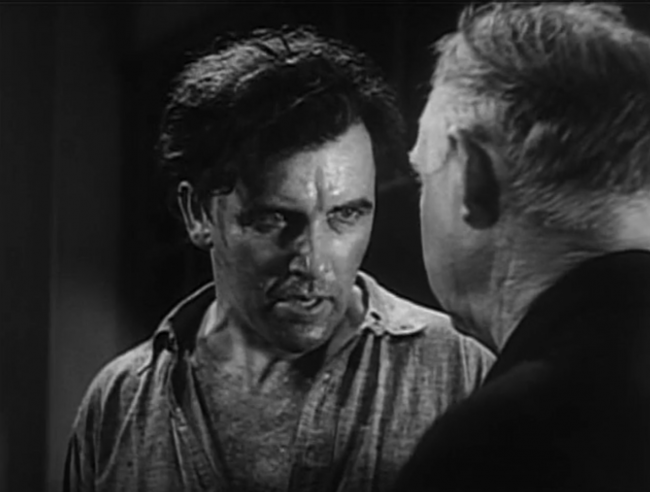 Spoilers.
The weird part of this situation is that Dick, the main character, fades readily into the background as the film goes on. Might the innocent man not take a moment or two to think about joining in on the prison break with his murderous compatriots? The riot happens exactly when it's his turn for the electric chair– does he see it as fate or merely a new life he's been granted? Dick has no such reflection; he's a criminal now, just one of this group of death row inmates.
This is confirmed as the riot wraps up. Killer has realized his only option to stay true to his threats is to kill a kindly priest, and one of the other inmates rushes in to save the guy. Mears gets pushed in front of a window, and Dick saves him by taking a gut full of bullets. On one hand, Killer had stood steadfastly by Dick, and you could also argue that Dick was behaving by instinct to save a life rather than take it. But, then again, he's also basically condoning priest murder, a priest who has been pretty kind to Dick and the rest of the rioters.
It's an interesting moment, one which a movie that's become too preoccupied with gunshots just kind of rolls over. Too bad.
End spoilers.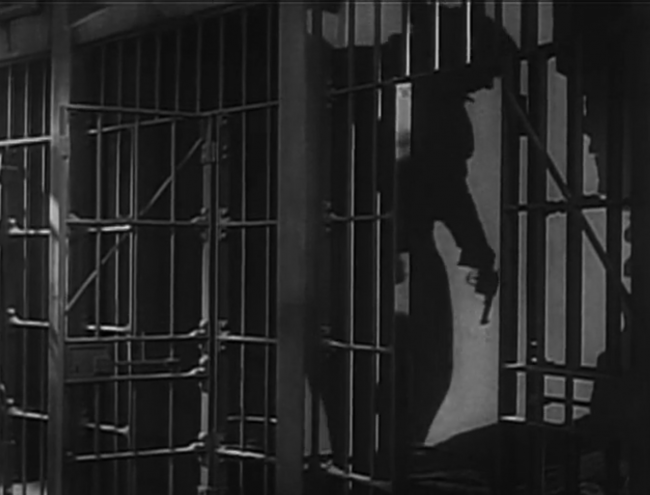 Preston Foster is the real attraction, sneering at a guard begging for his life, "I hope I miss you the first time so I can give it to ya twice!" Even though he's obviously a mad killer archetype, it's a nice level of volatile  anger rather than stark raving insanity. Which, naturally, makes it more real, and more scary. George E. Stone also gets to give a bravura performance at the start of the film as the man being led to the chair, the camera focusing on every aching moment. Howard Phillip is pretty much nowhere as the lead, but the rest do good work.
The Last Mile is very much about the coldness of state-sanctioned murder and what that situation does to people– slowly driving in the screws and making bad situations worse. The movie staunchly wears its politics on its sleeve, which can make things a little too easy, but it's still a strong, interesting drama.
Gallery
Click to enlarge. All of my images are taken by me– please feel free to reuse with credit!
Trivia & Links
Based on a popular stage play that was apparently much more brutal and focused much more on Killer Mears than on Dick. This was also remade in 1959 with Mickey Rooney in the lead role.
The film gets an opening scrawl from Sing Sing prison warden Lewis E. Lawes. He wrote the book that 20,000 Years in Sing Sing was based off of.
A news item in Film Daily noted that a August 26, 1932 preview of the film was scheduled for the inmates of Los Angeles County Jail. The 1930 production of the play featured Spencer Tracy in the East coast production, and Clark Gable in the West coast production.
In spite of the ghastly background of this film and the further killings by the felons, the various sequences are set forth in a forceful and dramatic fashion.
Awards, Accolades & Availability
More Pre-Code to Explore