Released by Hal Roach Studios | Directed by Gus Meins

Maid in Hollywood: A Sneezy, Breezy Time
"Hollywood, the land of promises. That's all you get. Promises. Did you ever try to eat a promise? Well, I did."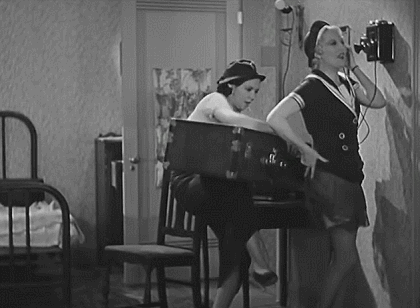 This time out for Kelly and Todd are a pair of unsuccessful actresses– hard as that is to believe. They're preparing to head back home as failures when opportunity knocks– a pretty neighbor has a screen test for a big movie across town. Patsy helpfully locks her in the closet and the two end up at the studio, wreaking no manner of havoc on the unsuspecting film crew as they desperately try and get Thelma to sneeze and win the part.
Kelly gets most of the comedic work here as she blusters through the movie studio. She gives as good as she gets from the sexist assistant director, and manages to help Thelma win the role despite the fact that she often ends up in the frame in the wrong period of dress.
It's a cute short, and a little more consistent than a lot of the Pitts and Todd entries.
Gallery
This slideshow requires JavaScript.
Awards, Accolades & Availability
This film is available on YouTube. Enjoy!
Comment below or join our email subscription list on the sidebar!