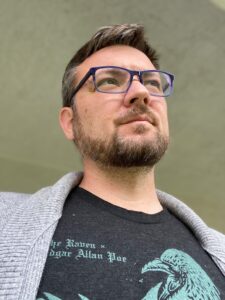 Danny is a librarian dude who lives in Western Germany with his yappy dog, adorable children, and perfectly splendid wife. He spent most of his adult life working in videostores and movie theaters, watching any movie he could get his hands on.
He spends most days looking up at the clouds. Wondering.
Danny became interested in pre-Code Hollywood in 2010 after checking out the first Forbidden Hollywood collection from the library in Cordelia, California, and watching The Divorcee; yes, this site's origin really is that lame. He began writing about the films in 2011 at his old site, "Can't Stop the Movies", before spinning it off into its own blog with fancy content and images and everything.
Since then, Danny has reviewed nearly 800 pre-Code films, was invited to speak in Toronto, talked about Night Nurse to a group of film enthusiasts in Tokyo, and has had this site called "invaluable" by Sight and Sound magazine. Plus other people have said nice things, I promise you.
You can contact him on Twitter by way of @PreCodeDotCom or at the site's email address. You can also follow him on Letterboxd, though that isn't strictly advised. Danny is also getting sick of writing in the third person, so he will stop now.
Books
Books I have written, edited, or contributed to. Click the cover to view on Amazon.
Other Writing
Podcast Appearances
Dead Tree Contributions
Profile for Helen Walker for The Dark Pages, 2012
Book reviews for "TC Magazine" (defunct), 2007
Other Stuff