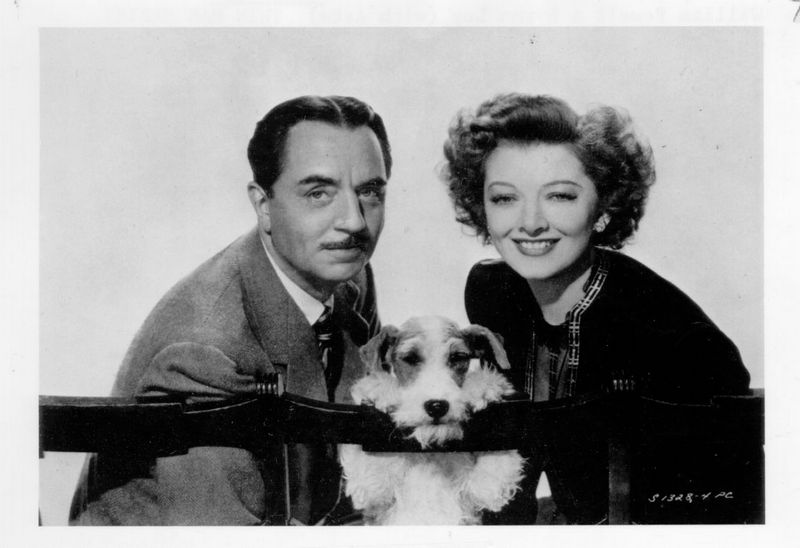 Hey. I'm putting together a book about The Thin Man series of movies. I know there are some excellent writers out there, and I need contributors!
I got the idea from the Columbo fan book project I helped with. It got me to thinking: wouldn't it be great to get some good writers writing on one of the seminal series of Golden Age Hollywood? A fan book filled with great essays and writings– and what film series deserves it better?
Right now, the tentative title for the book is Thoughts on The Thin Man: Essays on the Delightful Detective Work of Nick and Nora Charles. 
How to Contribute
So I ask you, bloggers, readers, and friends, if you would like to contribute. What I'm looking for is any essay, reflection, or piece of writing you can think up on any aspect of The Thin Man series. Some suggested essay ideas:
A history of the series, its origins and evolution.
Individual biographies on Woody Van Dyke, William Powell, Myrna Loy, Asta, and any other performer for whom the series is an interesting turning point.
Fashions and styles of the movies as they evolved through the series.
The Thin Man's place in movie history.
Essays on each movie, their highlights and low-lights.
Other Thin Man media: takes on the original novel, the radio show, the television show, etc.
A deconstruction of a scene that stands out for you.
What you like about the movies.
What you don't like about the movies.
And anything else, really. Want to pretend you're Zizek and take a shot at interpreting the films his way? Sure. Run the series through the Bechdel test and talk about how feminist it is (or isn't)? Go for it. Want to send me crudely drawn pictures of Asta dressed up as a baby attached to an ominous email that just says, "you're next"? Eh, I'll allow it, though I can't guarantee they'll make it in the book.
The pieces can be as long or as short as you want, but I want good writing.
The main point is to get a book together that's fun to read and in-depth, a fitting tribute to one of the more beloved movie series out there.
As a refresher, here are a listing of the movies (links go to Wikipedia):
And, again, you can buy them all from Amazon in one nice tidy box set.
Rules for Submissions
– Please email me your idea for an essay to precodedotcom@gmail.com or comment below. I'll list the ideas I get in this post so that people can see what's already been called and pick appropriately. Since this is a book, the less duplication the better.
– Essays must be over 500 words and less than 3,000 words, though there can be exceptions.
– Please limit the gratuitous language if at all possible (which I should hope it should be).
– Please don't plagiarize. If you use a lot of references, please either mention them in your writing (i.e. Cliff Aliperti of Immortal Ephemera noted that he thought he could beat William Powell in a wresting match but I disagree) or include some references which can be put at the end of the book. Essays should be your own original writing.
Deadline for Submissions
Posting this the first weekend of July, I want to give everyone a reasonable amount of time to complete their writing. If you want to participate, please comment or email me by July 13th. As for essays, I'm going to put the first deadline at September 4th (two months from today). Obviously there will be a bit of wiggle room, but I would really like to get this put out and together before Christmas time.
Questions and Answers
Q. Why a book and not a blogathon?
A. I love blogathons as much as the next guy or gal, and while they're great at giving you a boost in traffic, I never really get that same feeling of accomplishment that I do from creating something that physically exists. Also by forming the results into a book, the result can be more easily shared, in one, definitive place. And, hey, isn't it nice to put something on the coffee table that you had a hand in? Or, if it turns out alright, something you can share with friends?
Q. What happens if you receive too many entries?
A. Honestly, I'll believe it when I see it. There will always be a level of hemorrhaging between signups and the due date– some people just don't have the time or find themselves having too many commitments to participate. If, miraculously, it does occur and the book appears like it will be unwieldy, I will work with participants to split the entries into separate books, with one being released shortly after the other.
Q. Can I submit something I've already written? Or can I write something, post it to my blog, and then send it in?
A. I'll allow previous writing, though it will still be edited or I may make suggestions about (possibly) improving it. No matter what, you retain the rights to your work. The only thing I do ask is that if you write your essay specifically for the book, if you would please refrain from posting it on your own blog until the book is published and you can use the occasion to link to the finished product. Or, if you want to keep your writing exclusive to the book, that'd be great too!
Q. Can I submit more than one piece of writing?
Oh, totally.
Q. How will the book be published?
I'm going to plan on using Lulu right now, but we'll see what happens. There will be a physical copy and a digital copy of the finished work, and they should be available in most online bookstores.
Q. What will the cover be?
In the next couple of months I will commission a cover from an artist and, when completed, I will share it here. 🙂
Q. How will the book be organized?
Please see below.
Q. What will the cost be?
Without knowing the length of the book, it's pretty much impossible to tell at this point for the physical copy. I will sell it as close to cost as possible. For the digital version, it will probably be a low price– say $4.99– with any eventual profit being donated to charity, most likely the ASPCA. (I checked, and Alcoholics Anonymous doesn't take outside donations.)
Q. Can I submit my Twilight fanfiction for this only replacing Bella and Edward for Nick and Nora and making Jasper Asta?
A. I'm sorry, you and your cash cow should probably talk to a real publisher.