As I've been reading more biographies as I've gotten older, I've come to appreciate how not just the way that the writing style affects the portrayal of the subjects, but how the attitude that the author brings to the proceedings is paramount as well. For example, Christina Rice's unbridled enthusiasm for Ann Dvorak made her bio a breeze to read, while the duo behind Kay Francis' journey could barely hold back their horror as Francis' life spun out of control.
Featured Player has one of the more unique perspectives because it has two fairly rare traits: 1) it's collected interview transcripts with Mae Clarke from the year before her death with little editing applied and 2) the author made the book because he was Clarke's friend, not because he was driven to tell her story.
That second point reverberates throughout the book, giving it a much more casual air than one will find in many autobiographies or biographies. While Curtis has obviously studied up on Clarke, he's less interested in poking her with questions about specific stars or filmmakers and instead lets the conversation flow from her naturally. There's no heavy research, and precise dates are often left to the footnotes.
Like in a lot of late-life autobiographies, you do have to take what Clarke says with a grain of salt, but I also wouldn't say that Featured Player is entirely self-serving. It reads like someone took your 'colorful' grandma and just let her go loose, though it's doubtful that your colorful grandma would use the word "whores" quite so often or freely. (Though that depends on the grandma, naturally…) Clarke can often be evasive, leaving the details of the deterioration of her former marriages left unsaid, and several passages can be annoyingly vague while others, like her conversion to Catholicism, can be thorough and revelatory as to where her real interests laid.
Clarke's stories range from hilarious to absolutely horrifying. For example, as Clarke tells the story of her first 'nervous breakdown' in the early 30s, it's hard not to deeply empathize, even if you're not convinced you're getting the whole story. Clarke, suffering a minor physical ailment, is mistakenly mistreated by the hospital which sends her into a rage. The hospital then shuttles her to a mental clinic where her infection is left unchecked as she's subjected to druggings and shock treatments. It's horrific to read about, with Clarke remembering how close she was to death during this whole mess, and one of the emotional lynchpins of the book.
Much of the narrative focuses on her early 30s work, and it's obvious that she treasures her major starring role in Waterloo Bridge (1931), often referring back to it. The book also details her work in The Front Page (1930) and Three Wise Girls (1931), but there's still a significant amount devoted to her part in The Public Enemy (1931).
Clarke also discusses the inspiration and shooting of the famous 'grapefruit' scene that defined so much of her career. Accounts of this have always varied, and Clarke, who doesn't have many kind things to say about William Wellman, outlines how the scene played out and the emotional aftermath:
I didn't want to do that, but all I had done to meet the new man and be at the new studio and work with Wellman was all out the window if I said no. I'd be a lemon. So I knew I had to do it. The only thing I could have done is get my agent on the phone and let him be the one to say no. But I couldn't get to a phone. Jimmy [Cagney] was sitting right there and being very persuasive.

You were backed into it, so to speak?

I said, "Well, I'll tell you what. I'll do it– once. I'll trust you not to hurt me, and that's all. Just for the guys. Okay." So that's what we did, and we did it just once. Didn't hurt me. […]

You posed for the still afterwards, so obviously you weren't hurt.

Certainly. And here's the cute thing. they said ti was just for the men, and they just died. They screamed, "What have you done?" They thought he had lost his mind. I was a good sport, and it was supposed to be the end of it. They had no right to put that in the picture without my permission. I gave no permission, I signed no release. I could have sued and won. That's why they think it was in the script and I agreed to it. But I didn't. Those who believe me wonder, Why didn't she sue?

What happened after you left the studio?

I drove myself alone and held myself in. I got tomy house and then I was no longer Mae the actress. Home meant Mother and Dad and my brother and sister. So home was very protective to me, and they all liked me a lot. mother opened the door and said, "Oh, good, I've got so-and-so for dinner." And I said, "Mother," and put my head on her shoulder and broke down crying. She said, "Why, darling, what's the matter?" She patted me and said, "Oh, now, it can't be that bad." She was a great soother, which helped me to cry more.

I said, "Mother, something happened today that I will never, ever, get over. It will be part of my life from now on. It's going to hurt all the time, and I couldn't get out of it. I didn't know what to do. I wanted everybody to like me and I wanted to be a good sport and I wanted to work with Mr. Cagney again because awfully good. He's going to be a great star; they all say so."

I told her. And she, of course, knew exactly what to do. She told me: "That's not the end of the world. You've had worse than that." Without putting me down about it, she put it just in the right tempo to get me to stop crying and come on in and sit down and have a good meal and give me diversion.

Now my father was always in on things without my telling him. He was busy doing something, but he was listening. He just went quietly to the piano and played things like "A Pretty Girl Is Like A Melody." He consoled me through the piano, and I knew it. That was the way he talked to me. And I loved it. The things that always got me well were Daddy's music and Mother's soup. Those were surefire. People still ask me, "Do you think that scene, with all the longevity it's had, has helped you or hurt you?" I think I'll leave it to you and the readers of this book. Did it help me or did it hurt me?
Clarke finished up her career with bit parts in movies like Singin in the Rain (1954) all the way through to Watermelon Man (1970), often earning them from friendship with studio heads like Herbert Yates at Republic. She glosses over a lot of this, besides giving her thanks to those that helped her, though she does take some time to mention some of the more embarrassing moments, as when she asked Henry Fonda help looking for work and he just walked away from her.
There's a definite air of tragedy and sadness that reverberate throughout Featured Player, but Clarke never loses a sense of satisfaction about her travails. The tone of the book is light and airy and fun to read despite the many hardships Clarke endures, highlighting the turbulent life of an actress whose career peaked far too soon.
Notes
Length: 260 pages, 294 with filmography and index.
---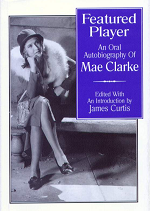 This book is available from Amazon.
---