"Like maybe they had a blind date and they both showed up wearing official Space Jam jackets and they've been together ever since." – Marya
I had that moment. That first moment of realizing I was in Hollywood, where the normal and everyday to the natives was still something amazing to a rube like me.
Running a bit behind to the day's opener for me, the Dawn of Technicolor presentation, I entered the courtyard in front of the Egyptian Theater. And there, just as casually as I'm sitting on this couch typing, was director Allan Arkush reading a newspaper.
My heart skipped a couple of beats, and I took note of the fact that none of the other guest jostling for position outside the theater were approaching him. But every impulse in my body was screaming, "DON'T YOU GUYS SEE HIM?! THIS IS ALLAN ARKUSH, THE MAN WHO DIRECTED ROCK 'N' ROLL HIGH SCHOOL, ONE OF THE GREATEST FILMS OF ALL TIME! HOW IS HE NOT BEING MOBBED?!?"
And I very quickly came to terms with the fact that I was probably not around a great number of Ramones fans nor would me running and screaming at him be well received. But, dear god, I was less than twelve feet away from him.
9:00 AM – The Dawn of Technicolor
So, as rabid readers of this site may know, I read and reviewed The Dawn of Technicolor last week and was apparently the only one that I found at the screening who had read the book. That's okay, though– the presentation itself, which narrowed the focus from the book to early-30s musicals, was fantastic, a great encapsulation of one of the book's more fascinating passages.
Clips included one from the incomplete Gold Diggers of 1929, meaning I'd fulfilled an unplanned but welcome desire to see Winnie Lightner let loose on the big screen. There were many clips, with notable ones including a truly refreshing dance sequence from Sally, the surreal short film "The Sultan's Jester" whose acrobatics left Carly gasping, and, finally, a sequence of Follow Thru.
The presenters (the authors of the book) did an excellent job not just telling about the difficulties Technicolor experienced in managing the balance between quantity and quality, showing sequences that both looked pristine and others, like rejected sequences from the never-finished The March of Time that showcased the problems with graininess and fringing that signaled the death-knell of Technicolor's first boom.
It was a blast, and I wish it could have been longer. Like, days long. Alas, it was not to be.
I met up with Miguel and Beth afterward and finally got a chance to talk about both the book and, what I really wanted to know about, Beth's participation in the Killer Tomatoes movies. (So far this blog post is about my love for Rock 'n' Roll High School and Return of the Killer Tomatoes, so you may not be in the right place. Just so you know.)
I also stopped to watch Christopher Plummer's handprint ceremony briefly from across the street, and snagged these:
I also met up with Christina and her friend Darin, both avid collectors, who persuaded me to skip a screening I was unenthusiastic about to head over to Larry Edmund's. The collectible shop is a sight to behold, and one of the better rationales for not having brought a bigger suitcase. The staff was amazingly knowledgeable; I asked for a still photo of Genevieve Tobin and they had one. And it is gorgeous.
Christina and Darin are awesome and a lot of fun, and I got to hear many stories from the horrifying incidents involving food poisoning and screaming in a TGIF at Comic-Con to the many trouble that comes in obsessive collecting. Darin collects Norma Shearer stills and has promised to share a few rarities with me, which I will certainly share here if given the okay.
We headed back to the festival and ended up in Club TCM in time for the second half of…
12:30 PM – Film & Facts: Whose Responsibility?
Though the discussion was almost over, it was still interesting to listen to film historian/rock star Jeanine Basinger discuss the need for audiences to understand both historical context and the real stories, as well as the needs for filmmakers to find a good balance between reality and narrative simplicity. The film she noted that is the most infamous that she's called to comment on in terms of historical accuracy is JFK, which I don't think would surprise anyone. It was fun to catch, and fit extremely well in the theme of this year's festival.
1:15 PM – Live From the Festival: Shirley MacLaine
We waited in Club TCM (you can see pictures of the lounge in yesterday's coverage) until Shirley Maclaine arrived to be interviewed in the lobby of the Roosevelt Hotel. The lobby was a less than ideal place, with constant foot traffic, loud conversations, and a rather unfortunate sound system. I stuck out the interview a bit longer than my compatriots, listening to MacLaine embarrass Ben Mankiewicz a bit by explaining her method of researching for her role of Irma La Douce (and you can guess precisely how she did that). She also noted that she'd had a small crush on Dean, though "I was too skinny for his type."
2:30 PM – A Daughter Remembers Errol Flynn
Christina and Darin were more interested in the more personal events, and so we ended up in Club TCM watching Rory Flynn's presentation about her father, Errol. The presentation covered his life from his beginnings in Tazmania to his death. I hadn't been really interested in it, but I'm so, so glad they dragged me to it. There is nothing about any of his movies in it, but just the narrative of her father's adventurous origins to her home life growing up. (One particularly funny story involved her maternal grandmother spending a good chunk of time chasing around the naughty monkey that Errol had brought home from a movie shoot with a broom.)
It was extraordinarily intimate, and you could see the joy Rory felt in sharing the stories as well as the sadness that she ached with as she watched clips of her father's most famous roles flash up on screen. After it, I resolved to rework my schedule for the next day to ensure that I got to get a copy of her book.
5:30 PM – Don't Bet on Women (1931)
"All women kiss. Some for love, some for money, and some because they think it's funny."
The large gap in time was because Don't Bet on Women, an obscure Fox pre-Code starring Jeanette MacDonald,  Edmund Lowe, and Una Merkel, was going to be a sellout and we needed extra time to wait to get in. How obscure is it? Still, a day after the restoration's screening, it has less than five votes on IMDB.
I'm guessing this is probably the movie that those of you who regularly read the site are most interested in knowing more about, so here's the plot: Edmund Lowe is a wealthy bachelor with a charmingly seductive ex-wife who has decided to swear off women with his fussy friend J.M. Kerrigan. They decides to go out to sea and travel the world together, but not before Lowe deposits a sum in his ex-wife's accounts. This introduces him to the uppercrust Roland Young, a married man who is disgusted by the way Lowe lets women manhandle him. "All women can be controlled," he insists, and demonstrates it by calling his wife and gently 'suggesting' to her what she should do in a pat, condescending manner.
Lowe disagrees, but is rebuffed. As Lowe and Kerrigan are reading to leave on their yacht tour, they rescue Una Merkel from the sea (but only after Lowe stops Kerrigan from trying to start the yacht to get away). Merkel is followed in a rowboat by her second cousin, MacDonald, and the heat is suddenly on. Lowe is smitten, but cautious, and MacDonald is flirty but pensive. She invites the two men back to her mansion for a party, where it's revealed that Young is her husband.
Young is incensed, especially after he sees the two flirting, and makes a $10,000 wager– Lowe must kiss the next woman who walks into the room within 48 hours to win. After a couple of close misses (and a wonderful moment of casual 1930s racism when the two both look uncomfortably at each other when a black maid wanders in), it turns out to be– gasp– MacDonald whom Lowe must kiss. Young can't renege on his bet and forefeit his principles and certainly doesn't want to not trust the wife he sees as an obedient child, but he's also not entirely sure he's entirely sure of any of that.
Where this proto She's All That scenario becomes interesting is that MacDonald very quickly learns about the bet and insists that it continue, determined to find out if she's really a 'good girl' after all. Which, being a pre-Code, doesn't mean just not talking to strangers.
It's very funny, and remarkably sexy in several scenes. I loved watching MacDonald's face throughout, and watching how she used her lips and eyes to steal scenes even during reaction shots. Merkel gets a real howler of a character, the ditzy Southern Belle who sets her sights on a man and pushes him over with ease. Her best line might have been a wistful sigh followed by her observation that, "Scenery adds so much to a view."
The ending is an interesting one, a definite attempt to please everyone the audience, but it's a nice, sudden, funny moment, and I wish the movie had continued on in this weird love triangle.
You could also tell what kind of audience the screening had when Roland Young and Una Merkel both rated not just polite but enthusiastic applause. (The audience being informed pre-screening that Jeanette MacDonald didn't sing in the film received the same kind of reception.) I saw a ton of bloggers there– at least half those in there had media credentials– and professional film critics like Leonard Maltin and Lou Lumenick.
Here's hoping the movie gets a DVD release (which, it's Fox, so let's not hold our breath here), but if you're at TCMFF right now, it's replaying Sunday morning and well worth a viewing.
I spent the in-between time talking to Kim who'd written her undergrad thesis on Baby Face's censorship issues and was now revising it for possible publication. Unsurprisingly, I told her I'd totally be down for that.
7:30 PM – The Invisible Man (1933)
A beautiful 35MM print of The Invisible Man was next after being reasonably sure (and later proven correct in assuming) that Steamboat Bill Jr would be sold out before I could make it there. The biggest incentive for seeing it was joining in Christina for the first time she'd ever seen it as well as people like Will and Marya who hadn't seen it in a half decade or more.
I had seen it recently. In fact, I watched it last week for a review coming up in April, so I was kind of sick of it– at least all of the parts that don't involve Claude Rains losing it. The screening probably wasn't the best choice, though I did get to regale everyone with trivia after the film's conclusion, including my idea for a digital film project that inserts a CGI Claude Rains in each scene which would be called The Visible Man. The reaction to my idea was… well, you can imagine.
Everyone at The Invisible Man was doing The Bank Dick next, and I felt defeated at the prospect.
Then I remembered, since I had some free time, I still hadn't been to a poolside screening, and though I was a little late, I still may be able to sneak into…
8:00 PM – The Party (1968)
I came in late to The Party and left early. I don't think anyone really noticed or cared.
I'd heard a few complaints about poolside screenings for rather obvious reasons– there's a bar there, and if you're on the right side of the pool, people stand behind you and talk. If you're near the entrance, people talk. Basically, where you are around or behind the pool makes a big difference as to whether you'll have a good time or not.
Oh, and the movie makes a difference, too. While I'd seen pictures of the packed screening for Grease the night before, The Party's attendance was rather sparse, with seats still left around the pool and many of the setup chairs in the back were empty.
I never really cared for the film, and departed rather quickly to work on getting yesterday's and chunks of today's post assembled before heading back to the multiplex for the midnight showing of…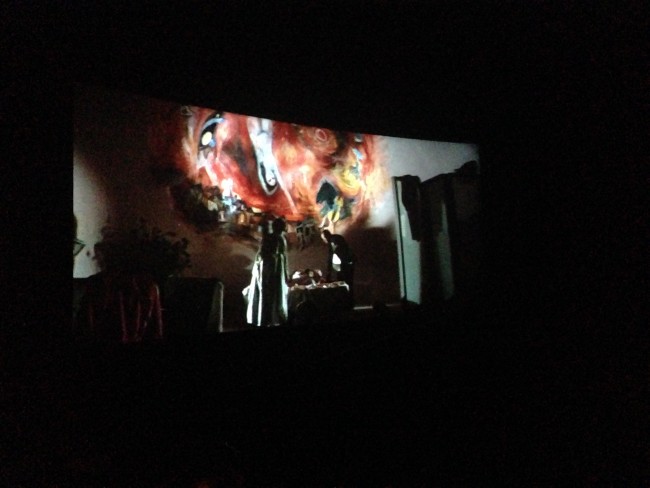 12:00 – Boom! (1968)
Boom itself is an endurance challenge. Like other films in the 60s and 70s that saw foreign films from Fellini and Bergman and attempted to copy them wholesale (such as The Magus and Petulia), the result is a mishmash of bad symbolism and poor pacing. It feels like the director, Joseph Losey, the stars, Richard Burton, Elizabeth Taylor, and Noel Coward and every last person on the cast up to and including the cinematographer, the sound designers and the rest, all decided to do their own thing and completely ignore every other aspect of the production in the meantime.
There are several flubbed lines, long winding scenes that go nowhere, and, of course, everyone's favorite moments of Elizabeth Taylor's drunken sailor-esque swearing. Burton looks lost, though he definitely got a big laugh when he downed a tumbler of gin in a scene that probably didn't take much rehearsing.
The biggest problem for the movie, besides the 'go nowhere, do nothing' script, is the fact that the sets are so well designed that the overshadow the actors, who resort to hamming it up to try and stand out against them. The dialogue is utterly cyclical, and it was definitely one of those films that past the first act built towards nothing and, when I took a bathroom break during another interminable recounting of an old story that rambled on, I was shocked to find I'd left with less than 10 minutes to go.
The movie is cited as Tennessee William's favorite film adaptations of his own works, and it's no wonder. The play it was based on, "The Milk Train Doesn't Stop Here Any More" (I couldn't tell you if you asked), was a financial and critical flop, but the movie obviously stays true to the extremely layered and circular script, very methodically following the rote symbolism and cryptic conversations with every dollar the movie can throw at it. It's a temple to something dumb.
Brief example dialogue:
"What's human or inhuman is not for human decision."
… ta da. I'm not sure Boom was the best pick for the midnight film since the movie's campiest parts are at the film's beginning, and it soon wears off as each scene seemingly repeats like you're caught in an infinite time loop. Several– hell, most– of the audience got a few good minutes of napping in at some point or another, prolonging the torture even more since you lose that internal timekeeping and don't know if a few minutes or a few hours have passed.
I almost wish TCMFF had put it in a daytime screening and tried to pass it off as an overlooked gem, daring the audience to laugh at Taylor's histrionics, but I think they also knew the only people who would appreciate it were those who would rack it up as their seventh movie of the day– as some had.
I headed back to where I was staying after talking to an extremely gracious Matt Patterson about a book idea I had and then asking Miguel and Beth whether or not they ever made up their own words to the theme song for On Her Majesty's Secret Service— and it seems that I'm the only one who does that.
TOMORROW: I get into Ruby Keeler knife fights, Air Mail for some reason, standing in line for Shirley, being an idiot, sleeping in the dream machine, and chairs get kicked.
(note: I'll add in links for everyone's names later. It's just too much for right now, and odds are good they were mentioned before.)