"It's here, it's here!" proclaimed Raquel when I opened up Twitter Tuesday morning. Within a few minutes, Angela had sent me a half dozen Snapchats, half shaking fists, half drenched in excitement. Yes, Monday afternoon stateside, Turner Classic Movies released the full line up for the 2016 TCM Film Festival, running April 29th to May 1st in Los Angeles. I'll be making my second trip to LA to the event thanks in part to my wife's insistence, my sister's wedding being just a few weeks later, my pal Lesley being happy to share a room with me, and luck.
First, the important thing: check out the full schedule here. Second, here are all the pre-Code films screening at the festival:
Law and Order (mismarked on their site as the 1953 version)
(Bulldog Drummond Strikes Back is also a 1934 release, but it's from August and not technically a pre-Code since enforcement began on July 1st. In case anyone was reading the schedule that closely.)
Shanghai Express and Horse Feathers had been known well before this as both are being shown to promote their planned blu-ray release by Universal later this year. The next two, Double Harness and One Man's Journey, had been released on DVD by TCM a few years back (and have since gone out of print), with One Man's Journey even popping up on TCM the night of the announcements during their Barrymore tribute. The rest are surprises that seem to have gone by without home video releases, with 6 Hours to Live, a science fiction tale involving a back-from-the-dead Warner Baxter solving his own murder, and Pleasure Cruise, the story of a philandering wife versus nebbish husband, being the most obscure.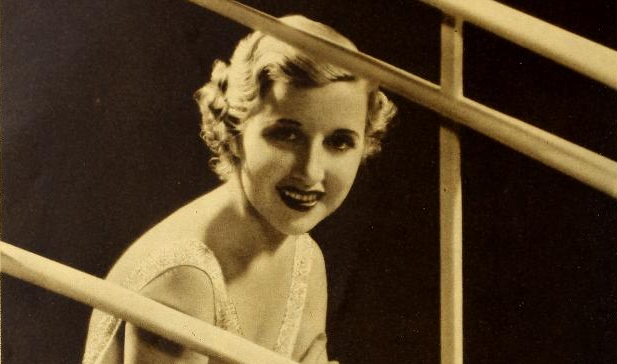 Fans of my blog know how much I love Pleasure Cruise's star, Genevieve Tobin (so much so I have a minor side blog dedicated to her), so my current major goal of the festival will be to be #1 in line for that one. One side note from this discussion is that after my very frenzied four day sojourn in LA last year, I've actually switched it up so I will be in the city for a little over a week, giving myself a few days to visit USC, UCLA and a few other areas of research to work on my "someday" biography of Tobin.
Now, last year, I did an anticipatory post about all the movies I wanted to see. Here is what I learned from doing that: it's fun, but reality often intervenes. Sure, it's great to think you can take the ten minute time difference between a show and just pop into another theater, but the truth is that you have to pick out your must sees and work around it; if you get into a few lukewarms, you're lucky.
As with last year, here's my personal priority for picking events. Obviously, this varies for everyone– some go strictly with favorite movies, other people try to see their favorite stars, still others just want to avoid having to actually walk on Hollywood Boulevard, etc. Here's my ranking, with a new category made nice and special for one announced film:
Anything with Genevieve Tobin in it.
Unique showings or experiences (live talks, presentations, free booze, etc).
The really obscure pre-Codes that I'll probably never have the chance to see on the big screen again.
Favorite films.
Not-so-obscure pre-Codes.
Stuff I've never seen before.
Things a friend is going to and I'm feeling lazy.
Thing I'm really not going to go to but I'm saying I'm going to just to make myself feel better.
With that said, here's my blind optimistic goals for the 2016 Turner Classic Movie Classic Film Festival:
Thursday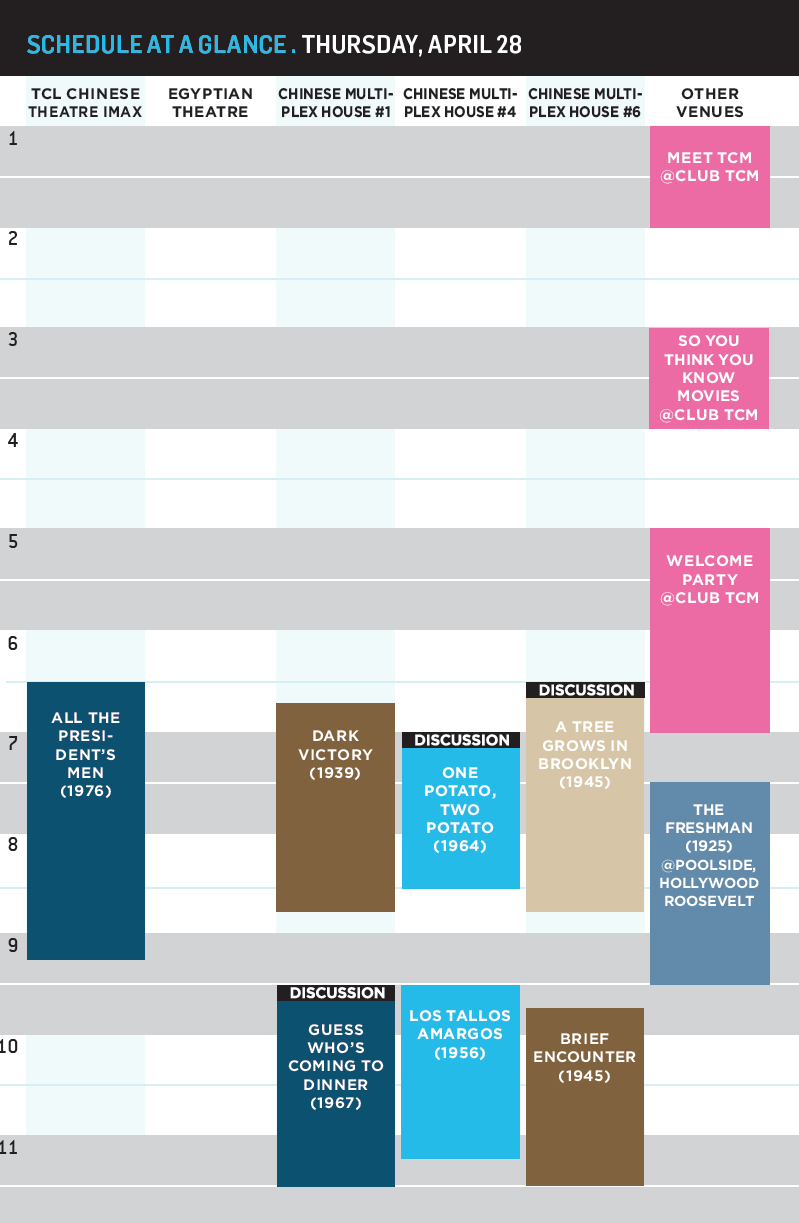 Opening day is usually very relaxing and much more about meeting with people at Club TCM and enjoying a few drinks. Since it's also the night of the big opener (this go-around, All The President's Men), everyone is dressed nicely and the stench of frenzied desperation hasn't set in with anyone. Yet.
6:30 PM – A Tree Grows in Brooklyn. The first block is nicely divided with minor classics and one obscurity (One Potato, Two Potato). While I am a huge Harold Lloyd fan, The Freshman never really did much for me, so I'll take a personal favorite A Tree Grows in Brooklyn with Joan Blondell in a hell of a part.
9:45 PM – Los Tallos Amagros. The 9:30 block of three films is pretty puzzling to me, as I'm not the biggest fan of either of the two I've seen (sacrilege! someone in the distance screams), so I may spend most of opening night in the Chinese Multiplex (sigh) and check out Los Tallos Amagros.
Friday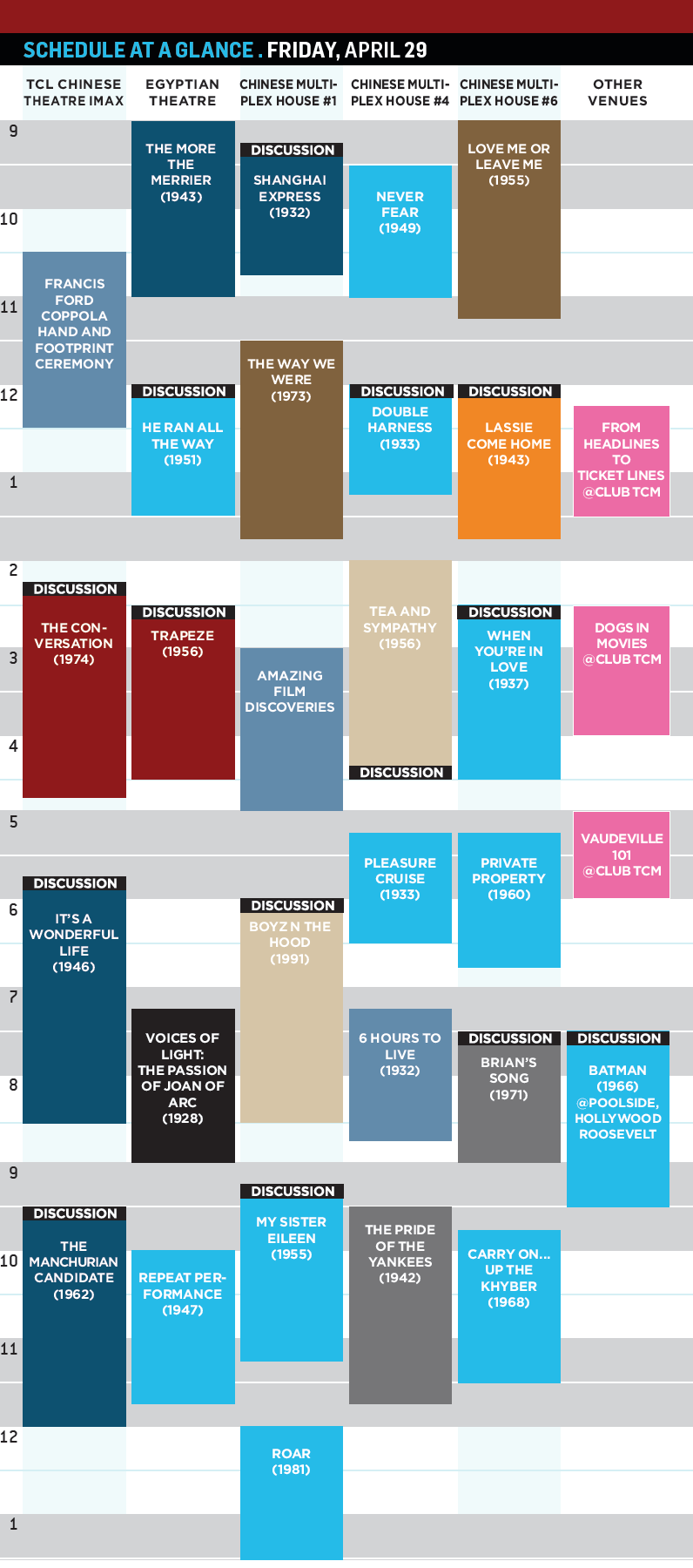 Saturday is still that initial rush of things, when life is gay and wonderful. And then by mid-afternoon you've literally had to wrestle for the same seat in Chinese Multiplex #4 and are subsisting solely on Whoppers and when the grind becomes real. Still, though, you've probably still got some carbs left over from Thursday, so it's still fun.
9:30 AM – Shanghai Express. I'd known, deep in my heart, there was no way Shanghai Express would get a showing at one of the big theaters– either the Chinese or Egyptian– but I'd held out hope. It's especially annoying because The More the Merrier is a blast and playing at the beautiful Egyptian, and I've just watched Shanghai three or so times for a review. However, the bonus of the show (and of the TCMFF in general) is getting to see Josef von Sternberg's son introduce the movie. So, depending on how I'm feeling, I may stick around through the whole show or pull a "duck and roll" and leave after the intro. Duck and rolls are fairly impolite, especially if the show is packed, but I've learned that I'll never be as big of a dick as the guy who puts his coat on a chair during a packed screening and refuses to move it, so relative morality is a go.
12:00 PM – Double Harness. One of my favorite pre-Code discoveries has been actress Ann Harding, who played sophisticated and smart women in a number of sublime dramas. The movie is great, and the fact that it's introduced by the great James Cromwell only makes the showing more enticing.
1:30 PM – Book Signing by Mark A. Viera. Not listed on the schedule above, but author Mark A. Viera– probably no stranger to you, the reader, since he wrote the popular pre-Code coffee table book Sin in Soft Focus– will be signing copies of his latest book about film noir at the Roosevelt. I will be that dork in line with his Sin in Soft Focus, ready to go.
5:30 PM – Pleasure Cruise. "But Danny," you may be saying, "Did you just leave yourself 3 1/2 hours between screenings? Aren't you going to try and see Lassie at the Club TCM event?" First, yes, I always try to see Lassie, especially if she's in a place where free booze is offered. But judging from chatter, Pleasure Cruise may be the pick of a lot of the nerdier film nerds, and that means getting in will be a pain. That, and having seen it before, I really want to see how an audience reacts to that ending.
7:30 PM – 6 Hours to Live. It's pretty nefarious to play two pre-Codes in a row, since that means the people watching the first can't get in line to watch the second very easily. So my plan is to try and make this showing since it's the only pre-Code at the festival I can't find online at all, and I think it'll be a good bit of campy fun. However, and it really truly pains me to say this, I would absolutely be totally thrilled to go see Batman poolside. That movie is so damned fun.
9:30 PM – The Manchurian Candidate. May be another duck and roll just so I can luxuriate in the presence of Jessica Fletcher and then grab a bite, but we'll see– I still don't remember the last time I've seen the movie, so it may be worth revisiting.
Midnight – Roar. This one got a lot of press from a specialty re-release last year, and now it's on blu-ray. But I sure as hell haven't had a chance to see it, and any movie about lions chilling with Melanie Griffith is probably worth seeing at least once.
Saturday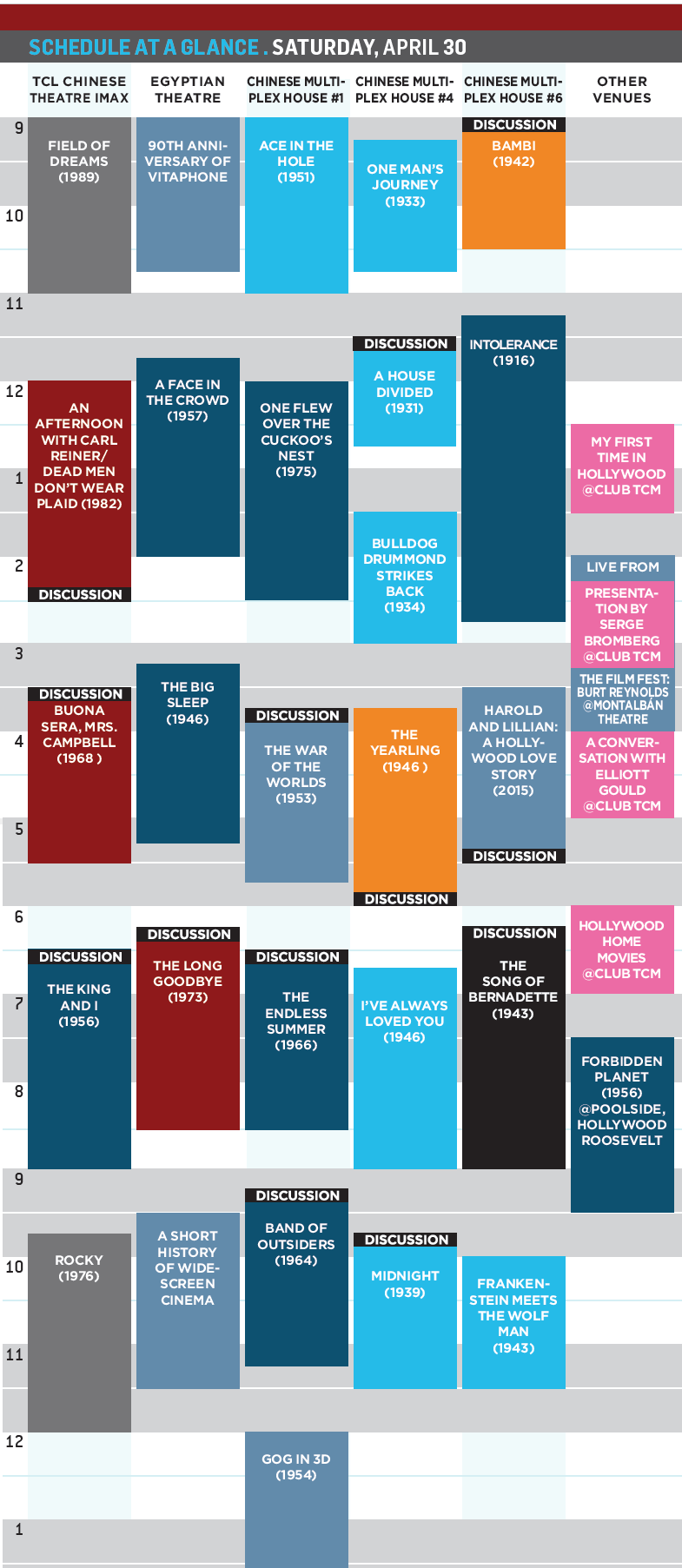 Saturday, luckily, is a little more easygoing (at least for me). Not as many standouts, a couple of cool sounding presentations, and some sweet presentations. From experience, though, it's the toughest day. If you make it to half the movies you planned to see on Friday, you'll be beat and worn. Try and sleep in Saturday is all I'm saying– it'll be the best thing you can do. Saturday is also the day where I'm not really sad if I miss something outside the first and the last things I have picked, which will be relaxing at least.
9:00 AM – The History of Vitaphone. I'm a huge fan of films from the early 1930s (have you noticed?) so I was thrilled to see this pop up. Presented by the founder of The Vitaphone Project, Ron Hutchinson, I get the feeling this will be one that people are gabbing about long after its done. It should have a great mixture of early talkie demonstrations, so I'm all over it.
Noon – Dead Men Don't Wear Plaid. Could be fun. May opt for the pre-Code A House Divided instead depending on my general attitude. (Or if you lovely people in the comments chastise me enough.)
4:00 PM – TCM Wine Club Tasting. This was the easiest choice of the entire festival for me.
7:30 PM – Forbidden Planet. Really hoping Robby the Robot shows up to sign autogrpahs.
9:30 PM – Rocky. It's actually a tough call between this and the presentation on widescreen films. The latter, which features Leonard Maltin and Christopher Reyna showing off a multitude of clips of how widescreen changed and evolved, would really speak to my inner wannabe film professor. But it's been forever since I've seen Rocky, and I adored Creed, so I'm really due for a revisit. Plus, it's not in the Chinese Multiplex!
Midnight – Gog. There are several very specific movie types in this festival: football movies (The Freshman, The Longest Yard, Horse Feathers), media thrillers (Face in the Crowd, All the President's Men, Network), and then here you have robot movies, along with Forbidden Planet. I'm cool having a robot movie day.
Sunday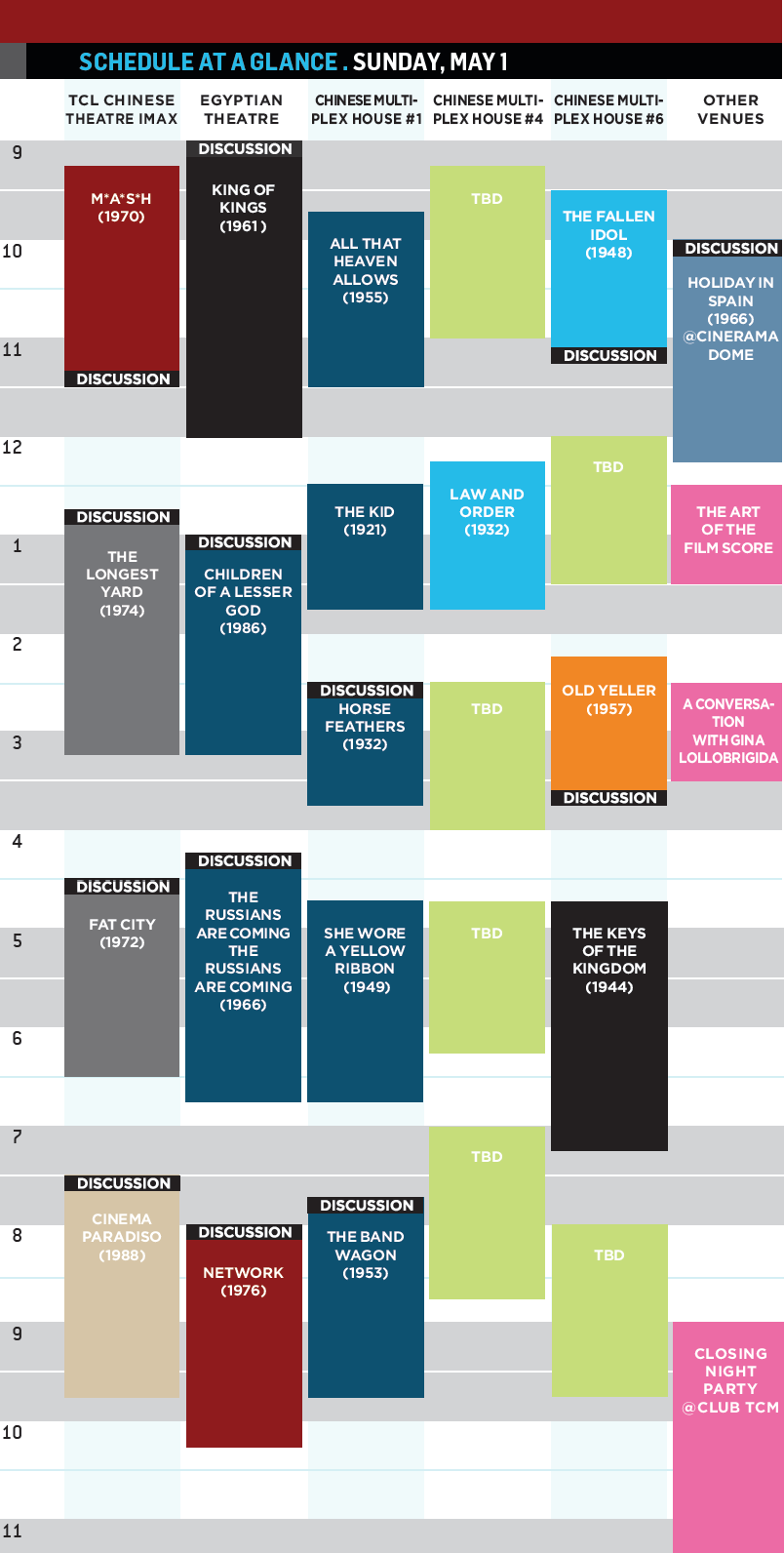 Sunday will probably mostly be about catch-up. There are 6 TBD slots for shows that were sold out over the weekend (last year there were only four), so I'll make a fair bet that Pleasure Cruise may get a reshowing here. So might a couple of movies that intrigued me– like Private Property or When You're in Love— so a lot of this will be by the seat of my pants.
10:00 AM – Holiday in Spain. This is a tough call since it'd be a 30 minute walk to catch it and I'd probably miss Law and Order — but how many times in my life will I get to watch another Scent-o-rama film? Co-starring Peter Lorre? Not that often, I'd bet. Plus the change of venue may be nice.
2:30 PM – Horse Feathers. Probably not much of a surprise.
4:30 PM – The Russians Are Coming, The Russians Are Coming. It's been on my watch list for a long time, and has the best guest of the other possibilities in Eva Marie Saint.
7:30 PM – The Band Wagon. As much as I loathe to wrap up the festival in the Chinese Multiplex, I found Cinema Paradisio dreary the first time I saw it and don't really need to see Network again. That and the park dance in The Band Wagon is a favorite.
9:00 PM – Closing Night Party. Woooooo, party!
So there you go. I will be arriving on Tuesday into LA and stay about a week and a half, as I mentioned before. I'm looking forward to hitting Larry Edmunds again, hopefully seeing another old movie shop, having a couple of beers, and hanging out with a few friends. I'll be posting here directly as the days past as well as hitting Twitter whenever I'm close to wifi.
If you're there, feel free to say hi. If you're not, leave me comments and let me know what you want to know more (or less) about as I'll keep tabs as best I can. Here's a recent picture of me for reference:
Two weeks away! …. Damn, I've got soooo much to do. Should be fun!