Proof That It's a Pre-Code Film
The plot involves a woman involved in bigamy with two men and a third one eager to jump in as well.
A hotel's phone operator calls up different suites to warn a variety of "Mr. Smith"s that there is a raid on by the police and that the should duck out.
The film, set during an ocean voyage, has the passengers eagerly await the twelve miles mark so they may partake in drinking. They proceed to get smashed.
An ill-tempered man tries to use suicide to threaten a woman. She snidely responds after learning his game, "Next time you try and kill yourself, let me know. I'd love to help you."
"Why, I wouldn't fly across the street for any woman's honor!"
The Keyhole: One Way Assuage

"All I need is an unlimited expense account… and time."
Kay Francis is an institution. So many shots in The Keyhole are of her emoting– holding in grief, holding back joy– that you get a good long time to study her eyes, her repressed hopes and her sly grin when it pops into view. While some still write her off as merely a fashion plate, there's so much wrapped into her package, this dreamy sense of desire. Sometimes it feels like she needs to be needed, other times that she's something majestic and unknowable.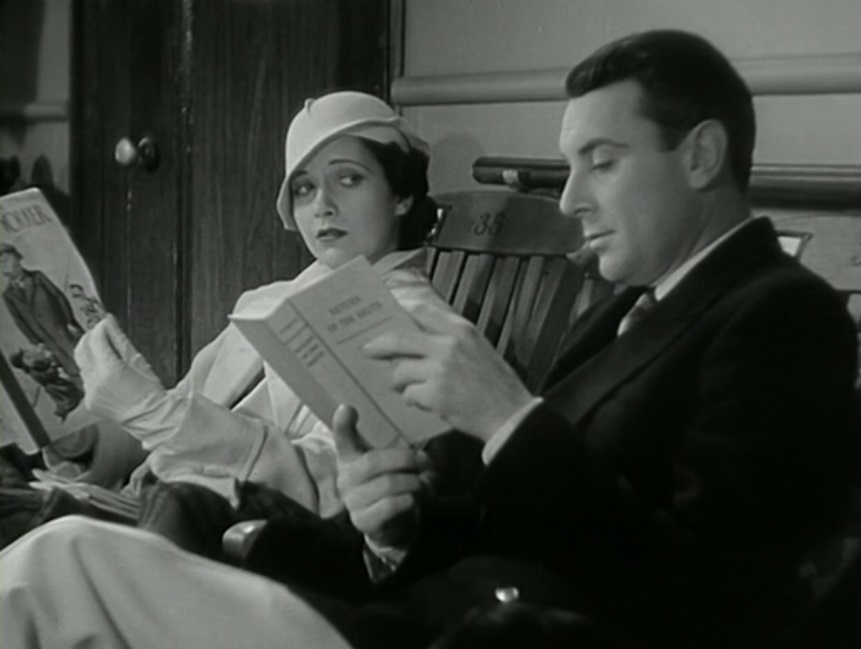 But I don't suppose I have to convince too many people of the sheer joy of admiring Francis in a well-made movie. The Keyhole isn't one of her greatest challenges, but she is an expert asset to the proceedings, making a character that is simply a bundle of plot motivations expertly watchable, sympathetic and desirable without breaking a sweat.
Ann (Francis) is a former dancer, stalked by her first husband, scummy Maurice (Monroe Owsley), who never finalized their divorce despite his assurances. This would be news to her second husband, the wealthy and stuffy Schuyler Brooks (Henry Kolker), so Maurice blackmails her with impunity. At the behest of her sister-in-law, Portia (Helen Ware), Ann heads to Cuba via ship, planning on using the family influence to trap Maurice on foreign soil.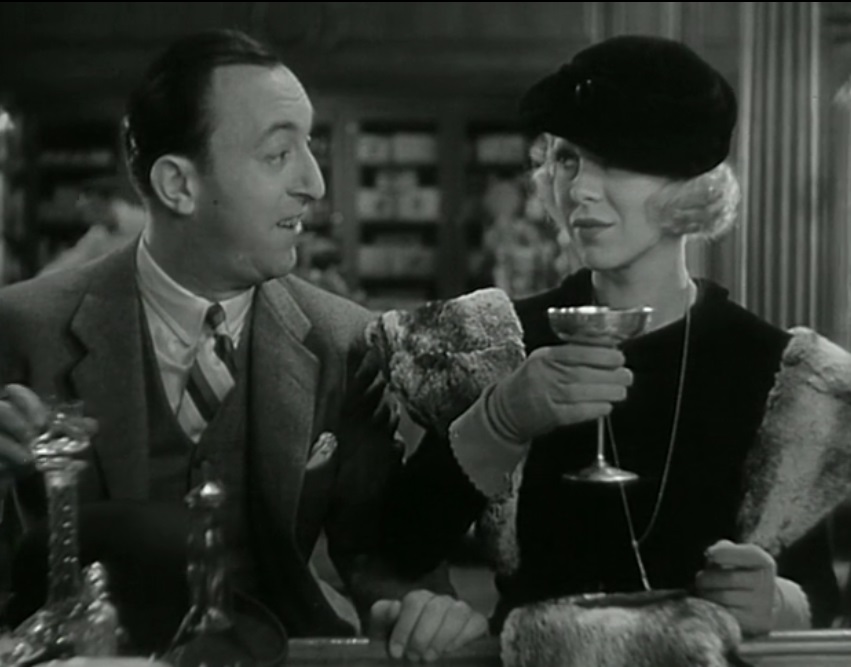 However, Schuyler is convinced Ann is cheating on him, so he hires hard-nosed homewrecker private investigator Neil (Brent) and his dopey sidekick Hank (Jenkins) to tag along on her trip to Havana and keep an eye on her. In the course of the journey, Neil falls in love with Ann, and Jenkins is roped in by con-woman Dot (Glenda Farrell). Ann struggles with Maurice, her growing attraction to Neil, and just which husband or potential husband she is to end up with.
It's impossible to watch The Keyhole without drawing to mind Warners' great fatalistic romance and similarly-ship bound saga One Way Passage from the year before. While many specifics are different, the general themes of doomed and forbidden romance linger, along with similar comedic bit parts to keep the movie moving. As such, any comparisons aren't in Keyhole's favor, which, while it is bolstered by an excellent look and pace by Michael Curtiz, frankly suffers with George Brent in the lead.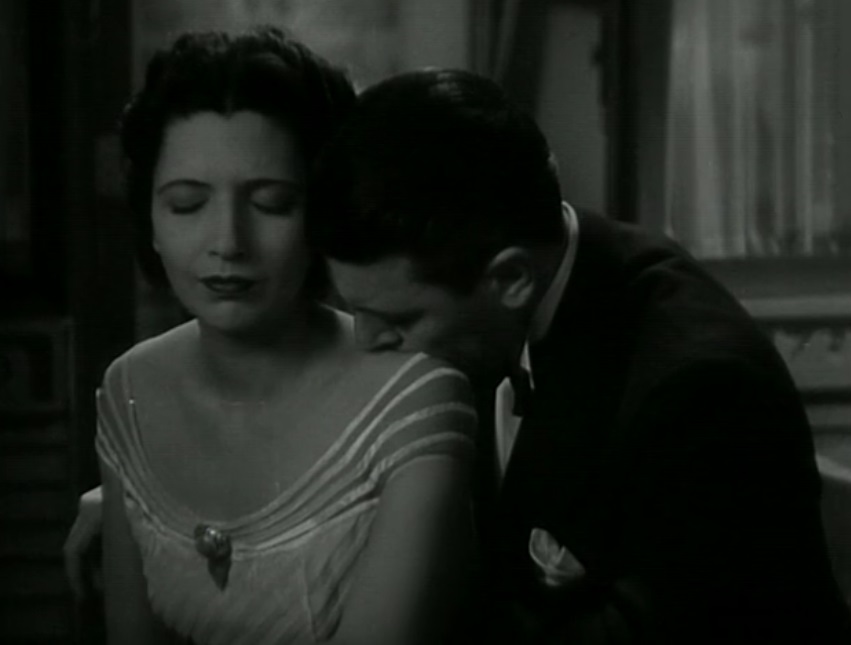 Brent's role here, a downbeat undercover gigolo who eventually melts for Kay, is flawed. Brent has a nice blunt-force sweetness that doesn't work in the role, which needs more of a subterfuge and romantic quality. Kay's character of Ann is stuck spending most of the movie staving off Brent's advances due to her multiple marriages and the stressful plot she finds herself in; the problem is that Brent seems to be attracted to this reluctance, which, on her part, is not because of who he is, but her circumstances. This makes the scenario feel phony, even for Golden Age Hollywood romantic parables.
You need an actor that can pull that sort of ethereal admiration for Francis out of the air. George Brent is more of a playful eyeballs "wink wink and we'll get there" guy, whereas Francis' frequent collaborator William Powell would have killed in the part. Brent understands, Powell dreams.
With that frustration past, The Keyhole is still quite enjoyable. In the movie's favor for sure is Kay Francis' splendorous gown collection; TCMDB (linked below) mentioned that this one has her in 15 different Orry-Kelly designed frocks, and it's impossible to pick a favorite. And then there is the comic relief duo of Allen Jenkins and Glenda Farrell, each trying to scam one another unsuccessfully. The by-play is amusing, though their subplot kind of whiffs to an ending.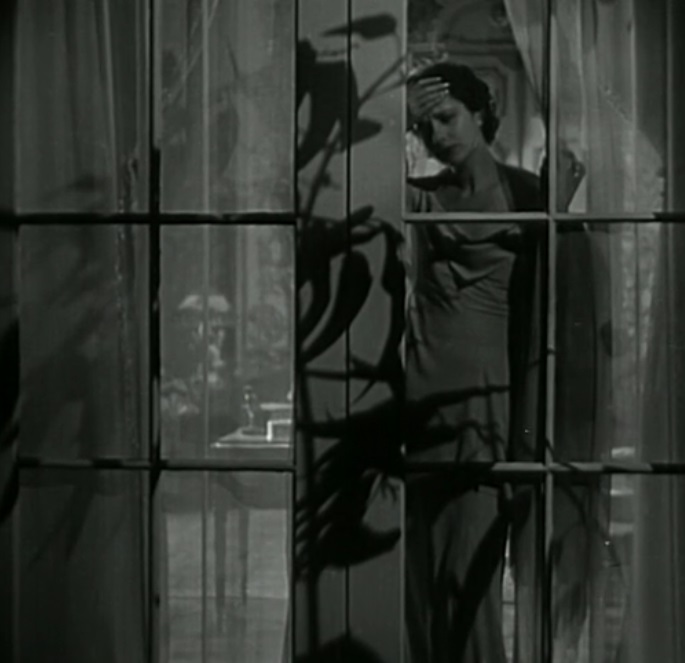 The Keyhole is a well-made Warner Bros. romance, but it's a little too light on characters and consequences. Plus Brent is miscast; had I mentioned that? But this film does what it's supposed to do as a star vehicle; in sumptuous black and white and with the best of Warners behind her, you see Kay Francis' Ann, beautiful and worried, bloom.
Screen Capture Gallery
Click to enlarge and browse. Please feel free to reuse with credit!
Other Reviews, Trivia, and Links
Roger Fristoe at TCMDB talks about how the film confirmed Francis as the sophisticated movie-goer's choice, as well as confirming that William Powell was originally set for the Brent role.
Robert Presnell, Sr. adapted his screenplay from a story by Alice D.G. Miller called The Adventuress. The Keyhole, shot in only 25 days on a budget of a mere $167,000 (belied by some extravagant sets), benefits from Michael Curtiz's snappy direction and Barney McGill's fluid cinematography. Some plot elements of the film were reworked for the Warner Bros. musical Romance on the High Seas (1948), which marked Doris Day's movie debut and also was directed by Curtiz.
Laura's Misc. Movies rates it as "odd, but watchable" and runs down the other Francis/Brent collaborations.
We often talk about how Kay Francis was a "clotheshorse" for various fashion designers– in The Keyhole's case, Orry-Kelly. For more proof of that, here are a series of magazine spreads highlighting her outfits and/or style from around the time of the picture's release, mostly from "Photoplay". (Sources: 1, 2, 3, 4, 5, 6, 7, 8)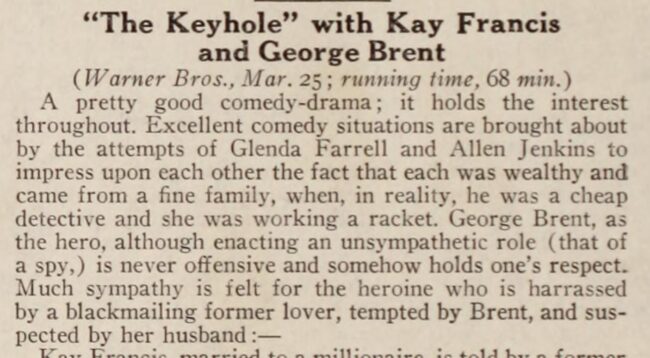 Lastly, here are the moments the New York censors wanted axed from the film, from What Shocked the Censors. The print I saw had them intact, from what I recall.
Awards, Accolades & Availability
Here is The Keyhole's page on JustWatch. It is not currently available on physical media, but does occasionally pop up on TCM.
More Pre-Code to Explore