Pre-Code.Com Site News for October 2015
Happy October, everyone! … wait, that's not right. ~~~ welcome to a spooooooky Octoooooober everyone~~~ Okay, better. I have at least one horror movie review in the queue, as well an entry in the newest CMBA blogathon and the new issue of The Pre-Code Companion coming in the middle of the month.
This month on TCM, there's a rather pitiful amount of pre-Codes showing up. Besides the 15th, where the channel's salute to Mervyn LeRoy gets us Gold Diggers and Three on a Match, the selection is pretty paltry.
In spite of that, I'm extremely excited about October 23rd. TCM is dedicating the day to showing seven films starring Genevieve Tobin, one of my favorite actresses. I'm actually in the process of writing a biography of her, though it's going slowly at the moment. While the films being shown aren't her strongest efforts (don't ask me why), I hope people will see her in stuff like The Goose and the Gander and see why she's such a charming personality.
I'm hoping to tune into the marathon myself, though, since it's daytime programming, that actually means I'll be pulling an all-nighter. Could be fun!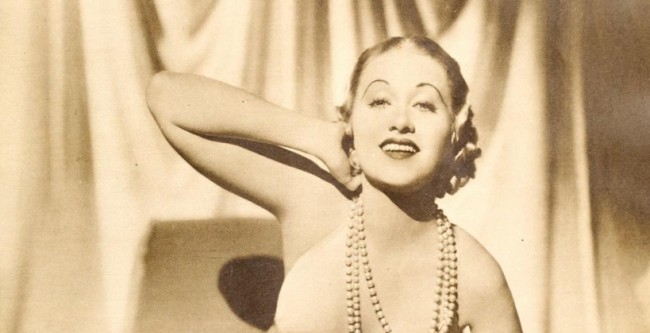 Pre-Code Hollywood Movies on TCM in October
Please note: All times are Eastern. This schedule is subject to change. See the full listings here. To watch TCM online with a cable subscription, check out TCM Watch site or, if you don't have a cable subscriptions, check out Sling TV.

---
5th, 11:00 AM
Cabin in the Cotton (1932)
A sharecropper fighting for better working conditions succumbs to the boss's seductive daughter. With Richard Barthelmess.
---
---
---
9th, 7:45 AM
The Silk Express (1933)
A young silk importer fights off threats to his cargo during a perilous train ride.
---
9th, 10:45 AM
Murder in the Private Car (1934)
A speeding train becomes the setting for murder. With Charlie Ruggles and Una Merkel.
---
---
---
15th, 6:00 AM
The Heart of New York (1932)
When he invents a new washing machine, a plumber becomes a millionaire. Kicks off a morning devoted to Mervyn LeRoy.

---
---
---
---
19th, 6:00 AM
Montana Moon (1930)
A flapper goes West. With Joan Crawford.
---
3rd, 7:30 AM
Spitfire (1934)
A backwoods faith healer falls for a married man from the big city. With Katharine Hepburn.
---
---
---
23rd, 1:45 PM
Easy to Love (1934)
When she thinks her husband has been unfaithful, a woman claims to be having an affair of her own.
---
25th, 11:00 AM
Topaze (1933)
A simple schoolteacher gets caught up in a wealthy baron's crooked schemes.

---
---
29th, 7:45 AM
Freaks (1932)
A lady trapeze artist violates the code of the side show when she plots to murder her midget husband.

---
---
---
Questions? Comments? Or do you just want to bug me? Leave a comment below!