The annual Turner Classic Movies Film Festival (TCMFF) is a blur, there's no doubt about it. This year was my third festival, and the first time I got to experience it without jet lag. We lucked out– great weather abounded, and the festival itself was excellent– lines were shorter, the movies easier to get into, and the festival itself, while still containing a multitude of tough choices, was overall a buffet of great experiences.
Day 1 – Thursday
Woke up, got out of bed. Put my shoes on top of my head. (That's how that goes, right?) Then I headed to Sweet and the official TCM Boutique to buy a TCM-branded notebook so I wouldn't have to carry my laptop all day. The boutique has a great variety of products, including fudges named after various classic films, specialized jewelry, clothing, bags, and more. I picked up a magnet, as I do every year, and nothing else, because I'm not made out of money.
I went over to the Roosevelt to write down some interview questions sat by their glamorous pool. Also there was Rusty Goffe, who played an Ompah Loompah in Willy Wonka and the Chocolate Factory and would be speaking at the screening that evening. He was sunbathing, and it was fun watching starstruck attendees come over and chat with him.
Hitchcock Meet & Greet
One of the first things scheduled for the day was this little social. It was an announcement for the next TCM MOOC (Massively Online Open Course) called "50 Years of Hitchcock." The course's professor, Richard Edwards, spoke to the crowd, and they were clearly salivating for delicious film knowledge blood after the film noir and slapstick courses.
I spent the afternoon Thursday catching up with people, checking out the Hollywood Museum (more on that back here), and prepping myself. Thanks to an invite by Raquel of Out of the Past, I got to take photos on the Red Carpet and tweet along. Also there was my pal Kim of I See A Dark Theater, Jeff Lundenberger, Kristin Lopez of Journeys In Classic Film, and Nora, The Nitrate Diva.
The Red Carpet
There's a red carpet every year to kick off the festival, with celebrities who appear at screenings walking down and waving at the audience before making their way in for the big opening picture in the Chinese IMAX. Spotlight Passholders also get to walk the red carpet, and it looks like fun. Covering it was different than I expected, with long lulls between guests and some who just ran by (hi Beau Bridges). But then there were chance moments where Raquel got to talk to Leonard Maltin or Dick Cavett and it was just amazing. I got to see people like Wyatt McCrea (Joel's grandson), Cari Beauchamp, Angela Allen, Walter Mirisch, and Lee Grant up close and personal. It was a really cool experience.
The Man Who Knew Too Much
One of the main events for this years festival were a series of four nitrate screenings at the Egyptian Theater, one happening every night. Because of a massive renovation to the theater, they could project the highly flammable film stock from a special booth. The theater also got new carpet throughout, and, because their food license hadn't gone through, they had no popcorn for sale. That was the closest thing to a bummer I had the whole weekend.
Announced only a few hours before, Martin Scorsese (film director) entered to a standing ovation to introduce the first screening of Hitchcock's 1934 The Man Who Knew Too Much. While nitrate is highly combustible, it is visually quite vibrant, containing a richness that later film stocks (especially digital) can't replicate. Scorsese's introduction lavished praise on Robert Osborne and talked about film preservation, which apparently he is a fan of. He also explained that the print we were watching had been David O. Selznick's that he had made for himself in the 1940s, later donated to the Academy of Motion Picture Arts and Sciences by Selznick's son.
Leaving the Egyptian and heading back to my hotel room, I walked through the nooks and crannies of the TCL shopping complex, ducking into the small alley that connects to Orange Drive. I walked by Wyatt McCrea again, and he stopped at the foot of some steps to help his wife, who was wearing a pair of heels, get down them. It was a sweet ending to the night.
Day 2 – Friday
Wow, lots to cover and not much time to do it. Friday is the second day of the fest but the first 'real' one, where there are screenings happening all day long in five different venues. I ended up catching 4 1/2 movies and 1 1/2 panels, so let me run them down pretty quick.
Rafter Romance
I ended up sitting next to Nitrate Diva and her mother– we manage to watch a new-to-us pre-Code together every year, which is a nice tradition– and I'm glad I went out for it. RKO had some really layered, smart movies coming out in the early 1930s, and this one, while not exactly high literature, is really well-polished with a fantastic little ending.
The movie was introduced by several TCM staffers and Leonard Maltin who discussed the difficulties involved in obtaining the film's rights. Marian C. Cooper bought them from RKO for remake purposes after he'd left, but he later gave away the film's copyrights as a tax shelter. That this movie and several others (including One Man's Journey and Double Harness) in legal limbo for decades. Funnily, the clearing of the legal rights were all kicked off by a letter to TCM that sent the staff there searching these rare films out and negotiating the rights to show them.
One Hour With You
I met up with my good friends Christina Rice and Darin Barnes, and we sat in the Egyptian to watch one of my absolute favorite films, One Hour with You. I'd seen this movie in the theater before, but that was a DVD copy being projected with Japanese subtitles– quite a different experience from 35MM with a native audience, let me tell you.
The film was introduced by Tiffany Vasquez, who talked about the film's complicated history and how it basically spawned the career of George Cukor as a lawsuit between him and Paramount (disputing Lubitsch's credit) allowed him to leave and move to RKO, where he would soon make gems like Little Women.
The print was gorgeous (and tinted!) and the audience was in stitches. Hearing people crack up at Genevieve Tobin vamping it was a treat. Her stunning evening dress that really lit up the screen, too. The number "Oh That Mitzi" slayed, as did one of my favorite pre-Code scenes, where Tobin and Jeanette MacDonald whisper conspiratorially about Maurice Chevalier, suggestive looks included, until they finally ask him to do his owl impression.
Monkey Business
I returned to the Egyptian for a third time that day to catch Dick Cavett's intro to the Marx Bros. classic Monkey Business. Cavett tossed off stories he knew from Groucho, including how they met, and Cavett's assurance that in every town with a vaudeville back in the day, Chico Marx probably has a descendant.
Cavett also noted that Monkey Business is probably your favorite Marx Brothers movie "if you're a huge Zeppo Marx fan". And that's true of me, but I still ducked out because I wanted to catch something special down at Club TCM in the Roosevelt Hotel.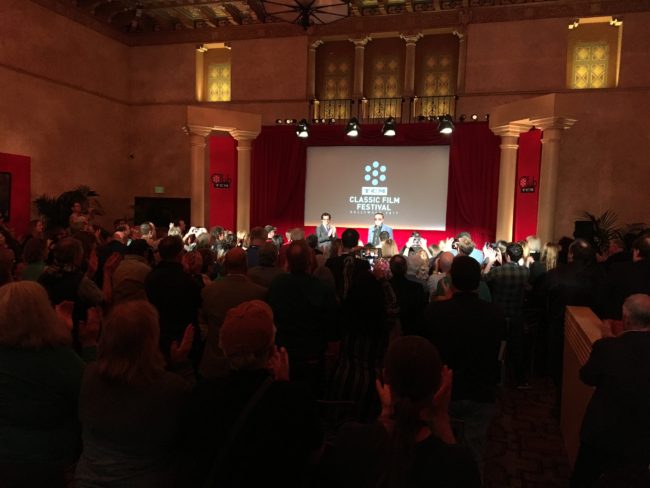 A Conversation with Peter Bogdonavich
There were a lot of highlights here. Bogdonavich related how 'You son of a bitch!' is a high compliment among film directors, how he knew Cybill Shepherd was a born actress, and how Mamie Van Doren played a Venusian who lived in the water, but she was terrified of sharks so the best they could get her in was a puddle. There were a few great Orson Welles lines (including his secret that you don't gain weight if no one sees you eating), and much talk of Bogdonavich's role in the soon-to-be reconstructed Written on the Wind, in which he acted with John Huston ("If he forgot his lines, he would just say something random and duck off screen, leaving me there confused.").
Bogdonavich didn't discuss much of his own work beyond The Last Picture Show, which was a disappointment. But, I mean, they could have advertised 'A Day with Peter Bogdonavich' and he'd still have material to riff on.
Bring 'Em Back Alive: Tales of Film Restoration
I really enjoyed the film rediscoveries panel last year, but this one was more about finding obscure films and trying to bring them back. They talked about how much of their work is guessing, legal untangling and shaking their fists at databases, which was fun to hear about. So much of film preservation is following your passion and beliefs, while also making sure you don't go out of business.
Red Headed Woman
Weirdly, I think I saw literally everyone I know at the fest at this showing, and for good reason. This Harlow movie is a stone cold classic, with one of the best endings ever. It was excellent on the big screen– you could really see Chester Morris sweat, and the subtleties of Harlow's nastiness (and bossom) were blown up big.
I don't really have much more to say about it? The introduction by Cari Becauchamp was funny, informative, and didn't spoil the film at all, which was great. I recorded it, so turn up your speakers and enjoy. (Sorry for my interspersed rumbling laugh.)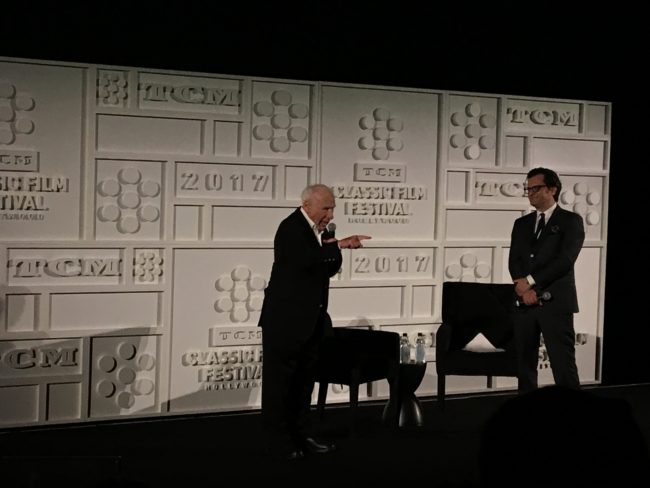 High Anxiety
So the nice thing about the festival is that you know you're seeing all of these movies in pretty much the best circumstances left to show them. Like, you're not going have a more eager audience, and 9 times out of 10, you won't ever get a better presentation. So it's nice when you see something like this and you can finally definitively say, yeah, this movie kind of sucks.
But! The film was introduced by Ben Mankiewicz and Mel Brooks– and it was mostly Mel Brooks just running wild, with Ben throwing his questions on the ground at one point in humorous exasperation. Brooks, who loves tri-tip (very important), talked about all of his interactions with Hitchcock during the making of the film, and how simply amazing the Master of Suspense's appetite was. Brooks also said that the mustache that Nurse Diesel dons was completely Cloris Leachman's idea. It was a highlight of the festival, easily.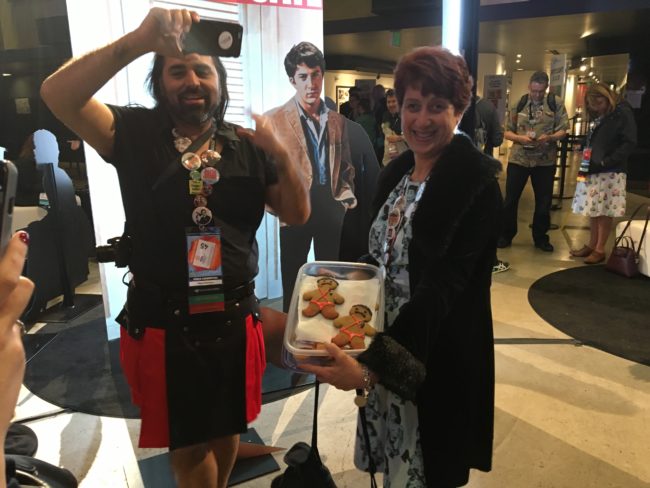 Zardoz
TCM's Millie De Chirico gave a great intro to this one, explaining that John Boorman knew what he was doing making this film, and it's up to the rest of us to guess. She also explained the plot, which was a big help especially at a midnight showing. I'd seen it before a long time ago, but I was surprised that I enjoyed the movie and it kept me awake. It's not high cinema, but as a movie that so desperately tries to be deep and just ends up as a parody of its era, it's still a ball to watch.
Not everyone agrees with that assessment, but, c'mon. Sean Connery in a droopy red space diaper. Life is good.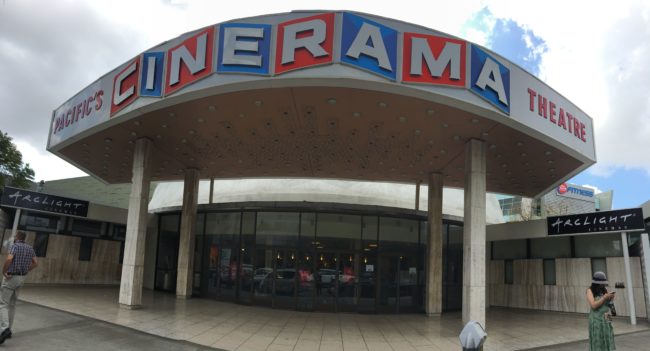 Day 3 – Saturday
I took it a bit easy on Saturday– staying up for the midnight showing will do that to you. First, my wife and I went to the ArcLight to check out a rather unique experience.
This is Cinerama
I've been in a Cinerama Dome before– there used to be one in Pleasant Hill– but this was my first experience with seeing the actual process in motion. Cinerama was a brief fad in the early 1950s that used three cameras recording simultaneously to create a semi-circle picture that puts the movie into the viewer's peripheral vision. Leonard Maltin gave a rousing discussion about the history of the format, which was deeply enjoyable, noting that Cinerama is charming because of its imperfections.
I'd seen the film before, but not in actual Cinerama. It's a weird mix of really cool, exciting footage (a rollercoaster! a helicopter ride over Niagara Falls!) and really awful things (bagpipes! black face!). It was interesting to see how 50s sensibilities– this was the highest grossing film of 1952– were represented.
The Art of Subtitling
Back at Club TCM, this was a really fun presentation hosted by Rialto's Bruce Goldstein. This included a discussion of how Hollywood films were distributed to foreign markets at the dawn of sound. We got to see Laurel & Hardy in French and Portuguese, and bits of the German version of Anna Christie where Garbo is made up to be much more apparently a prostitute. The poetry in writing subtitles was discussed, including how slight variations change how scenes can be interpreted. Some subtitlers censor, some don't. But in America, dubbing has been seen as anathema for decades now, and it remains an art requiring subtlety and clarity, too. Goldstein compared how this differs from other markets; in Eastern Europe, Hollywood movies aren't dubbed, but a monotone narrator says a translation of the dialogue over top of it. He gave us a demonstration; it's like someone made Siri narrate over Harry Potter. Crazy, fun stuff.
Hollywood Home Movies
We hung around Club TCM to watch some of Hollywood Home Movies, which are always a treat. I was really blown away by the behind-the-scenes footage of The Adventures of Robin Hood taken by Basil Rathbone; there were some beautiful shots of Olivia de Havilland and Errol Flynn goofing around, as well as rehearsals of the sword fighting scenes. Harry Langdon, Jr. was there to talk about being on the set of Zenobia with his dad and Oliver Hardy. It was really sweet.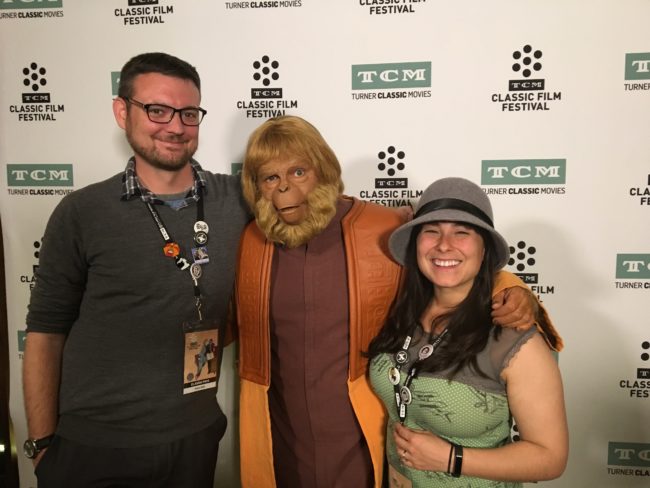 Planet of the Apes
I won a Backlot contest to meet the secret guest after the screening of Planet of the Apes by the Roosevelt's pool. Dana Gould had impersonated Dr. Zaius on TCM last year for a number of segments, so it wasn't a massive surprise when he showed up and really riffed wildly on the film. Gould clearly has an affection for 1960s Hollywood ("What's the shortest distance between two points? Kim Hunter and her mentioning she has a degree from an Ivy League school."), and host Mankiewicz could barely control him, or his own laughter.
After the intro, we were ushered into a small bungalow the network uses for interviews and got to take pictures with him. It was… you know. Pretty cool.
The Graduate
My wife had never seen this movie, so we went to the Chinese IMAX. It opened with Mankiewicz interviewing screenplay author Buck Henry. The interview was a little awkward– he was older, and reluctant to answer many of Ben's most burning questions, sending the host into conniptions when he kept mum about the film's ambiguous ending. There were still a lot of great details about the film, and the print itself was pristine.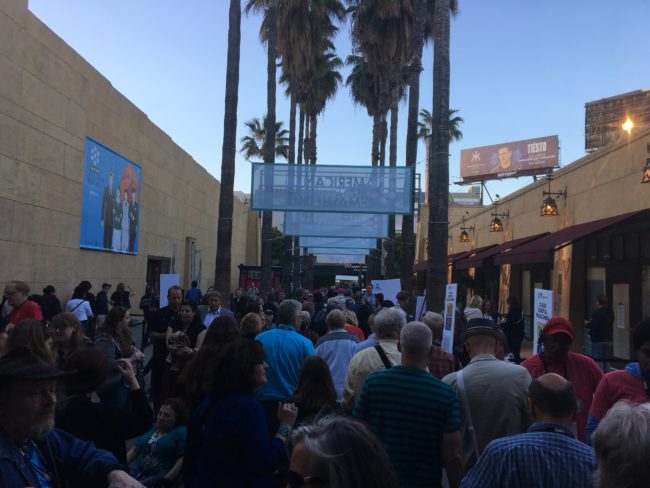 Day 4 – Sunday
Sunday wrapped up the 8th annual Turner Classic Movies Film Festival. The last day is always exhausting and bittersweet, which probably isn't the best combination. I had to drive home afterward, too: luckily, no major injuries reported on that one.

Cock of the Air
So besides One Hour with You, this was the real big ticket item for me. (Kim, who I chat with fairly often, warned me the movie wasn't that great, because Kim lives in LA and they just throw obscure pre-Codes at you if you stop to tie your shoes in front of the Herrick.) The restoration was fascinating, though, because they had the censored footage but not the censored dialogue, so they had to recreate it with actors.
To help the audiences identify the changes, an icon popped up in the corner to indicate what was cut from the final release print; I absolutely loved this, because it showed the audience how censorship could be not just imagery or dialogue, but implicit implications and even disrespect to authority. Frankly, I now have a minor hope that other future pre-Code restorations do this, because it's a great demonstration of just how censors did their jobs back then.
The most interesting cut was a 4-minute long sequence where Billie Dove (who wears an array of barely-there gowns) and Chester Morris (who spends one sequence walking around in basically a washcloth) do some sexual foreplay and it eventually ends with Dove in a suit of armor and Morris holding a can opener. There's one other sequence where the two of them essentially cream the crap out of each other, and wrestle on the floor in anger. There's a lot of Private Lives in the movie, but it is inconsistent: Howard Hughes loved his flying footage and that kills the momentum in the film's middle. But it's definitely worth finding; I have my doubts that the Academy will release it any time soon on home video (because life isn't that wonderful), but I hope it's at least easier for people to view in the future.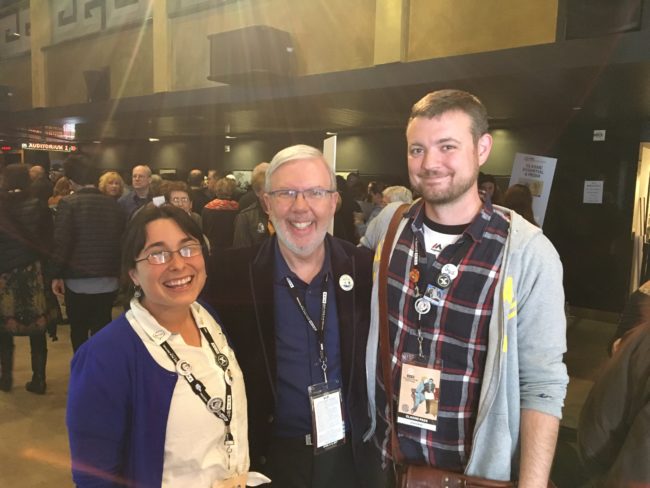 Q&A With Leonard Maltin
I've always liked Maltin, and it was a treat to hear the famous critic espouse with glee. The Q&A went over his really crazy origin story (he went from zines to a book contract before he even entered college) and he discussed what it's like being one of the last 'recognizable' movie critics. He described it as 'bittersweet', speaking warmly of Siskel & Ebert and describing about how criticism and researching had changed over the decades. His daughter Jessie was there, and she was a lot of fun, ribbing both her parents endlessly.
What's Up, Doc?
After having a bite of literally the worst nachos I've ever had at the Pig 'n' Whistle, we got in line for one of my favorite movies. I picked it to finish the festival because I knew the Bogdonavich introduction would be fun and the movie itself would be delightful on the big screen– and I wasn't wrong there. Bogdonavich described the tenuous collaboration process with Streisand, and the advice Cary Grant gave Ryan O'Neal on playing screwball comedies– "Wear silk underwear."
After that, we got some pictures in the TCL Chinese Multiplex with the standouts (finally!), hung out with Jill Blake, and relaxed at Club TCM before the craziness of the closing party barged in. We said our goodbyes (or, in my wife's case, still a few hellos) and scooted on out.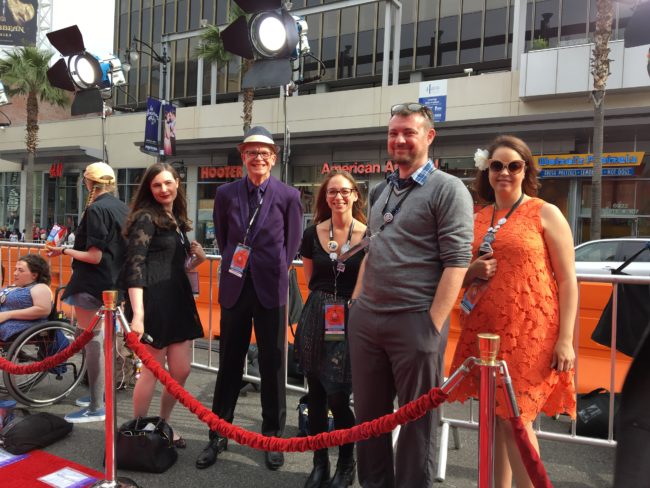 Wrap-Up
Overall, this year's festival was a lot of fun. I took it easy– I only saw 10 movies, which is about half what a really dedicated attendee can do. But I saw all of the things I really wanted to see, and, thanks to most of the pre-Codes getting scheduled in the larger Egyptian Theater, my line wait time was absolutely minimal. The only movie I showed up more than an hour early for was Cock of the Air, and I would have been fine taking that extra half an hour for breakfast. I had fine experiences at every screening, and I loved getting to see old classics with enthusiastic audiences.
I would always end my coverage by talking about the friends made and the joy of seeing these movies on the screen. And this is true! I have made a lot of good friends out of being able to attend the festival, and it's strengthened online friendships. It's also broadened my horizons and ambitions, meeting authors and researchers who have been doing great things in film scholarship.
It both recharges and exhausts me, helps remind me of what I'm doing, and gives me material to relish for literally years to come. (Never, in my life, will I forget the moment Herbert Marshall stepped through the doors with a flame thrower in Gog. I never knew life could be so sweet.)
My wife, who was a first-timer, also had a great time. She got to see movies like The Graduate and Bonnie and Clyde for the first time on the Chinese Theater IMAX screen with packed, appreciative audiences. She even ended up in a commercial (with me) that ran on TCM the day after the festival, which gave her no end to excited joy. She is still in the post-festival glow, which is absolutely wonderful to see.
And, of course, I can't wait to see everyone again next year. Cheers!