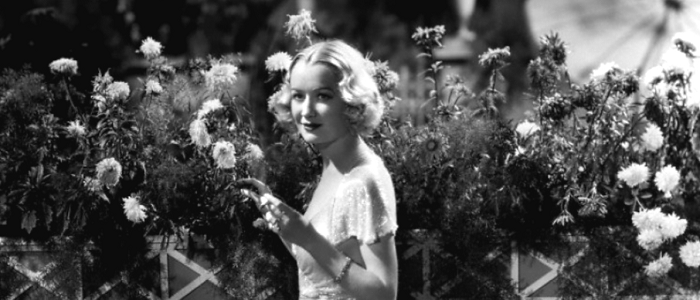 Southern girl and Georgia peach Miriam Hopkins came from the background of wealth and fine education. This refinement came into play in her personality– a haughty but playful girl whose loves are often strained by unfortunate circumstances. She can be ditsy or brilliant– and often a combination of both– but it's her ability to project a sense of keen sophistication and a deep level of desire that made her a sex symbol of the early 30s.
After a popular stint on Broadway, she moved to motion pictures in 1930 and soon became one of Paramount's highest paid stars. Director Ernst Lubitsch took a shine to her– she was the naive princess in The Smiling Lieutenant who was taught to 'jazz up [her] lingerie', followed by iconic roles like as the sardonic thief Lily in Trouble in Paradise and the sexually voracious Gilda in Design for Living. The last of those roles saw Hopkins as one of the premiere neophytes of the time, unable to choose between two men– and instead choosing both.
Her roles in two other pre-Code movies are rightfully hailed among the best of the era, one in a film critically lauded and the other in a movie that was considered so obscene it was quickly pulled from theaters upon release. The first of those is Dr. Jekyll and Mr. Hyde, a stunningly adult horror film about a brilliant scientist whose libido reveals a horrifying masochistic side after a few drops of a special serum. Hopkins plays the prostitute, Ivy, a cockney woman who seduces Jekyll early on by undressing in front of him and having the doctor measure her heartbeat with his hand on her chest. She later becomes the victim of Hyde's cruelties, and her ability to turn a bawdy, sexually adventurous broad into a heartbreaking portrayal of abuse underscores Hopkins' undeniable talent.
The other film, The Story of Temple Drake, is among the most scandalous films of its time, a piece about desire and slavery that looks at how one Southern belle in the throes of sexual passion to a gangster can forgo her class and enter a purely submissive sexual relationship– and thrive. Based on a novel by William Faulkner that would probably be considered too nasty to escape cuts even today, Hopkins takes her character through gothic nightmares, from wide eyed innocence to deep seated horrors. Temple Drake herself remains a mystery throughout the picture, and only Hopkins masterful performance, often in leering closeup, makes the movie's dreamlike earnestness work.
Unfortunately, Hopkins' volatile temperament won her few friends in Hollywood. She switched from Paramount to Warner Brothers in the back half of the 30s and often had to compete with Queen Bee Bette Davis for roles. While she was nominated for a Best Actress award for Becky Sharp (1935), movies like The Old Maid and Old Acquaintances did her few favors, as the enforcement of the code removed the sex from Hopkins' persona, apparently leaving mostly wide-eyed neurosis and scenery chewing. She was a finalist for the role of Scarlet in Gone With the Wind, but lost out to the younger Vivian Leigh.
She moved back to Broadway by the mid-40s, understandably frustrated with the roles being offered to her. When she returned to Hollywood at the end of the decade, it was in character roles and on television, where her age gave her more gravity, even if her characters remained neurotic or simply unsophisticated. This later period includes great films like The Heiress (1949) and The Children's Hour (1961) as well as things most others are too polite to mention, such as Russ Meyer's Fanny Hill (1964) and a guest spot on "The Flying Nun".
Miriam Hopkins passed away from a heart attack in 1972.
Miriam Hopkins' Pre-Code Filmography
Miriam Hopkins Sites and Links
Other Actresses to Explore