Dislike
Starring: Lawrence Gray, Wynne Gibson, Judith Wood, Kenneth Thomson, Lee Kohlmar, May Boley, Benny Rubin, Jack Benny (!), Ann Dvorak (!!), and Cliff Edwards (!!!)
Directed by: Harry Beaumont
Released by: Metro Goldwyn Mayer
Runtime: 70 minutes
Release date: April 26, 1930
Availability
Children of Pleasure was released by MGM. As far as I can tell, it has never been released on home video, though there is a version floating out there on the grey market.
One of the film's musical numbers, "Dust", was shot in two-tone Technicolor. Though the film only survives in black and white, the color footage was recut into 1934's Roast Beef and the Movies and 1994's That's Entertainment III; it can be found online.
Proof That It's Pre-Code
Benny Rubin plays Andy, one of the more blatant Jewish stereotypes I've seen in one of these films. I got a good chuckle seeing someone submitted to IMDB that this portrayal, "bordered on anti-Semitism".
"I'm so sorry, that was my fanny!"
"YOUR fanny?!"
A flirty woman tells her ex that he can be her husband's understudy.
Children of Pleasure: Going Big and Going Home
"Is marriage an adventure?"

"You don't know the half of it, sir."
Here's a deep cut for you guys: Wynne Gibson deserves better than this.
Another tiresome 1930 musical revue, Children of Pleasure plays like Baby's First Footlight Parade. Song man Danny Regan (not a dance man, don't get your hopes up) falls for spoiled socialite Pat. Pat, however, is a spoiled socialite and treating her future husband like a side piece. Meanwhile, Danny's secretary, Emma carries a torch bright enough to light a New Mexico cave. A number of samey songs and broad humor commence.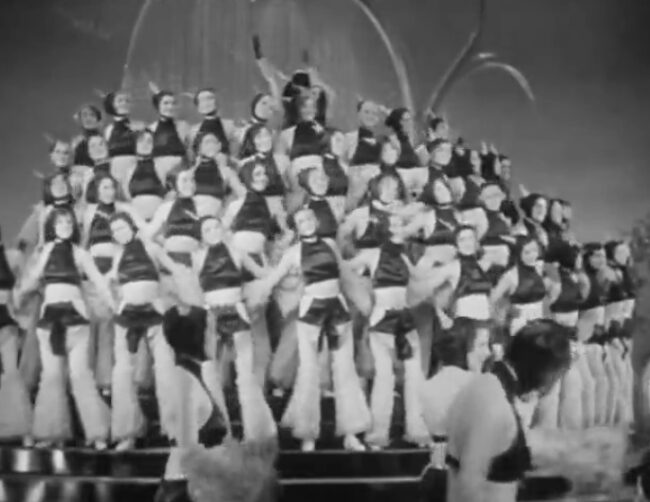 This one has no subtlety, no mystery, and everything is laid out from the word go. Another one with fine music, but that's not saying a lot. You're sitting around once more, watching people dance.
I mean, it could be worse. But there's nothing to recommend here. Hell, there's not even much to talk about. Children of Pleasure is another forgotten pre-Code musical that belongs in that category.
More Images
Trivia, Miscellany & Links
Vis a vis Wikipedia and several of the studio's own press releases, the original stage show's conflict was based on the real life romance of songwriter Irving Berlin and socialite Ellin Mackay that had been the subject of a lot of gossip in the 1920s. Unlike the conclusion of the film, in real life the two remained married for more than 60 years.
Jessica at Comet Over Hollywood notes about this one, "some of the early sound musicals are difficult to watch, but this one was fine."
"If that's a bridal night, I'm Greta Garbo!" Hey, everyone, don't forget MGM has Garbo under contract.
The film features a pair of quick cameos from a very young Jack Benny and a not-so-young Cliff Edwards. Edwards doesn't even get to bust out a ukulele! Lame. Future pre-Code fav Ann Dvorak is one of the chorus girls in the film, though I wish you better luck in finding her than I had.
The only contemporaneous review you need:
More to Explore