Elsa
Helen Twelvetrees
Karl
William Bakewell
Otto
Lew Cody
Katie
Zasu Pitts
Muller
C. Henry Gordon
Hans
Frank Pangborn
Released by RKO Pathe | Directed by Harry Joe Brown
Run time: 74 minutes

Proof That It's a Pre-Code Film
The title implies exactly what you think she's had experience with.
"You do believe in God, don't you?"
"I don't know. What has God ever done for me?"
"I know more about sailors than the minister of the navy!"
High ranking military officers poke Twelvetrees in the hinder.
Zasu Pitts wonders why they make sailors' pants so large.
A Woman of Experience: Unwanted
"Your experience should have taught you that no man is different."
I wanted to see her smile. I picked A Woman of Experience (whose TCM description noted, "A female con artist uses her skills against Germans") because it sounded risque and like the kind of movie that could, dare I say it, be just a bit wacky. Did I see Helen Twelvetrees smile? Yes. Proof: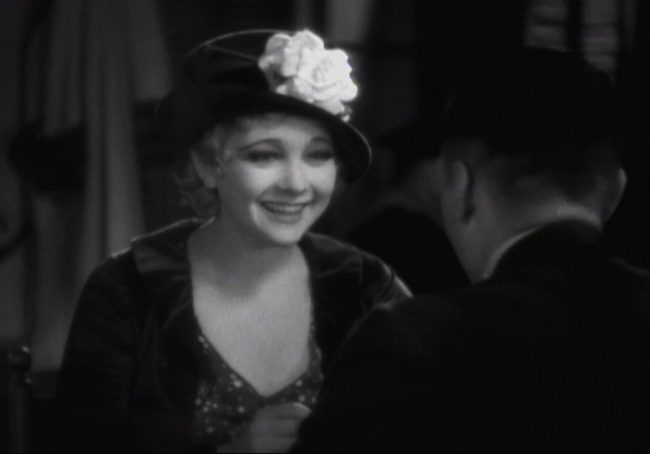 Now, is A Woman of Experience a light comedy or even a daring adventure? No, it's another weepie for Twelvetrees, this time just the Mata Hari tale with the a certain amount of spit and polish. The above is maybe one of a half dozen times Twelvetrees even dares to let hope enter her character's eyes– she's trapped in another garbage world where happiness threatens to be dragged away by a light breeze on a sunny day.
The movie opens with a rendition of "The Blue Danube", which I assume makes this the movie that that song is always associated with. It's Austria, and the war is on. Twelvetrees' Elsa is sitting in a cafe when an errant breeze brings a flyer to her feet. Women of Austria are needed to serve. Elsa immediately pictures working in a factory and shudders. She heads to the nearest hospital, but they turn her down coldly. "Girls without good character aren't needed in hospitals besides our soldiers!" the nurse hisses.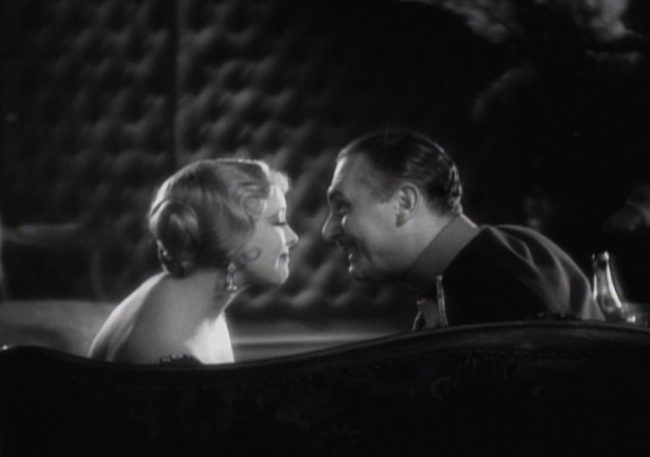 It turns out Elsa, the ice queen, is a registered prostitute in Vienna. Disgraced and with nowhere to go, things seem bad until an officer, Muller (Gordon), overhears her plight and enlists her to seduce a known spy to get his information. The man, Otto (Cody), is a repulsive slug of a guy, but he's easily enticed by Elsa's charms. Unfortunately for Elsa, fate intervenes, and handsome Hungarian sailor named Karl (Bakewell) sweeps into her life. She turns down her undercover seduction assignment after all, leaving her commanding officer Hugh Schmidt (H.B. Warner) fuming:
"We can't coerce you. We can't force you. You're just… a woman. A registered woman."
Though his words hurt, Elsa let's it go and heads back to her young lover; his love has opened a door in her life that she thought was jammed closed. But when Karl tells her that he's turned down a risky military assignment to be with her, she realizes how much her selfishness was really conflated with cowardice. She demands he return to serve in his submarine, and, once he's away, she sends him a letter telling him that it's over.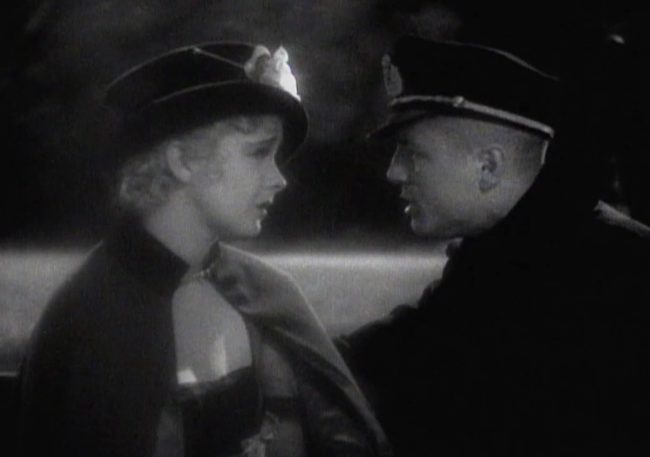 For the first time in forever, she has found a renewed sense of purpose– helping her country will help her lover. And she does her duty, which includes helping Otto tricking young recruits into giving military secrets away. She figures out his plot and gets involved in a scuffle that gets her shot. Otto is dead, but Karl is safe. The film ends with Elsa recuperating from her wound as Karl and his uppercrust mom visit, the Countess (Nance O'Neil). Elsa suddenly has to melt the woman's frozen heart, through tears and pride. Can she keep Karl both in the dark and with her?
Spoilers.
Besides the Mata Hari myth, there's a lot of Waterloo Bridge in Twelvetrees' fretting hopelessness here. Her character is challenged to be something more than she ever dreamed of being, and her reward will be one intense moment of completion– but it requires overcoming all the prejudices, ignorance, and ugliness the world throws her way. In both movies, the main characters become transformed by the sudden possibility of redemption, but A Woman of Experience is cheaper about it– Karl doesn't learn the truth, and a ticking clock tragedy will keep them in a happy bubble for the time being. It's having your cake and eating it, too.
End spoilers.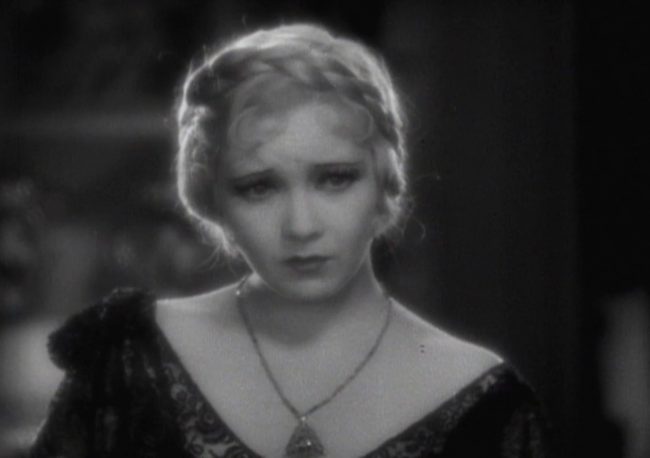 While the movie looks great (check out Twelvetrees' gowns in the gallery) and there's certainly no actress better at expressing inner turmoil than Twelvetrees, the movie does a clumsy job explaining her situation. That ending, which involves a lot of dramatic legwork for a pretty paltry payoff (and a deus ex Zasu sweeping in), only underwrites the lack of emotional tension in the film.
There's a lot of missed opportunities, but A Woman of Experience is still a stylish movie, and the affection between Elsa and Karl is rather sweet in spite of the deception. Frank Pangborn and Pitts get to flirt a bit, and Twelvetrees gives a raw central performance. Unfortunately, the movie never really escapes that familiar feeling, and sits in the shadows of too many better movies with identical subjects.
Gallery
Click to enlarge. All of my images are taken by me– please feel free to reuse with credit!
Trivia & Links
The unnamed reviewer in the New York Times burns this one good, spelling out the plot without enthusiasm and then buttoning it with this:
Finally, yesterday's audience seemed to like the picture fairly well. It was an old friend.
Helen isn't perfect herself, though close to it in a part that is definitely tailored to her talents. There were a couple of scenes where she seemed to have trouble with her dialogue, dated and stilted though it was. It's a stretch having a Brooklyn girl play Viennese, but then, other than London-born H.B. Warner, already a Hollywood mainstay, none of the other key cast members are European either, so Helen's miscasting doesn't stand out as much as it would otherwise. She's at her best when it comes to reacting to slaps to her virtue, but she's not quite as believable when acting gallant. Be prepared for several angelic poses from Helen, reminiscent of those employed in Her Man, her eyes raised to the heavens with wistful hope and perhaps a little prayer.
Awards, Accolades & Availability
This film is an obscure one, another RKO title trapped in the Warner vaults. I wish you luck in finding it!
More Pre-Code to Explore