Egbert Higginbothom
Bob Woolsey
Tommy Tunner
Bert Wheeler
Peggy
Dorothy Lee
Released by RKO | Directed By William A. Seiter

Proof That It's Pre-Code
"While they're up on their toes, we're out flat on our–" "Tommy!" "– heels!"
"The manager came backstage and said he didn't allow profanity in his theatre." "We didn't use any profanity." "I know, but the audience did."
Plenty of sissy humor.
Woolsey flirts with a woman who wants dirty books. He suggests one called What a Bride Should Know. She giggles until he points out that it's a cookbook.
Woolsey also accidentally devours a shake mostly composed of castor oil and then has to excuse himself. Castor oil is a laxative.
Lots of people get hammered on 'lemon syrup'.
Caught Plastered: Watered Down
"You know, some people call me a wit!"

"Yeah, and they're half right!"
Like the Marx Brothers, the best Wheeler & Woolsey entries become ludicrous beyond cartoons, satires of not just genres but of the entire human condition. At their worst, they become mired in sentimentality. Chico suggesting that, hey, let's take a break from all of this wacky comedy because now it's time to help out the token young lovers in distress is as much of a betrayal of anarchic comedy as Wheeler and Woolsey calling an elderly drugstore owner 'Mother'.
That's the crux of the problem of Caught Plastered, where our intrepid duo of merry pranksters are more politely concerned with pulling heartstrings than working up laughs. Even the film's title, Caught Plastered, is pretty neutered– the one scene of debauchery here probably wouldn't even turn heads from the driest of the dries.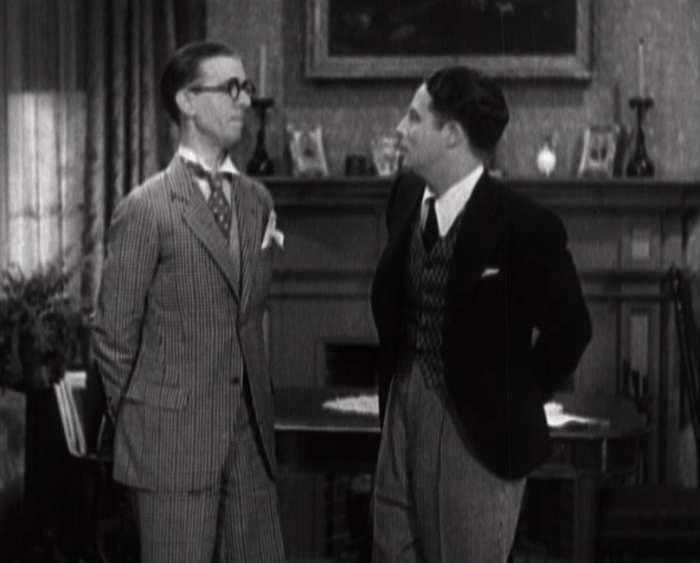 The plot, since I'm aiming to make this a very short review: Wheeler and Woolsey are a pair of vaudevillians who come across a depressed widow (Lucy Beaumont). Her husband's drugstore is in danger of going under, so the two offer to modernize it. They add in a soda counter, plenty of new and shiny products, and even perform a radio show in the afternoons.
This puts them in the crosshairs of a banker named Harry Waters (Jason Robards Sr), who is also secretly a bootlegger. His fiancee, Peggy (Wheeler and Woolsey mainstay Dorothy Lee), takes a shining towards Bert and the rivalry explodes from there. Harry decides to frame the business by tricking the duo into selling booze and calling the chief of police. I won't go into details, but any film whose solution relies upon the villain walking into a room and explaining the entire plot while our heroes stand fortuitously hidden off to the side kind of stinks.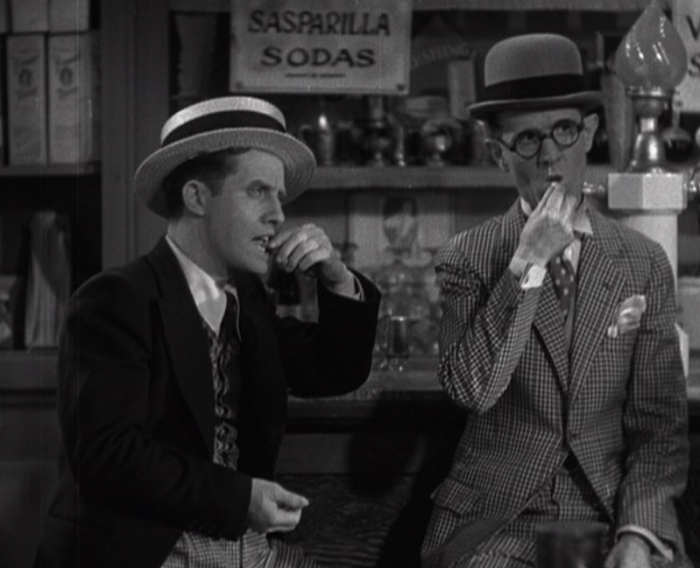 There's some verbal slapstick to be found, but Caught Plastered feels pretty small and tired, and I don't say that just because 75% of the movie takes place in the same room. For the Mother Tulley character, there's definitely an overt sense of sympathy afforded her, even allowing for her tears to come as a lonely future in an old ladies home looks more and more likely. It's a nice effort, but really has no point– the only thing Wheeler and Woolsey have invested into this are their sympathies.
While there are a couple of cheeky jokes, the funniest thing about this 1931 picture is how banks are so easily conflated with mobsters. It's like a modern movie about a Wall Street banker who is also a politician — just putting together the most detestable elements of society into one snaky bastard. Every other aspect of this one is pretty forgettable.
Trivia & Links
Stuart Galbraith at DVD Talk reviewed this as part of the RKO Wheeler and Woolsey collection. He calls it "claustrophobic", but is enthusiastic about the film's relaxed pace.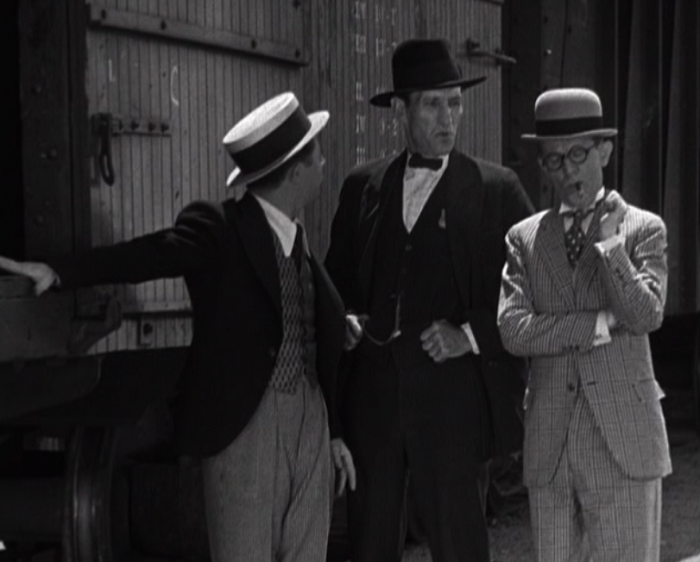 Caught Plastered is filled with some amusing bits and laugh out loud moments, yet it never really comes together. The laughs start to peter out toward the end as the film begins to rely more on plot than gags in the third act. Still, it makes for a breezy (if forgettable) little flick; one that any Wheeler and Woolsey fan should probably check out.
Awards, Accolades & Availability
Comment below or join our email subscription list on the sidebar!