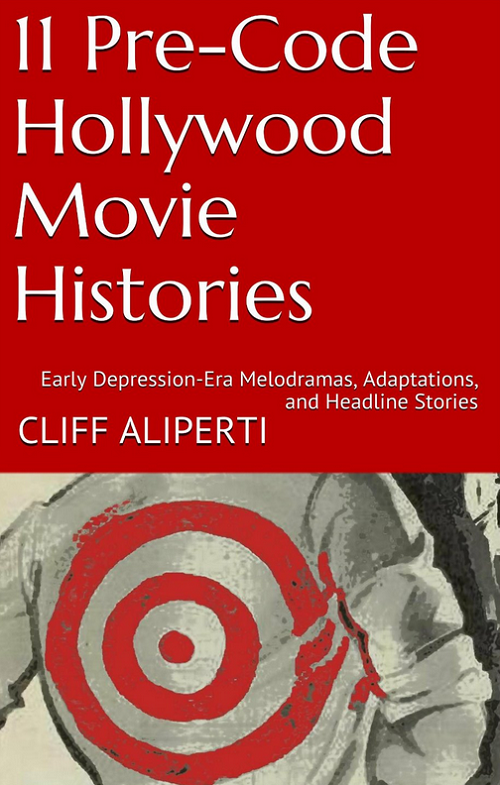 For those of you not in the know, frequent site citation and cool guy Cliff Aliperti released his first eBook a few days ago. The book is called 11 Pre-Code Hollywood Movie Histories: Early Depression-Era Melodramas, Adaptations, and Headline Stories.
I breezed through the book this last weekend, and Cliff does a fantastic job of taking titles that aren't usually discussed and investigating their real life parallels. The cross section he choose also goes across genres, studios, and stars, showing a number of different aspects of the pre-Code era through rarely trod waters.

Here's the book's description:
Yes, pre-Code movies are packed with more sin, sex, and violence than the Golden Age Hollywood classics that followed, but beyond looser censors, these movies remain fascinating because they come from such a unique time, not only in Hollywood's history, but in the history of the world.
These 11 Pre-Code Hollywood Movie Histories progress from 1930 through 1934, offering a sampling of product from eight different Hollywood movie studios along the way. They are linked by the world that they emerged from.
The following films are covered in this collection:
Show Girl in Hollywood (1930)
Washington Merry-Go-Round (1932)
Employees' Entrance (1933)
The Sin of Nora Moran (1933)
The movies talked, the stock market crashed, the pre-Code era was begun. During these four-plus years of movie history the Great Depression deepened and films were allowed a frankness and cynicism that is absent for decades after Production Code enforcement.
These 11 titles, by and large random, are united in presenting a view of a generation that rose from the ashes of the Great War, spent the '20s either roaring along with the party or finding themselves all but forgotten, before coping with the harsh new world and realities of the new decade.
Learn about pre-Code movie stars Alice White, William Powell, Sylvia Sidney, Monroe Owsley, and Margaret Sullavan within the appropriate entries, plus delve into the period headlines to discover what William J. Fallon, Dashiell Hammett, Florida's Sunbeam Prison Camp, and the Bonus Army have to do with any of this.
It's currently available for Kindle and it's only $2.99. $2.99! It's a great deal. If you like this site, you'll love it.