Sandy
William Haines
Shirley
Madge Evans
Burton
Conrad Nagel
Released by MGM
Directed by Harry Pollard
Run time: 83 minutes

Proof That It's a Pre-Code Film
"If this carburetor works, we're going to be on our feet."
"And if it don't, we're going to be on our–"
Shirley (Evans) strips down to her skivvies to dive in and rescue Sandy.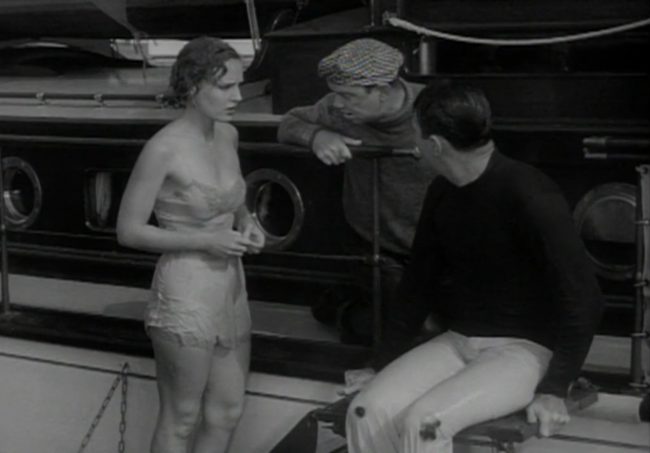 If you ever wanted to hear Cliff Edwards declare, "Why spank me naked!" … why?
One woman complains that Sandy is wearing her swimsuit, so he helpfully strips it off and throws it at her, leaving her and her gal pals screaming.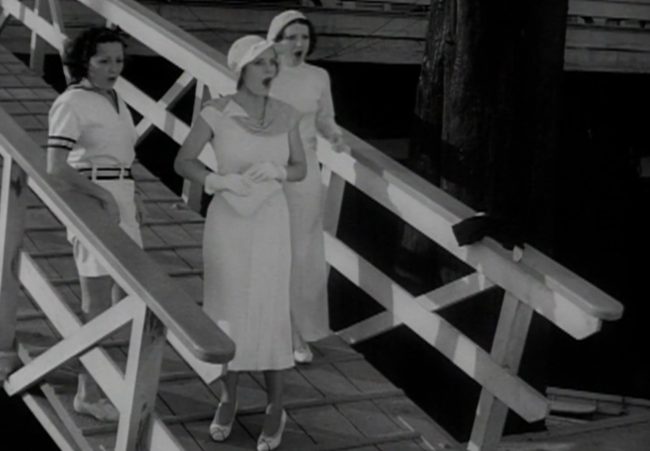 Bootleggers try to stop the heroes, and also to, naturally, murder them.
Catalina is rife with booze parties.
Fast Life: Putt Putt Putt

"My boy, your only fault is modesty!"
John Larroquette. That's who William Haines reminded me of in Fast Life. A condescending kind of guy who thinks he's got everyone else beat. Obviously, Larroquette is rarely the hero of a film; Haines was. Movies like Fast Life reveal this to be an error– your lead needs some vulnerability. It's hard to buy a romance where the hero is more in love with himself than the heroine.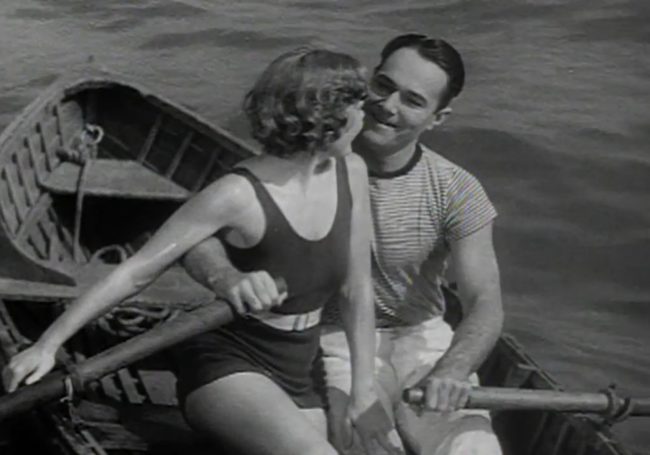 Haines plays Sandy, who's recently left the Navy and made his way to Catalina. He's invented a new carburetor for boats that makes them go a great deal faster; the only problem is they explode after a few minutes of use. He meets boat magnate John D. Jameson (Arthur Pryor) who agrees to risk everything on his invention which will climax, of course, with A Big Race.
Meanwhile, Sandy is in love with Shirley (Evans), Jameson's daughter, who is in turn more than happy to settle for the rich but slimy Burton (Nagel). Cliff Edwards is also hanging around as Sandy's best friend and foil; you know, the guy who gulps and goes bug-eyed whenever it's time to cut to an endless scene of boats puttering around.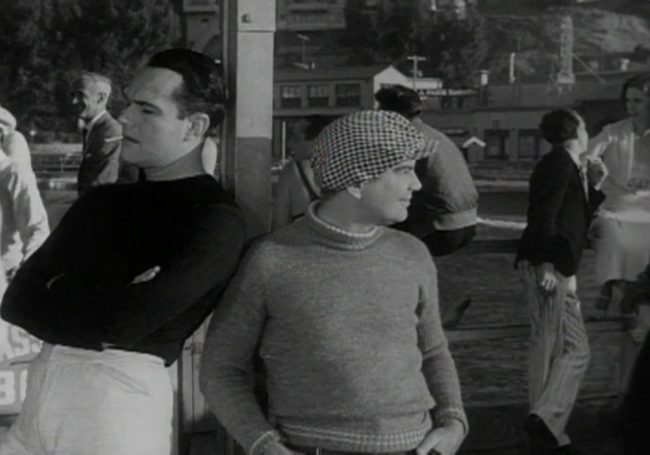 Despite my misgivings about William Haines, at least it looks like he's enjoying himself. The movie is kind of light and silly, and it kind of works in spots. Madge Evans is good even as her character is rubber banded around, and the movie looks nice. Conrad Nagel makes a good scenery-chewing villain. And it was filmed on Catalina. So it has that going for it.
Fast Life is another comedy about a go-getter that the early-30s indulged in as an antidote to the Depression– there's opportunity out there, you just have to hustle (and hope they don't prosecute). It's a myth that's only grown harder and harder to swallow, and the frivolous nature of the movie makes it difficult to give any of the proceedings much credence. There are a couple of cute moments, but, honestly, you'll get about the same amount for any random 83 minutes of your waking life as well.
Screen Capture Gallery
Click to enlarge and browse. Please feel free to reuse with credit!
Other Reviews, Trivia, and Links
The pre-release title of the film was Let's Go. Much of the production was filmed on location in San Pedro and on Santa Catalina Island, CA. […] Race announcer Pete Smith, who played himself in the film, was the well-known narrator of many M-G-M short films in the 1930s and 1940s
Awards, Accolades & Availability
This film is an obscure one, but plays on TCM occasionally.
More Pre-Code to Explore