Mary Martin
Billie Dove
Susie
Helen Ware
Dick Rollins
 Douglas Fairbanks, Jr.
Released by Warner Bros./First National
Directed by John Francis Dillon
Run time: 62 minutes

Proof That It's a Pre-Code Film
Susie takes care of down-on-their-luck gangsters. When they come to her, she always proffers them her butler's clothing. He finally snaps, "Every ex-con in this town is wearing my underwear!" Susie gives the poor man a pair of her own underwear instead.
A woman must sleep with a man to save her husband's life.
Someone gets hit by the mob at the end; don't worry, no one has to find out.
One Night at Susie's: This Takes Place Over Like 10 Years, WTF
"Love. What does love mean to pretty girls like you? There's always some chump to keep you. To keep you beautiful and soft and useless. To keep you away from the dirty side of life. I don't know that you beauties get such a break after all, 'cuz you never have to give. And the biggest part of loving… is in giving."
How far do you go for someone you love? This isn't the first (and it won't be the last) time I pose this rhetorical question since it's so full of inherent drama. But it's the machinations that lead you to this that really make or break the movie, and One Night at Susie's may have the silliest buildup I've seen in a while.
Susie (Ware) is a grizzled older woman who runs what amounts to a halfway house for gangsters who've gotten themselves in legal trouble. By the time the film begins, she's earned such respect from the town's factions that she even brokers peace between them singlehandedly.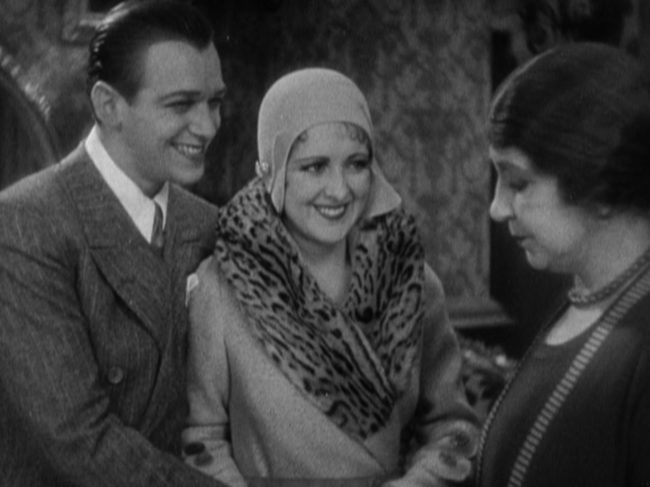 Susie's been in the rackets so long she's raised an orphan of the gang wars to adulthood. That's Dick (Fairbanks Jr.), who has taken to being a theater critic and making Susie quite proud. At least, that's until he brings home Mary (Dove), a chorus girl with a heart of gold that Susie suspects is a gold digger as well.
Well, Dove's name is above the title, so she ain't. In fact, she's a perfectly nice woman who gets sexually assaulted by her boss whom she then kills. Dick takes the fall. This sequence, from the wordless understanding of what happens to the exaggerated deco courtroom, is visually stunning and calculated for maximum emotional impact. The rest of the movie doesn't come close, but it's a great few moments.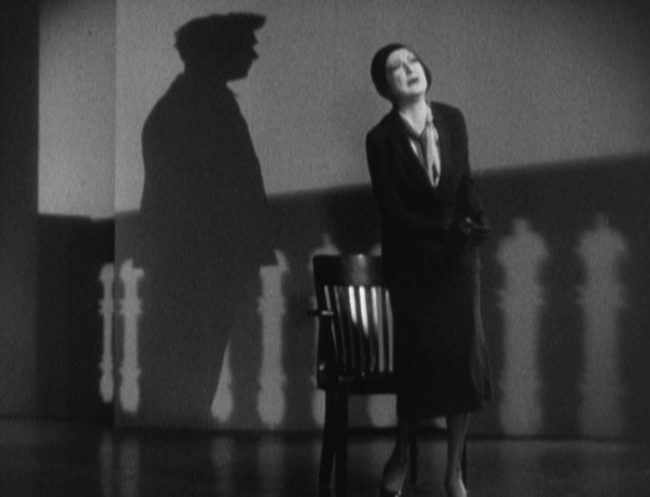 Anyway, Dick is in prison and writes a play for Mary to star in, but the only way for her to get it made is to sleep with a producer. Sensing it's a matter of life and death, she does it. But when Susie finds out, confirming her worst suspicions about Mary, will her mob connections come into play?
The movie's combination of gangland drama and self-sacrificing love is a bit wacky, especially in how rarely the plots intersect. However, the movie does imply that the world of the mafioso and Broadway are equally dangerous, though the mobsters actually seem to have more heart. It's not a bad idea for a drama, but it lacks personality outside of Susie. Despite being about a writer and an actress, their art has no zest, their story is a little too easy.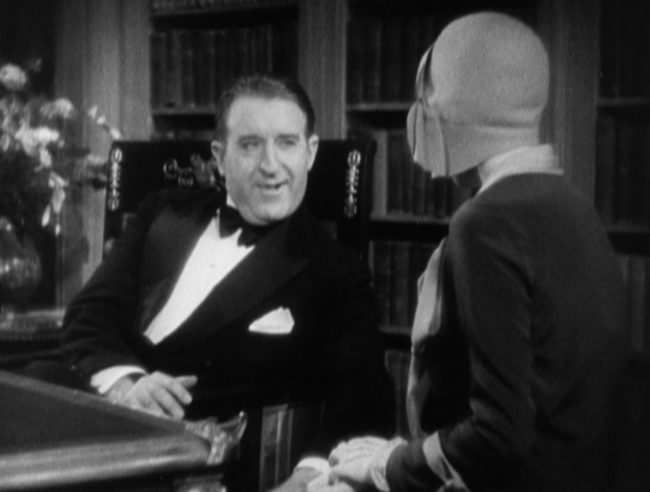 Filmed in 1930, the film is contained mostly to noticeable sets. Still new to the game, Fairbanks Jr. is given a healthy dose of eye shadow to underline his emotional states. Dove is decent in a strong role, but Mary has no friends and less personality; she is an avatar to devotion rather than a fleshed-out character. There's also a hammy PI, Houlihan (James Crane), who lives to menace Mary; he's a subtle as an axe. This leaves Helen Ware, who is given to being deliberate, which makes her riveting in the film where everyone is a leaf in a hurricane.
One Night at Susie's is one of those tougher films to review; there's some good, even unique moments that may be worth checking out for people on a deep dive into one of the stars or the era. But it's a film with many elements done better elsewhere, and, more than likely, with less eye makeup.
Screencap Gallery
Click to enlarge and browse. Please feel free to reuse with credit!
Other Reviews, Trivia, and Links
As Laura notes over at her Misc. Musings, no one's quite sure of the runtime for this one: IMDB says it's around 80 minutes, the WAC case says 92 minutes, but the current print runs only about 62. The movie seems pretty complete as-is– there are no gaps in the narrative or any obvious cuts.
After working as an artist's model, Dove's show business roots sprung a couple of years later with Ziegfeld's Follies beginning in 1918. Her movie debut came in 1921 and she was soon one of the top stars of the decade. The "All-American Beauty" played opposite actors as varied as Tom Mix, Lon Chaney, and John Gilbert early in her film career, and Rod La Rocque, Lloyd Hughes, Gilbert Roland, and even Douglas Fairbanks, Senior that is, later on. She made a seamless transition to talkies, but by the time One Night at Susie's came out, she was no longer under contract to First National. Dove had split with husband Willat and was in the midst of a highly publicized affair with Howard Hughes. She'd appear in two films for Hughes's The Caddo Company before making her final Golden Age movie appearance alongside pal Marion Davies in Blondie of the Follies (1932) at MGM.
Dove is cute in her sleek cloche hats and Fairbanks is charming, though unfortunately slathered with a distracting amount of dark eye make-up in his prison scenes. Ware really does steal the film though. She's the only truly relatable character, because she makes you feel her dilemma and the depths of her motherly love for Dick.
Awards, Accolades & Availability
More Pre-Code to Explore