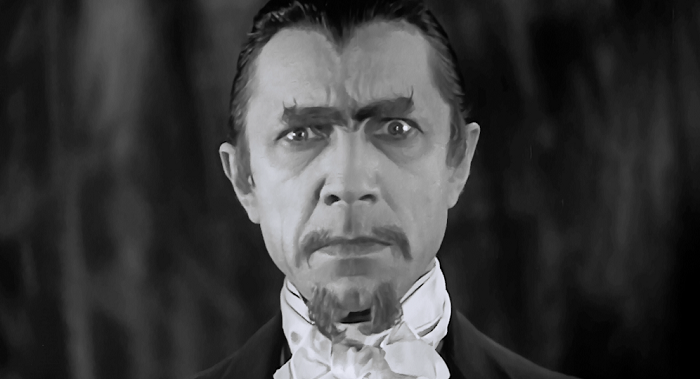 Ah, October. Here in California, that can only mean one thing: rain! Beautiful sweet rain! Living in a desert sucks sometimes, I swear.
Oh, but it also means horror movies and stuff. While pre-Code horror movies rely a great deal less on gore and strangely persistent video cameras than most modern movies, that doesn't mean that they offer anything less atmospheric than what you'd expect.
In fact, the emergence of the talkies allowed horror films to experiment with sound and use that as a focal point in the terror, either by way of long silent passages in something like The Mummy or with eerie chants and (rare for the period) background music as in The Black Cat.
But the most widely known products of the period were the original Universal horror films, which include franchise-starters Dracula, Frankenstein, The Invisible Man, and The Mummy. (For those curious or who don't remember, The Wolf Man doesn't show up until the 40s and The Creature from the Black Lagoon is a purely 50s invention.) Universal also crafted The Black Cat at this time; the mind boggles at how in the world they could have franchised that one.
Other studios tried cashing in on these successes as well, with mixed results. We'll hit a number of those this month, as well as a few mysteries for fun.
Upcoming Reviews in October
October is filled with horror and mystery! That must mean that we're going to see a few consistent stars, so expect a lot of Bela Lugosi and Lionel Atwill!
The only two full length horror films ever filmed in two-strip Technicolor.
A badly reedited version of a German classic.
Two stars in yellow face, including one who wants to take over the world!
And one very famous bloodsucker to finish up the month.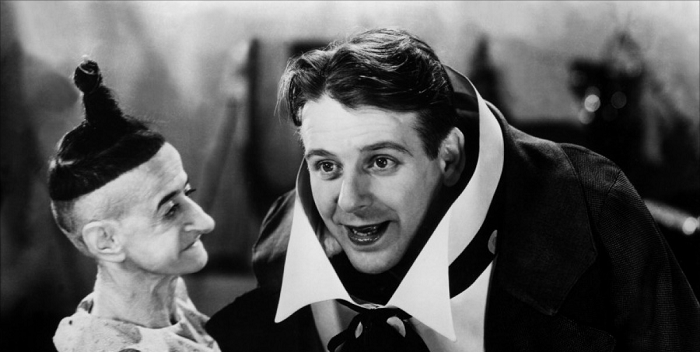 Pre-Code Movies on TCM in October
Please note: All times are Eastern. This schedule is subject to change. And, yes, there is nothing more depressing than having reviewed nearly 200 pre-Code films and only having three of those movies appear on a monthly schedule.

Date

Time

Film

Link

3rd
4:00 AM
Christopher Strong (1933)
An aviatrix's affair with a married man could cost her her career.
My Review
4th
5:45 AM
Female (1933)
A female CEO who's used to buying love meets her match in an independent young executive.
My Review
5th
7:00 PM
The Bitter Tea of General Yen (1932)
An American missionary falls in love with a Chinese warlord.
My Review
7th
3:00 AM
Five and Dime (1931)
A dime-store heiress elopes with a married man.
n/a
7th
 4:45 AM
Dancing Lady (1933)
A musical star is torn between a millionaire playboy and her stage manager.
n/a
13th
12:15 AM
The Vampire Bat (1933)
Villagers suspect the town simpleton of being a vampire.
 n/a
14th
 10:45 AM
One Romantic Night (1930)
A princess engaged to a prince falls for her brother's tutor.
n/a
 19th
3:00 AM
The Mask of Fu Manchu (1932)
A Chinese warlord threatens explorers in search of the key to global power.
n/a
19th
5:00 PM
Freaks (1932)
A lady trapeze artist violates the code of the side show when she plots to murder her midget husband.
n/a
23rd
9:00 PM
Trader Horn (1931)
An African trader and a white jungle goddess join forces against a hostile tribe.
 n/a
26th
3:00 AM
The Death Kiss (1933)
A movie actor is killed while filming a scene.
n/a
26th
6:30 PM
The Mummy (1932)
An Egyptian mummy returns to life to stalk the reincarnation of his lost love.
 n/a
26th
9:30 PM
White Zombie (1932)
A zombie master menaces newlyweds on a Haitian plantation.
n/a
29th
3:00 AM
Perfect Understanding (1933)
A young couple decide to marry under the condition that they agree… never to disagree.
n/a
 30th
9:00 PM
Freaks (1932)
A lady trapeze artist violates the code of the side show when she plots to murder her midget husband.
n/a
Questions? Comments? Or do you just want to bug me? Leave a comment below!