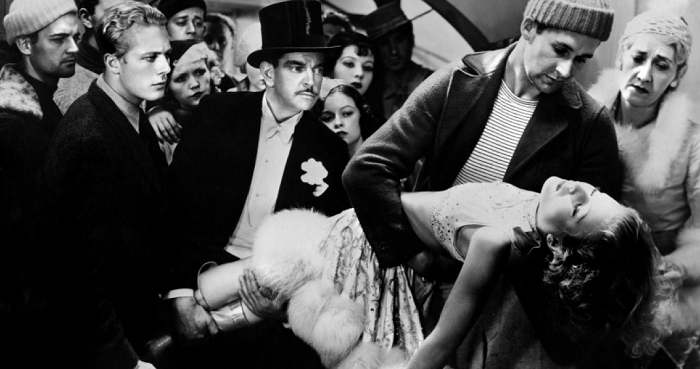 Pre-Code.Com Site News for October 2014
Woooowee! Hope everyone had a fun September! Those 24-hour pre-Code marathons on TCM wore me out, and I don't even get the channel! The network slows down a bit for October (obviously), but there's still a couple of nice choices here and there.
Those sticking with us to learn more about the Thoughts on the Thin Man update, things are going smoothly. We've got a majority of articles in, and we're on track to have most of it completed and ready for final revisions by the end of the month. So exciting times there!
I'd like to thank everyone who stuck through the site mishaps through this month. Comments are still down, so you can't complain about it either. 😉 But I'm working on it. Hopefully things will get better soon.
Upcoming Reviews in October
10/3 – Hips, Hips Hooray!
10/6 – Pre-Code Retro: Playmates
10/10- Palooka
10/13- I Am Suzanne!
10/17- Bedside
10/20- Are You Listening?
10/24- Hold Your Man
10/27- [Nov Sched]
10/31- Bright Lights
Pre-Code Hollywood Movies on TCM in October
Please note: All times are Eastern. This schedule is subject to change. See the full listings here. To watch TCM online, check out their TCM Watch site.
Date & Time

Film

10/1, 9:15 AM
The Merry Widow (1945)
A prince from a small kingdom courts a wealthy widow to keep her money in the country.
10/3, 7:15 AM
Polly of the Circus (1932)
A small-town minister risks his career when he falls for a trapeze artist.
10/3, 8:30 AM
The Circus Clown (1934)
Joe E. Brown movie.
10/4, 8:00 PM
Twentieth Century (1934)
A tempestuous theatrical director tries to win back the star he created and then drove away.
10/5, 10:00 AM
Scarface (1932)
A murderous thug shoots his way to the top of the mobs while trying to protect his sister from the criminal life.
10/7, 6:00 AM
Mata Hari (1931)
Romantic biography of World War I's notorious lady spy.
10/8, 1:30 PM
Sundown Trail (1931)
A ranch foreman and an Eastern lady inherit a ranch. Starts a day of Tom Keene Westerns.
10/8, 2:30 PM
Beyond the Rockies (1932)
A noted gunman takes a job on a cattle ranch to stop a band of rustlers.
10/8, 3:30 PM
Freighters of Destiny (1932)
A young man seeks vengeance on the outlaws who killed his father.
10/8, 4:30 PM
Ghost Valley (1932)
A cowboy and a beautiful girl inherit a supposedly haunted gold mine.
10/8, 5:30 PM
Saddle Buster (1932)
A rodeo rider can't face the game after he's almost killed by a wild bronco.
10/10, 6:00 AM
One Night at Susie's (1930)
A boarding house keeper's gangster tenants step in to help when her son is framed for murder. Kicks off a morning of John Francis Dillon films.
10/10, 7:30 AM
Sally (1930)
A waitress dreams of becoming a Broadway star.
10/10, 9:15 AM
Spring is Here (1930)
A young woman is torn between the nice guy her father likes and the bad boy he doesn't.
10/10, 10:30 AM
The Reckless Hour (1931)
A young innocent almost ruins her life for the love of an unfeeling cad.
10/14, 11:15 AM
Stingaree (1934)
An Australian bandit kidnaps an opera singer and falls in love with her.
10/14, 8:00 PM
The Stranger's Return (1933)
A divorcee visits her grandfather's farm to recover and discovers a life she never expected to love.
10/14, 11:15 PM
Sadie McKee (1934)
A working girl suffers through three troubled relationships on her road to prosperity.
10/15, 11:15 AM
They Learned About Women (1930)
Professional baseball players win big with their vaudeville act until love gets in the way.
10/15, 1:00 PM
Lady With a Past (1932)
A good girl raises her popularity when she pretends to be bad.
10/15, 2:00 PM
Man Wanted (1932)
A female executive falls in love with her male secretary.
10/15, 3:45 PM
The Man is Mine (1934)
A woman fights to keep her husband from cheating.
10/16, 12:30 PM
Let Us Be Gay (1930)
A visit to Paris brings divorced spouses back together.
10/17, 10:00 PM
Trader Horn (1931)
An African trader and a white jungle goddess join forces against a hostile tribe.
10/19, 10:30 AM
Hot Saturday (1932)
A virtuous small-town clerk becomes the victim of a scandalous rumor from an unsuccessful suitor.
10/20, 10:30 AM
Conspiracy (1930)
A brother and sister take on the drug ring that caused their father's death.
10/20, 11:45 AM
Framed (1930)
A nightclub hostess seeks revenge against a police inspector, yet falls in love with his son.
10/20, 1:00 PM
He Knew Women (1930)
A novelist has to chose between his wealthy patron and a penniless romantic.
10/20, 2:30 PM
Ladies of the Jury (1932)
A jury hold-out tries to prove the defendant's innocence.
10/20, 3:45 PM
The Pay-Off (1930)
A gentleman thief suffers from unrequited love.
10/20, 5:00 PM
Too Many Cooks (1931)
A young couple tries to cope with relatives who keep intruding on their happiness.
10/20, 6:30 PM
Way Back Home (1932)
A New England preacher shelters a young boy from his alcoholic father.
10/22, 6:30 AM
Sin Takes a Holiday (1930)
A stenographer tries to save her boss from his divorcee girlfriend.
10/22, 8:00 AM
Born to Love (1932)
A World War I pilot thought dead turns up after the mother of his child has married.
10/22, 9:30 AM
Bed of Roses (1931)
A girl from the wrong side of the tracks is torn between true love and a life of sin.
10/22, 10:45 AM
Our Betters (1933)
An American heiress marries into the British nobility.
10/24, 6:00 AM
The Devil's Brother (1933)
Two wannabe bandits are hired as servants by the real thing.
10/25, 4:00 AM
Tarzan and His Mate (1934)
The jungle king fights to protect his wife from a greedy ivory hunter.
10/26, 12:00 PM
Tarzan the Ape Man (1932)
A British lord raised by apes kidnaps a beautiful noblewoman exploring Africa with her father.
10/28, 7:45 AM
The Vampire Bat (1933)
Interesting remix of many early-1930s horror movie tropes.
10/29, 6:45 AM
Night Nurse (1931)
A nurse discovers that the children she's caring for are murder targets.
10/29, 8:00 AM
Journal of a Crime (1934)
Before she can confess to shooting her husband's mistress, a woman succumbs to amnesia.
Questions? Comments? Or do you just want to bug me? Leave a comment below!