Proof That It's Pre-Code
Our rather sleazy main character Jimmie, who spends most of the film two timing his wife, attends a church service where most people are deciding on how much they're taking out of the collection.
Loretta Young pokes through her dress a few times. What? I notice these things.
So close to some bad words: "You're trash, just like your mother. She was a common little…"
And some more mild language: "As your doctor, I advise you to quit being a jackass."
The Particulars of the Picture
Marion Cullen … Loretta Young
Jimmie Decker … David Manners
Tony Travers … George Brent
Enid …
Helen Vinson
Dixie Dare …
Una Merkel
Ford Humphries … Louis Calhern
They Call It Dull, Too
"You can't build your happiness on someone else's unhappiness!"
They Call It Sin begins much like your classic traveling salesman joke. Experienced huckster Jimmie comes to town, meets a pretty girl, and neglects to tell her about his other woman. Luckily that dainty young girl is Marion and is played by Loretta Young, so it's not too far to guess that things will work out for her.
She's the young organist at the church in town, and Jimmie he wants Young to play his organ too. After her parents reveal that they're not really her parents and that she's actually the daughter of a scandalous performer, Young sees this as a sign and sweeps into New York to surprise her beau.
Jimmie is surprised, as is his fiancee, Enid. Jimmie's friend Tony steps in and offers to escort Marion around town as interference, but she soon decides to try and make it on her own as a song writer. She ends up in a talent agency with Dixie, and they charm the pants off talent agent Mr. Humphries. Humphries is satisfied with being the only person sans pants, but Marion won't give in.
Jimmie soon resurfaces, and Marion gets tempted back into his orbit. But Jimmie and Humphries clash, and after a rather goofy unfortunate push, it looks like Jimmie might get the wrap… for murder.
Murder and Moralizing
They Call It Sin is a pretty bland movie outside of Una Merkel's fun Dixie (here's a nice piece about Merkel I read recently) and the way it treats Marion.
The film is behind Marion's character the entire way. It's fun since she doesn't hesitate to embrace her dream to be a songwriter. With the testy Dixie on her side ("Are you going to be one of those dames that crumples up when the first man in her life marries someone else?"), she forges her own path until the utterly ridiculous climax.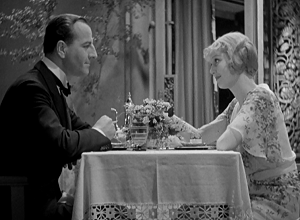 Humphries and Jimmie are both unrepentant bastards, and both get their comeuppance. Mind you, murder is a little harsh for Humphries, but Jimmie's realization that he missed out on a great thing and lost a woman's love with his own selfishness is pretty satisfying.
Of course, there's still something weird with the movie, and that's how Tony ends up with Marion. He offers himself to her early on in the film and she turns him down, as she doesn't really like him that way. Later, after the murder, he performs an operation (he's a doctor, by the way) that proves that Marion had nothing to do in that whole climactic murder.
Next we see Tony and Marion, they're snuggling up to each other, which just goes to show if you ever prove someone innocent of murder, they must marry you. Valuable life lesson.
Trivia & Links
Cinescene points out the progressiveness of this movie, as Young's character is a woman who eschews narrow minded small town ways and finds success and happiness in the big city all on her own. They call it "98 minutes of guilt free fun", which I don't exactly agree with, though.
Mordaunt Hall at the New York Times stone cold says about They Call It Sin: "Although this unimportant offering has several diverting sequences, particularly those in which that clever comedienne, Una Merkel, appears, it is weighted down with more or less stereotyped sensational episodes, none of which adds one iota of lifelike quality to the production. " I also liked this line, which speaks to what a cliche something like this became in the Pre-Code era: "There are the somewhat familiar turns toward the end, but one is apt to feel thankful for the small mercy that there is no murder trial."