Pre-Code.Com Site News for March 2016
Happy March, everyone! Things are certainly interesting here at Casa de Reid as we juggle our newborn baby and very quickly learn that their oblong shape does not lend well to juggling. Luckily, thanks to very kind family and friends, I remain too well fed and still have plenty of time to tend to this madness website.
That being said, over the last month and a half I updated some old reviews. Here are some nicer, newer versions of my takes on Female, Frisco Jenny, and Three on a Match. Enjoy!
On TCM this month, as if to make up for February's slog of Oscar nominees and winners, we get not one but three days or partial days dedicated to pre-Code all-stars. That includes a rather hefty Harlow marathon, a half day for Edward Everett Horton (including a bunch I've never seen), and a half day for Warner Baxter.
Also for everyone out there who really isn't a fan of censorship, TCM is spotlighting films condemned by the Catholic Legion of Decency. This includes a primetime showing of The Story of Temple Drake, which is beyond essential for cinema students let alone pre-Code enthusiasts. There's also your Baby Face and Smarty— look, just bust out the DVR this go around and you'll be happy.
Last thing: a big congrats to Sheila for winning the Helen Twelvetrees book drawing last month! I promise to do more events like that whenever I want to mercilessly taunt you, the audience, with hopes of getting cool books written by my friends.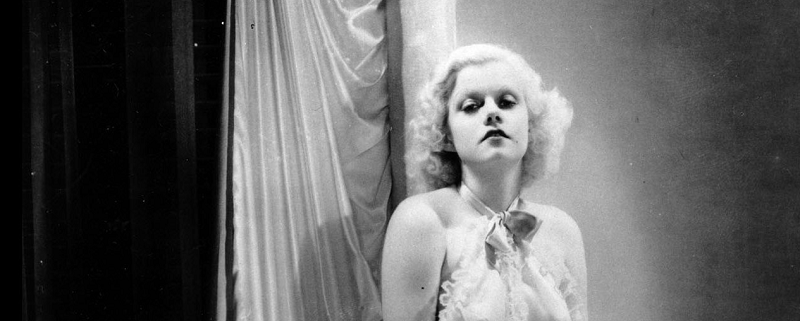 Pre-Code Hollywood Movies on TCM in March
Please note: All times are Eastern. This schedule is subject to change. To watch TCM online, check out their TCM Watch site.

---
---
---
---
---
---
---
---
---
---
---
---
---
5th, 4:30 AM
The Private Life of Henry VIII (1933)
The famous monarch goes through some marital difficulties.
---
---
---
---
---
15th, 6:00 AM
The Rich Are Always With Us (1932)
A socialite gets a divorce but can't keep out of her ex-husband's life. With Ruth Chatterton and George Brent.
---
---
17th, 7:15 AM
The Key (1934)
A British officer stationed in Ireland falls for the wife of an intelligence man. With William Powell.
---
18th, 6:00 AM
Wide Open (1930)
A meek employee gets the chance to implement an idea. Starts an Edward Everett Horton day!
---
18th, 7:15 AM
But the Flesh is Weak (1932)
A widower and his son chase after rich widows.
---
18th, 8:45 AM
Lonely Wives (1932)
A lawyer hires someone to impersonate him so he can have an affair.
---
18th, 10:15 AM
Roar of the Dragon (1932)
Bandits menace Americans on a Chinese riverboat.
---
---
---
---
21st, 7:30 AM
Remote Control (1930)
A radio announcer foils the mob.
---
---
21st, 2:30 PM
From Headquarters (1933)
A police lieutenant uses scientific methods to solve a decadent playboy's murder. With George Brent and Margaret Lindsay.
---
---
29th, 7:15 AM
The Squaw Man (1931)
After saving the life of a British aristocrat, an Indian maiden bears his child. With Warner Baxter. Part of a Warner Baxter day. (!)
---
---
29th, 12:30 PM
42nd Street (1933)
The definitive backstage musical.
---
29th, 2:15 PM
Stage Mother (1933)
A mother will sacrifice anything for money.
---
---
Questions? Comments? Or do you just want to bug me? Leave a comment below!