Connie Newton
Dolores Costello

Neil Hartley
Warren William

Melville Raymond
H.B. Warner

Released by Warner Bros.
Directed by Hobart Henley
Run time: 60 minutes

Proof That It's a Pre-Code Film
Our first shot of our heroine is of her in the bathtub, scrubbing up.
Connie gets a call from her chatty Molly (Polly Walters) early in the movie, and relates things like "My diary looks like one of those registers at Atlantic City hotels!" plus other scandalous plots such as how her husband has been complaining about having to pay off her lover.
A man has broken into Connie's bedroom, and Connie announces she's going to bed. He grins and takes his coat off, declaring, "I've been waiting two years for you to say that!"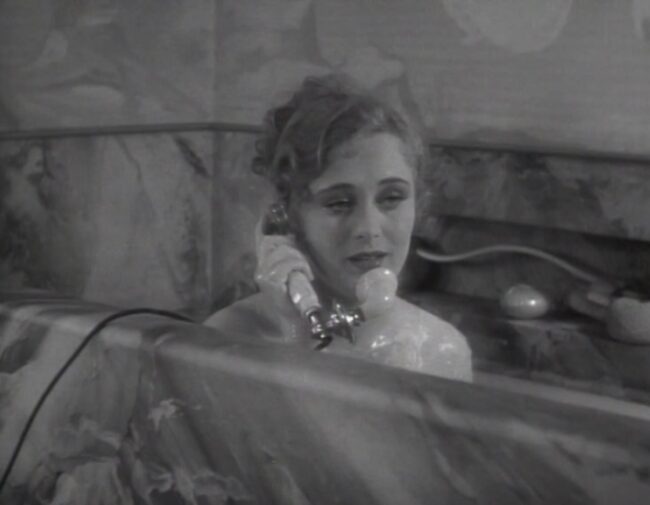 Connie falls in love with Arthur, unaware that he has a wife in the wings.
When explaining why he approves a different woman for his son, a father explains to Connie, "She came to him… clean."
Sure, this man may have been shot in the back, but this is clearly a case of suicide!
Expensive Women: Overpriced

"You see, I'm a peculiar case. I have nothing except money. I do as I please, go where I please. The answer is I don't want to do anything or go anywhere. […] I have everything but the thing I want– ambition! To go somewhere!"
Wow, holy shit, I do not care.
Expensive Women, following in the footsteps of The Divorcee and other pre-Code dramas of sex and consequences, showcases the problems inherent in tying one's reputation up in casual sex in the 1930s.
Here we have Connie (Costello), a rich socialite who is bored by life and love. Then she has a meet cute in the bathroom of a dull party– both she and Neil (William) are avoiding other guests and find themselves hitting it off. Connie, who has become so jaded at her teflon life, falls for the passionate Neil and spends the night with him. She feels ashamed at her feelings the next morning and opts to avoid him.
However, Connie's jilted, drunkard beau Bobby (Joe Donahue) pieces together Neil and Connie's sexual escapade and uses it to abuse her, badgering her to give him the same treatment lest he start spreading rumors. He is very annoying, but Connie still treats him well, which is also very annoying.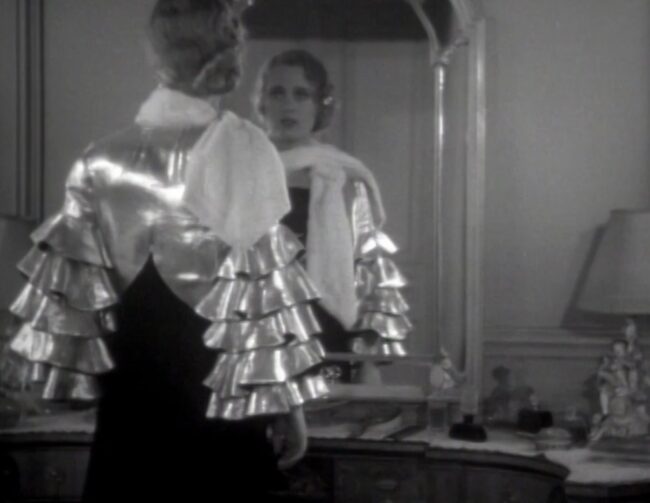 Connie remains distraught until she meets handsome Arthur Raymond (Anthony Bushell), a playboy who is both married and squarely under his father's thumb. Their love affair seems like a real thing until Arthur's father, Melville (Warner) intervenes, and one night the big-mouthed Bobby ends up with a bullet in the back.
In that summary, I listed off instances of sex, drunkeness, and murder, which, I will admit, would make most movies sound like a good time. Expensive Women is not such an experience.
Dolores Costello, a silent starlet making her debut in talkies, talks a very dull character and flattens her out. The 60-minute film's structure is a mess, too, taking the romance between Connie and Neil and forgets it for the entire middle chunk. Instead we are dallying unconvincingly with the supremely boring Arthur. What does Connie see in him? Hell, I don't even know what a casting director saw in him.
The characters in the movie lack any compelling quality outside of Neil, in whom Warren William, in one of his earliest screen roles, imbues a dreamy-eyed desire and a sweetness that makes Connie's fullblooded pursuit of the personality-free Arthur all the more baffling.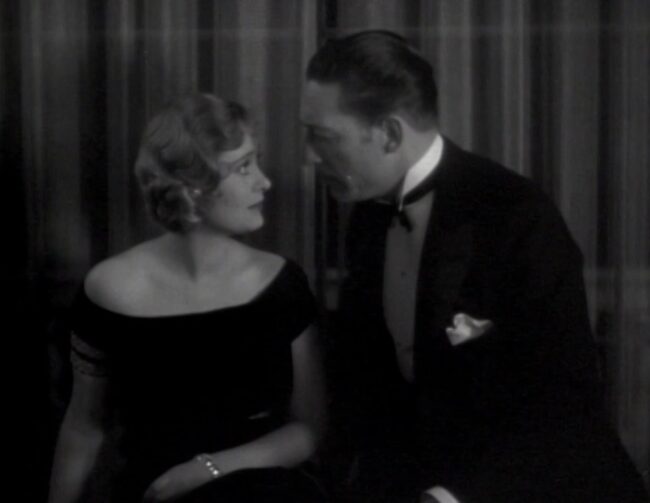 The film's climactic murder trial is also notably unusual, as it is held in Melville's home library only lasts for a couple of minutes. The trial's result sees Connie cleared of a murder she didn't commit; this doesn't create any sense of palpable relief in the audience. Instead, it showcases how these aloof, rich and powerful characters face absolutely no consequences for any of their actions. That Connie goes back to Neil in the final few minutes is almost insulting, giving her a happy ending to wallpaper over the movie's fervent faith in the performative misery of the emotionally-mute wealthy class.
I don't know if you'd picked up on it, but I really hated this one. Really, really. Expensive Women is so generic and clumsy, it's strictly for completionists and masochists only.
Screen Capture Gallery
Click to enlarge and browse. Please feel free to reuse with credit!
Other Reviews, Trivia, and Links
TCMDB gives details on the star:
Costello, in her late twenties by the time she starred in Expensive Women, had already appeared in some 20 features and numerous shorts. Her acting career began while she was still a child: She was the daughter of Maurice Costello, an early matinee idol, and performed on-stage and in early shorts with her sister, Helene. In 1925, a talent scout signed her to Warner Bros. The next year, she appeared in The Sea Beast, an adaptation of Moby Dick, opposite John Barrymore, and the two fell deeply in love. Upon their first meeting, Barrymore is reported to have said, "I have just seen the most beautiful woman in the world. I shall not rest or eat until I have seen her again."
Watching Expensive Women, you can see why. Costello is radiant but also vaguely sorrowful-looking, as if she's holding a deeply submerged unhappy secret: Her large eyes are bright but also somewhat shadowy, as if she's perpetually just an hour short of all the sleep she needs. Costello and Barrymore married in 1928; the union was famously tumultuous, owing at least in part to Barrymore's drinking problem. The couple divorced in 1935, and though Costello spent most of the 1930s in somewhat undistinguished movies, she did give notable performances in Little Lord Fauntleroy (1936) and, even more significantly, in the 1942 The Magnificent Ambersons. Costello made her last movie, This Is the Army, the following year, though she lived until 1979. (She is also, it's worth noting, the grandmother of Drew Barrymore.)
[T]he story of Constance Newton and her romantic affiliations loses itself so early in the film that almost any sort of diversion is an asset. And it probably represents a desire on the part of the players to get away from themselves for a little while, a desire which is quite comprehensible to any one who has listened to them chuckling painfully at each other's repartee for minutes at a time. By the time Constance has gotten around to mouthing the prize epigram of the afternoon, "It is the unexpected that always happens," and her auditors have applauded it, the audience is as weary of the whole thing as the players.
Variety is also dismissive, noting: "Things are so choppy and illogical, there's a feeling New York censors have ordered too many cuts for the film's peace."
Awards, Accolades & Availability
This film is unavailable on home video. It occasionally plays on TCM.
More Pre-Code to Explore