Ace Corbin
Cary Grant

Eleanor
Benita Hume

Manning
Jack La Rue

Released by Paramount
Directed by Louis J. Gasnier and Max Marcin
Run time: 72 minutes

Proof That It's a Pre-Code Film
Benita Hume pops out of the shower at one point and (it's difficult to capture in a screenshot) you do get a tasteful glimpse of her bottom. Well. "Tasteful."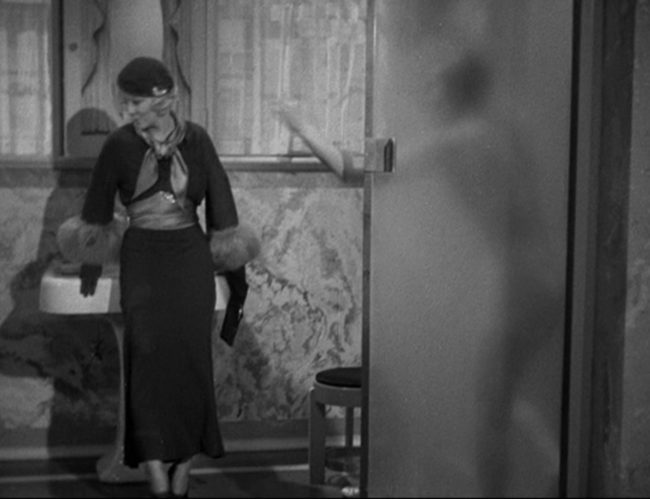 … The movie will give you as much of Hume as you can take.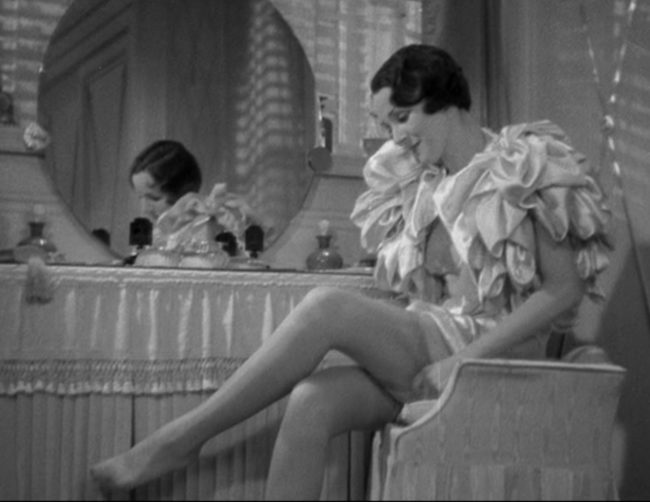 Gangsters and gun molls abound. There's a bombing! People shot and stabbed! A woman who lives with a man outside of the purview of marriage, and that's okay!
Gambling Ship: Adrift
"Excitement is interesting, but believe me, it can be very dull."
There's a base uneasiness to 1933's Gambling Ship. Outside the incredibly generic title sits a product that aches to be a darker, trickier tale of double crosses a la Red Harvest. Instead sickened by sidekicks, romance and a climax that can't really figure out how to resolve itself.
Cary Grant, with gray temples and a swagger in one of his earliest starring roles, plays a mafioso named Ace Corbin, damned determined to escape the perfidy of Chicago gangland. He heads by train to Los Angeles, meeting cute with Eleanor (Hume), a classy looking dame. He gives her a fake name, and she does the same for him. He's secretly a gangster, she's secretly a gangster's moll; can they get along?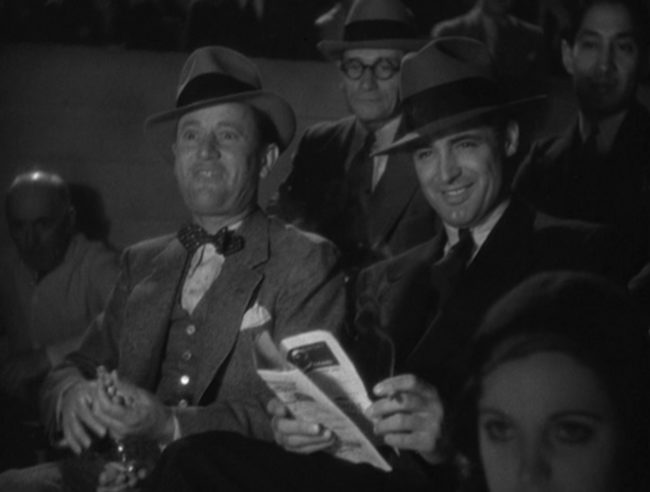 When they arrive in LA, things quickly go to crap as Eleanor's boyfriend, also a gangster, Joe Burke (Arthur Vinton), runs a gambling boat off the coast that's feeling the pressure from Manning (La Rue). Manning had previous run-ins with Ace, and Eleanor, not knowing Ace is the man she fell for on the train, plays the two gangsters against one another to help her keep Joe safe.
Ace is soon running the gambling ship, which faces problems with bombings, fires, and shootings. The film's climax involves a wild storm and pulling up anchor as Eleanor begs to die, all before we cut to a peaceful train ride away from it all– sadly, with no tunnel included.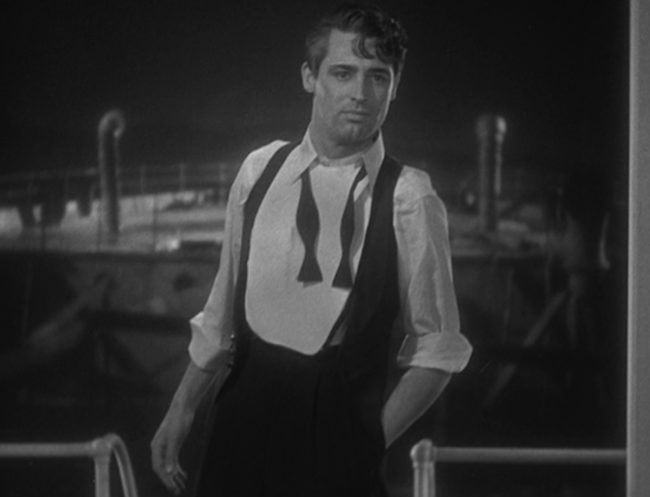 Cary Grant is excellent in the film, though his character is a bit humorless. He has a hulking, gentle charm, something you don't normally expect, but you really believe him innocently falling for and exalting Benita Hume even though her true lineage is pretty apparent. He also has serious Rock Hudson vibes; in a more cogently realized story, you'd really have something here.
Hume, on the other hand, is a bit of a tougher sell. Her expressions and mannerisms feel a lot more 1930 than 1933, with big eyes and overreactions marring several of her scenes. She has some charms– the moment where she leverages Ace Corbin's name to scare Manning has a nice sense of hardness– but overall she just lacks the ability to toe the same line Grant does.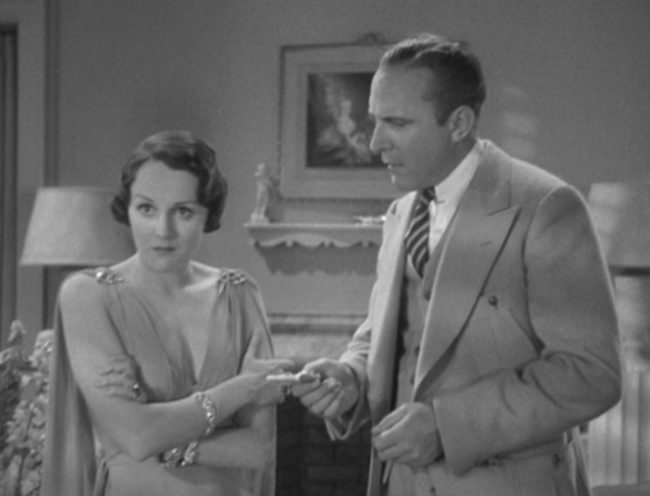 Another off-putting thing about Gambling Ship is that the tale is rife with casual racism, from Grant rubbing a black man's head for luck (something people really did back then) to a number of incidents where other languages and cultures are used as fodder for jokes. Like plenty of gangster movies from the era, the idea that everyone's working some angle of a graft is reflected in various cultural interactions– the only reason everyone isn't white and happy is because they can make a few dollars off it.
There are nice chunks of hard-boiled dialogue peppered in Gambling Ship, like this from two women at the beginning, admiring Grant's mug on the newspaper's front page:
"I saw him at the Bijou once. Gee, but he was handsome."

"Yeah, but he kills people!"

"So does rheumatism."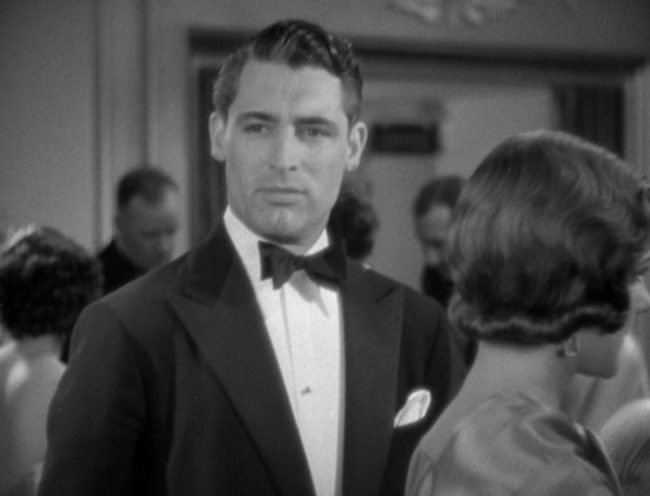 Grant is young and dashing enough that he seems like just the kind of reluctant, threatening gangster who would make Jack La Rue quake in his boots. Roscoe Karns, as the comic relief Blooey, also has some good bits, while Glenda Farrell pops in as Hume's friend in an all-too-brief role that outshines Hume in a number of unflattering ways.
Though there are some interesting rough edges to the picture, Gambling Ship is a quickie, something that aches for a another draft. Maybe if it'd been put out in 1943 rather than 33, it could have gone darker, even if it'd had to clean up Hume's backstory– and cut out a few shots of her backside. As it is, it's a confluence of styles, careers and writing that all just congealed at the wrong time.
Screen Capture Gallery
Click to enlarge and browse. Please feel free to reuse with credit!
Other Reviews, Trivia, and Links
How Fast One, a novel that was so terse and stacatto it made Hammett read like a Victorian triple decker, became this romantic dramedy with Cary Grant and Benita Hume is one of those mysteries only a Hollywood producer could explain — or justify — but that's what happened on the classic Black Mask serial's way to the big screen[.] […] That said, once or twice toward the end of the film you get a glimpse of how Grant might have played Kells, and you have to at least think about what might have been, Fast One is a very violent book that reads more like it was written with a tommy gun than a typewriter. 
For this stale and profitless narrative the producers have gathered an attractive cast. Although they are wasted in the leading rôles, Cary Grant is a likable and intelligent actor and Benita Hume is a charming British actress. 
According to the pressbook, a technical advisor was used to acquaint the actors with the "..details of the parlance, activities and manners of the gambling world." To maintain his anonymity, he was known only as "Mr. 100." Some scenes were shot in San Pedro, CA. At the time of this film, casinos operated legally off the coast of California outside a three-mile radius from the shore.
Awards, Accolades & Availability
More Pre-Code to Explore