Andy
Robert Wheeler
Dr. Dudley
Bob Woolsey
Daisy
Dorothy Lee
Released by RKO | Directed By Mark Sandrich

Proof That It's Pre-Code
The opening features a number of fetching young women wearing as little as a few strips of cloth and as much as some strategically placed strips.
Our heroes are proprietors of flavored lipstick, which they sample via girls in extremely revealing little costumes. The last girl gives Woolsey a kiss so intense that he becomes completely stiff.
As per norm with the team, Wheeler plants one on Woolsey. Woolsey notes that Wheeler tastes like "lavender and old lace!"
At one point a squirrel makes it up Bob's pant leg, and thinks its Thelma Todd getting frisky in the park.
Woolsey tosses a coin down a secretary's cleavage, and a very audible 'ka-ching!' plays.
There's a gay choreographer whose work is obviously riffing on Busby Berkeley.
The villain tours a perfumer's marketing department, which involves women who seem to be lacking in clothing south of the border and only getting by with strategically placed purses. It's too bad we never saw that fashion style take off…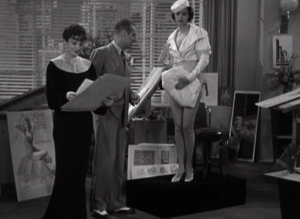 Hips, Hips, Hooray!: It's a Mad, Mad World
"There are three types of investments: animal, mineral, and vegetable!"
For anyone who's followed the site for a while or just watches a lot of movies, the names Wheeler and Woolsey can convey a wonderful rainbow of reactions. The duo, who turned out 26 films in just 7 years of collaboration before Woolsey's death, starred in a variety of satires and comedy vehicles, some notably more broad than others.
Hips, Hips, Hooray is sometimes cited as one of Wheeler & Woolsey's best outings, but I'll have to be a voice of dissent here. It falls pretty much in the middle of the pack of the duo's movies as a comedy that doesn't have much to say or do. The duo are a pair of street salesmen peddling flavored lipstick when a beauty product magnate, Miss Frisby (Thelma Todd), meets them and buys into their tales tales of their own wealth and power. The businesses join, only to find that one rogue manager has sold them out to the competition. In hopes of rekindling the company's fortunes, Frisby enters a car in a cross country race, which Wheeler and Woolsey end up accidentally piloting.
The plot is pretty skimpy, which at least matches many of the women's outfits for the picture. The musical highlight of the film is a ditty called "Keep On Doing What You're Doing", a lengthy song between the two couples– Woolsey and Todd, Wheeler and the 'dizzy' Dorothy Lee– that starts out as romantic and quickly descends into pure madness as their affections spin out of control. It's a kooky kind of insanity as it illustrates the fun part of being in love– the mutual admiration and then the recklessness that such a feeling can engender.
Hips is also probably one of Thelma Todd's better showcases. Besides possessing the odd character trait of constantly changing her hair color, Todd gets to be just as playful and loopy as Wheeler & Woolsey. The excited way she describes how big she's heard Dr. Dudley is and then talks about how badly she wants to merge with him– priceless. Todd's large eyes and larger smile pay off in dividends, especially during the aforementioned musical sequence when she wrecks a vase, almost as an afterthought, just because she wants to.
Unfortunately, other parts of the movie feel worn. A long sequence of the duo using their car engine to brew them up some coffee has the fingerprints of Laurel and Hardy all over it, and if Laurel and Hardy didn't actually do it, it's probably because of a sense of pride in their work. Other gags similarly flounder, like a long number with girls wearing powderpuffs and some tap dancing that goes nowhere and does nothing.
The worst has to be the last 10 minutes of the movie which suddenly pivot the film from genial corporate comedy to being a road race movie. Lee and Todd take a back seat to a long series of cartoony gags involving tornadoes, snowstorms, and helium-filled tires. It feels out of left field (the road race doesn't even get a hint until the 50 minute mark of a 67 minute movie) and it's lacking in suspense. Worse, the villain is apparently apprehended off-screen, making the ending feel even more tacked on. The movie doesn't seem to say much, and Wheeler is stuck in one of his more boring simpleton roles. Woolsey has to take up much of the comedic weight lifting, and can't do much, especially with the out-of-place Bugs Bunny finale.
Hips, Hips, Hooray! may be a good entryway for people new to Wheeler & Woolsey, though: the better bits outweigh the dull bits, and the musical numbers are fun and invigorating. But this is the third time I've sat through it, and my feeling of nothing is palpable by the end each time. The movie just dies off for me– but your mileage may vary.
Gallery
Hover over for controls.
This slideshow requires JavaScript.
Trivia & Links
Impressively, third billed Ruth Etting appears for a grand total of less than five minutes of the film's running time. She sings a song called "Keep Romance Alive". Etting is probably remembered best today for the fictionalized account of her life in the Doris Day/James Cagney vehicle, Love Me or Leave Me. She also apparently got $10,000 for her work in the picture, the modern day equivalent of $172,000.
That last tidbit comes from Wheeler & Woolsey: The Vaudeville Comic Duo and Their Films, 1929-1937 by Edward Watz. It's an excellent book, and pretty much a necessity for any fan of the duo. It gives a production history of the movie, talks about how much everyone loved Thelma Todd, mentions that director Sandrich was loved by the crew for taking input on the gags, among other things. It also mentions this bit about the film's production:
Filming proceeded without incident except when an artificial snowstorm engulfed Bert and smothered him under several hundred pounds of bleached cornflakes. "Well," he cracked to reporters a day after resting at home, "after all that snow, it's pretty sure I'll never be a coke addict!"
Let's Misbehave has a bunch of screenshots of the film and really enjoyed it. Her take:
The movie's title sums up its contents: lots of hips (not to mention legs) and plenty of hooray in the form of Woolsey and Wheelers slapstick and witty comedy. The duo play wonderfully charming entrepreneurs constantly running from the police and too trouble. Their style is not for everyone – let's say it's not subtle – but I found their juxtaposition of physical humour, sexy double-entendres and quirky habits purely entertaining.
Mitch Lovell of Video Vacuum fame points out both the down and the upside to the film:
Many jokes fall flat and the movie more or less runs of out steam by the time the big auto race finale rolls around, but if you're a fan of the team, you probably won't mind too much. Even though the script isn't their best, they commit to the material 100% and sell the goofy gags for all their worth (like the scene where they turn their car engine into a giant coffee machine).
The Horn Section hit this before it hit DVD (and I like that its screenshots are literally just photographs of the movie on a TV screen). They note a surprising connection between this movie and one of my favorites:
Like the earliest Wheeler and Woolsey vehicles (i.e. HALF SHOT AT SUNRISE and HOOK, LINE & SINKER) HIPS, HIPS, HOORAY! finds fast-talking Woolsey and naive romantic Wheeler facing unfavorable odds but triumphing in the end through sheer derring-do.  It's a shame that Sandrich (TOP HAT) only directed the team twice.  He really clicks with Bert and Bob, providing many inspired comedic moments to go with the musical interludes.  Kalmer and Ruby's "Just Keep on Doin' what You're Doin'" (originally intended for Zeppo Marx in DUCK SOUP) would become the team's best-remembered song.
"Hips, Hips, Hooray"—with Wheeler and Woolsey—is the cinema news from the Roxy this week. That about covers the situation.
Not a trailer, but here's a clip of the film's highly suggestive lipstick tasting scene.
Awards, Accolades & Availability
Comment below or join our email subscription list on the sidebar!