Ivy/Bunny
Joan Crawford
Howard
Neil Hamilton
Carl
Clark Gable
Fred
Roscoe Karns

Cass
Guy Kibbee
Mike
Cliff Edwards
Released by MGM | Directed by Harry Beaumont
Run time: 72 minutes

Proof That It's a Pre-Code Film
Drinking.
Attempted suicide.
That old joke about the traveling salesman over and over again.
Just for some variety, Neil Hamilton mimics a buyer's Jewish accent and then threatens to smack him on the nose. Wonderful.
Laughing Sinners: Serious Business
"We all stumble. All we can do is pick ourselves up again and go on and on and on until we find ourselves in our own mistake."
Guilt and penance are two cornerstones of morality. If you don't feel bad for what you do, what's to stop you from doing worse? I know, this all sounds very academic in today's political environment, but it's true that our future is shaped by our past and how we chose to interpret it.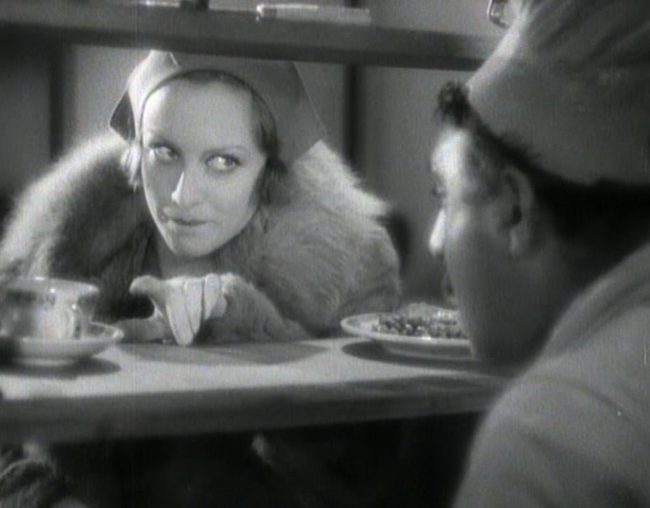 This is the central nexus of a lot of films, especially those preaching morality. Do what you won't regret. Ivy AKA Bunny AKA Joan Crawford in this one doesn't quite get it. A dance hall girl who gets dumped by a slimy traveling salesman (Hamilton), she lathers up the eyeliner and whirlpools into emotions unbecoming. She's about to jump off a bridge when a kindly Salvation Army officer, played by the ever-so-kindly Clark Gable tells her that it's just not the thing to do.
He reforms her with kindness. Doing good for others can go a great way towards easing your own pain, and Bunny AKA Ivy AKA Joan Crawford is soon seen marching up and down the streets, wearing the matronly uniform of the Salvation Army. She still gets looks and one day, of course, Howard swoops back in to disgrace her again.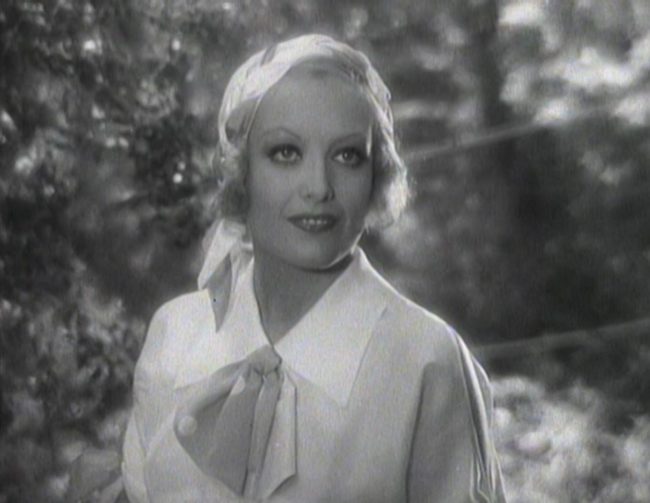 There's not much to appreciate in Laughing Sinners. For some reason, Neil Hamilton plays the oily rough guy, while Clark Gable is the pious charmer. The two needed to switch who was wearing the mustache at the very least, let alone who was playing which part. One of the screenplay's great weaknesses is that Gable's Carl isn't even much of a romantic interest for Ivy AKA Bunny AKA you know; he's there to preach, not to sin, which makes the movie flat. If all it is is a repudiation of sleeping with Neil Hamilton, what's the point? I sure as hell knew not to do that before I hit play on the DVD.
Young Crawford has energy, that's for sure– witness the lengthy dance she does to inaugurate the movie in a pair of whisper-thin overalls and a comical nose and beard (just to keep it interesting). But she only has dour to fall back on for much of the film. When she lets loose with the sin, she's still grimacing, and the movie's less-than-stellar plot structure give her nothing to aspire to than to wear that Salvation Army cap with pride every day until… well, that's not important.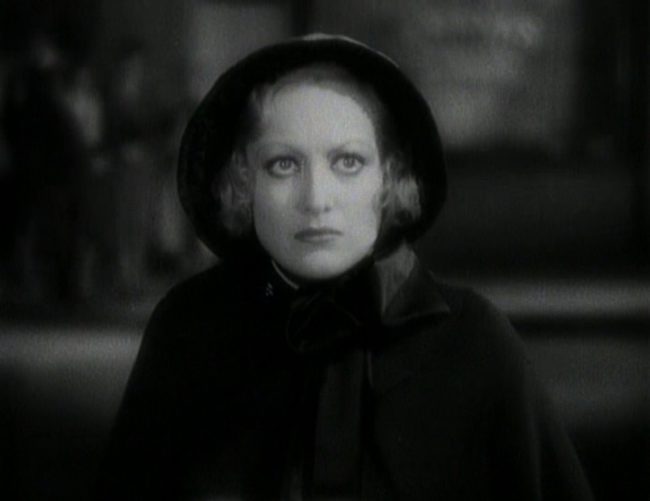 There's a murderer's row of second bananas on hand, including Guy Kibbee, Roscoe Karns, and Ukulele Ike, all playing traveling salesmen who are looking for easy scores behind closed doors. These Are Not Good People, the movie tells us, which kind of takes away from their desired effect as comic relief.
The movie tells us a lot, loudly. Based on an unsuccessful Broadway play called Torch Song, the movie is a calculation of grief and relief that's creaky from age all around. I'm sure watching this one was penance for something I've done.
Screencap Gallery
Click to enlarge and browse. Please feel free to reuse with credit!
Other Reviews, Trivia, and Links
TCMDB talks about the film's origins and Clark Gable's early career.
Crawford had two leading men in the film. As the two-timing traveling salesman they cast Neil Hamilton, a favorite from silent film days who had first risen to prominence as a model for Arrow Collars and would later play Commissioner Gordon in television's Batman series. Johnny Mack Brown, who had teamed with Crawford in Montana Moon, was initially cast as the Salvation Army officer who changes her life. But when the film previewed under the title Complete Surrender it flopped. True to MGM's nickname, "Retake Valley," studio head Louis B. Mayer ordered extensive re-shooting to save the picture. In particular, he thought they needed a stronger star in place of Brown. Crawford had been impressed with an up-and-coming actor who had played a gangster in her previous film,Dance, Fools, Dance (1931), so she suggested Clark Gable for the role.
Gable had been knocking around Hollywood since the late '20s but hadn't done well. In an era of more spiritual leading men, he was considered too big and earthy for stardom. Success in the touring company of The Last Mile had brought him a shot at an MGM contract, but he'd only played small roles since signing there in 1930. It took the advocacy of friends like Lionel Barrymore to win him better roles. Crawford was one of the first on the lot to discover his intense sex appeal. Of their first meeting while shooting Dance, Fools, Dance, she would later say, "I knew when this man walked on the set, and I didn't know which door he came in, but I knew he was there. That's how great he was."
I was drawn to this title because of its prominence in Guy Kibbee's biography. It was his first Broadway show after he had spent over two decades playing live across America and it made him an overnight sensation well into his forties. I'm obviously not familiar with exactly what occurred on stage but I'm assuming his role of Cass Wheeler, mortician supply traveling salesman (or better put by Cass himself, salesman of underground novelties), had a lot more going for him on stage in Torch Song than he had on screen in Laughing Sinners.
One fun tidbit: the newspaper announcing Howard's marriage features a picture of the woman who he marries who is never seen on-screen. It's clearly Scarface's Karen Morley: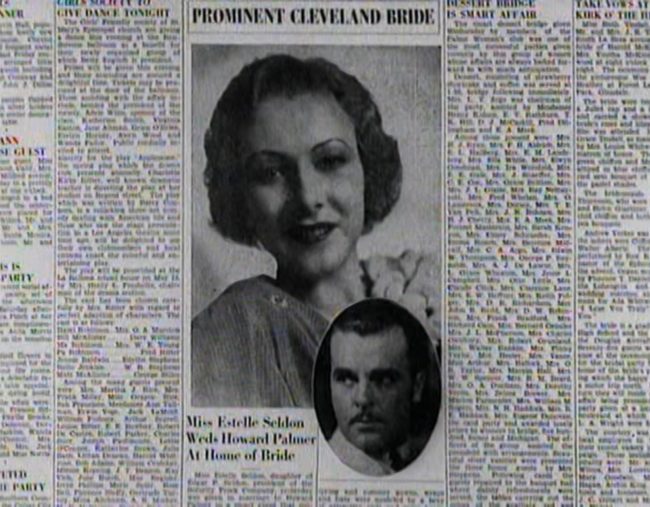 Awards, Accolades & Availability
More Pre-Code to Explore