Millie
Helen Twelvetrees

Helen
Lilyan Tashman

Angie
Joan Blondell

Released by RKO
Directed by John Francis Dillon
Run time: 85 minutes

Proof That It's a Pre-Code Film
We're introduced to Blondell and Tashman's characters shacked up in bed together.
Frank McHugh has a musical number (yes) about being a beautiful gay flower."I want you to see my Mandarin robes."
Ain't no pre-Code like a pre-Code where someone gets away with murder.
Millie: Yakkin' it up on the Margins

"When I'm through with a man, I'm through."

"When I'm through with a man, I'm just beginning!"
The main problem with Millie, the title character of Millie, is that she's a bore. Played by the perpetually heartbroken Helen Twelvetrees, she goes through a whirlwind marriage, divorce, loses a child, has her heart broken again, decides not (not) to become a wild escort, and is at the center of the murder trial of the century. At every step, everything is a tragedy to her, from wedding night jitters to her carefree party days to the night she finds a smoking gun in her hand. With no emotional range, she's just… dull.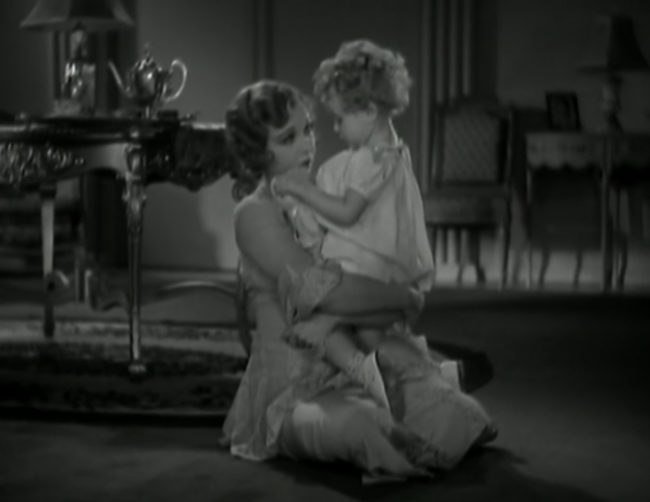 Clearly fashioned in the mold of The Divorcee, Millie suffers through a horrible marriage to Jack Maitland (James Hall) until she goes to a speakeasy with her friends Helen (Tashman) and Angie (Blondell) and catches sight of him with another woman. Maitland is from a family of means and Millie soon divorced, living in the poor house– by her own choice– and seeing her beloved daughter only once a week– again, by her own choice. She's just happy to be free, and sure that her daughter is being raised right by her wealthy ex-in-laws in no ways that could possibly backfire.
This first chunk of the film leads us to Millie running a cigar counter in a high rise, where she's romanced by both big businessman Jimmy Damier (John Halliday) and nice-guy journalist Tommy Rock (Robert Ames). Millie decides to play hard-to-get for her second marriage merry-go-round but soon discovers that Tommy is sleeping around without her too.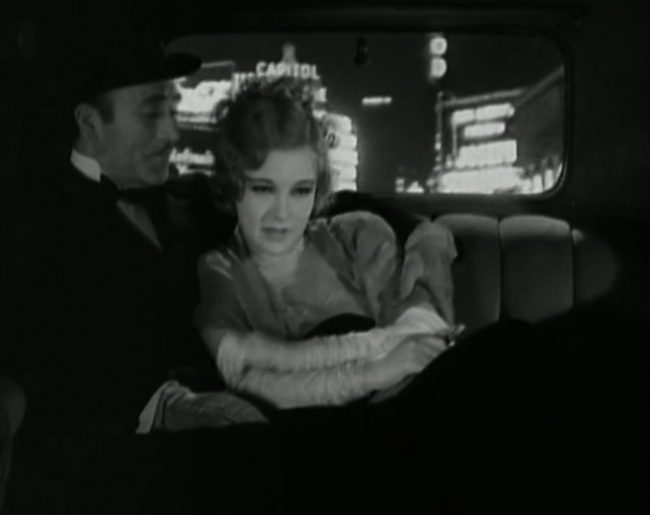 Heartbroken– is that really only the second time I've used that word in this review?– Millie decides to stick to meaningless flings, which is all fine and good until Chekhov's cute small child comes into play when we need a find a way to finish things up. Sensational murder trial? Sure, why not.
The court case that the climax centers on is truly awful, with the defense calling on their own witness to testify because she won't tell them anything that's going on– I can just picture Perry Mason relentlessly banging his head on the table at the idiocy of this tactic. There's a melodramatic flourish, though the movie thankfully saves us any sort of romantic reunion.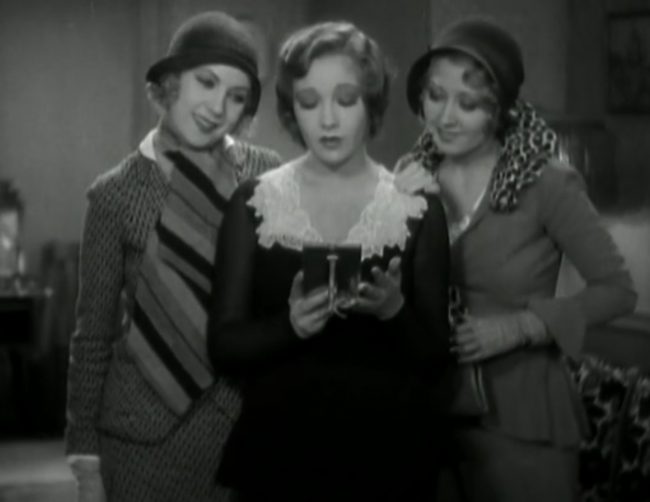 While the central character of Millie is hard to feel for, the movie wisely paired her up with two of the era's sassiest dames, Lilyan Tashman and Joan Blondell, playing a pair of high-priced escorts who eagerly encourage Millie to take up with them. Here's Millie and the duo chatting after Millie finds herself in the poorhouse:
"I've gotta get up in the morning early and look for work."

"Work?!"

"Well, of course!"

"When are you going to find time for opportunity?"

"Well, don't you call a good job an opportunity?"

"Well, I wouldn't call it very substantial."
While Tashman gets a lot of zingers throughout the film, including one nice scene where she helps get Millie absolutely trashed, Blondell isn't quite as lucky. In only her fourth screen credit, Blondell doesn't really have her snappy screen personality, and instead is definitely given the Charles Butterworth role. 'Pleasantly daffy' isn't the worst role to hand her, but it reeks of missed opportunity.
But much of Millie feels like missed opportunities. It's a film that punishes Millie for being both a good wife and for being sexually freewheeling and curious. It's a movie where she just can't win and doesn't have much to say beyond just that. Honestly, with this kind of cast and pedigree, Millie is impressively lousy.
Screen Capture Gallery
Click to enlarge and browse. Please feel free to reuse with credit!
Other Reviews, Trivia, and Links
Cliff Aliperti at Immortal Ephemera, who literally wrote the book on Helen Twelvetrees, is the only source you really need on this film. (Yes, you could have skipped my review this time; isn't that good to know now?) Here's his take on the movie overall, but click on the link for full backgrounds for all the actors and a ton on the film's source material.
Millie is one of the easiest Helen Twelvetrees' movies to find, though given the juicy, yet relatively small, part played by the popular Joan Blondell it is surprising that it is not even better known. While Her Man is the better Twelvetrees title overall, Millie offers a more versatile showcase for the Brooklyn-born star. Blondell and Lilyan Tashman also give noteworthy performances in Millie with John Halliday shining best among the male cast members. Anita Louise doesn't appear until the final twenty minutes and is appropriately innocent in her part as young Connie Maitland, peaking with a pair of bloodcurdling screams as Millie comes to its climax.
TCMDB has a little snippet about the film, including this nice perspective from the film's star:
[Twelvetrees] defined her type as "the perpetually pure-at-heart street-walker, always drooping over bars while some director says, "Now, Helen, you must be very sweet about this naughty line. Remember, you haven't the faintest idea what it means!"
Donald Henderson Clarke's novel of the titian-haired beauty who loved many men, but not the right kind, comes to the screen of the Mayfair as such a pleasant and diverting entertainment that its modest excursions into psychological drama need not be taken too seriously. […] Thereafter the narrative goes heavily melodramatic, and the court trial at the end is in the best traditions of screen hokum.
DVD Beaver has screenshots of the blu-ray edition of Millie. (It's… not encouraging.)
Variety called it, "an exceptional production job."
Awards, Accolades & Availability
This film was an independent production released through RKO and did not have its copyright renewed. Therefore, it is in the public domain and available in several ways:
More Pre-Code to Explore