Proof That It's Pre-Code
Our characters get sloshed in a speakeasy, with Joan Blondell busting out some fantastic drunk acting.
A noble act of suicide saves the day. It should be noted that it does not look painless, though.
Line that wouldn't mean the same thing nowadays:
"I'm liable to pull another boner!"
The Particulars of the Picture
Bill White …
Grant Withers
Jack Kulper …
Regis Toomey
Lily Kulper …
Mary Astor
Marie …
Joan Blondell
Ed Bailey …
James Cagney
Directed by
William A. Wellman
Other Men's Women: Finding Love in The Wrong Place
There's a reason why William Wellman is so intrinsically connected to Pre-Code Hollywood; he's one of the era's defining auteurs, a man who took bold risks in the studio system and made movies dozens of movies in that time that all remain, if not great, at least interesting to watch.
Other Men's Women falls into that category, as Wellman has made a movie well before the technology to make it had totally come into play. It's a movie that takes place mostly outdoors, full of beautiful tracking shots, and some spectacular stunts and effects work. It's pretty much everything that most people don't associate with early talkies– lively and energetic– and that might help to explain why the sound is so crappy throughout the film.
Technical limitations aside, there's something else interesting about Other Men's aesthetic, and that is that it spiritually has more in common with French art films of the late 1930's than most of its studio contemporaries.The freedom of camera movement is matched by a cast of broken characters whose crisscrossing emotions of pain seem right out of Michale Carne's Port of Shadows or Jean Renoir's early filmography.
That texture, and some truly beautiful cinematography, definitely make this movie worth viewing, even if, at times, it feels like Wellman is redoing Wings though without trains instead of planes.
Other Men's Women is about how a simple betrayal can destroy a life. There's Bill, a drunk and goof who drives trains for the railroad. His best friend and coworker, Jack, is the smart and responsible one, aiming to make it to the front office someday. Jack sees that Bill needs help, so he invites him to stay at his house. Unfortunately, Bill had never met Jack's wife, Lily, before, and it's love at first sight.
The arrangement lasts quite a bit before Bill and Lily kiss in a moment of uninhibited delight, they kiss. Lily, a traditional good girl, can't stand it, and Bill can't either. A few days later when Jack and Bill are on a run, Jack figures out why the two have been so quiet and distant the last few days and the ensuing fistfight results in a spectacular crash and Jack's blindness.
Things escalate, as Lily is sent away, Bill is guilt ridden, and then a flood threatens the town. Both Jack and Bill vie for the chance to run a locomotive over a dangerous bridge, and it may just come down to a fistfight to determine who gets the noble sacrifice and a halfway happy ending.
What may speak to the film's flaws is that the supporting characters are more dynamic than the love triangle. Joan Blondell is on the sidelines as Marie, playing Bill's dinner waitress girlfriend who resists the catcalls of the other engineers ("I'm APO. Ain't Puttin' Out!") and dotes on Bill despite his lukewarm treatment. Later, after the kiss between Lily and Bill but before Jack figures it out, he halfheartedly proposes to her, and she leaps upon it. They get absolutely hammered, and, I swear to god, you can see the heartbreak in Blondell's eyes. It is an unbelievably heartbreaking performance for what is a minor role in the melodrama.
The other supporting actor who deserves mention is James Cagney, again at an early section of his career before Wellman elevated him to super stardom with The Public Enemy in both's next picture. Here he's Bill's old friend, who tries to comfort him and stop him from doing anything stupid; it doesn't work out too well, but Cagney is full of charm as a kid who definitely thrives on the 'Carpe Diem' school of thought.
As for the main triangle, it's well acted, though nothing spectacular. Astor's blandness doesn't up the proceedings, though Wellman gives her enough to do that it almost compensates.
The real star of the picture is the direction, and Other Men's Women looks fantastic. Besides the long shots on top of trains, there's also a lengthy scene near the end of the film with a blinded Jack trying to make his way through the train pens. The cinematography on this torrential downpour is breathtaking and really drives home the film's feelings of melancholy.
Other Men's Women may not be one of the best films from the time, but as an example of the peak of a lively, fascinating director, it can deliver some riches.
Screenshot Gallery
Some shots I took from the film; I really had to limit myself this go around. Click for big!
Trivia & Links

Fernando Croce calls this one a proto-Renoir flick, and considering the film's look and mood, it's hard to disagree. The film is an expressionistic joy to look at.
Sheila O'Malley at her self titled blog goes into this film with a sense of awe, and also uses the opportunity to discuss the relationship between Cagney and Blondell.
The opening and closing credits have no score, and neither does a majority of the film (full film scores were pretty rare in the Pre-Code era regardless). This really adds to the movie in small ways, removing a standard layer of artifice.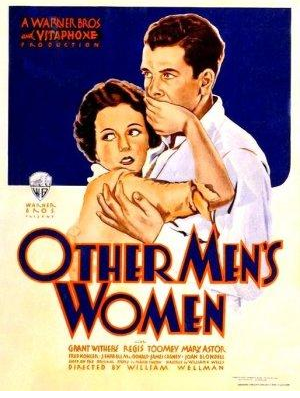 Availability
This film is available in Forbidden Hollywood, Volume 3. You can buy that collection from Amazon, and the movie can be rented from Classicflix.