Released by Warner Brothers | Directed By Hugh Harman

Bosko's Picture Show: A Day At the Movies
"Bosko's Picture Show" is one of the most dense cartoons I've seen, a whirlwind skewering of the 1930s theatrical experience. Anyone who wants to get a feel for what it was like to attend the pictures back in the day would do well to check this cartoon out– though its scandalous content is probably worth a view, too.
The premise of the short sees Bosko leading an unseen audience through the typical evening at the movies. This includes a sing along (to "We're in the Money" from Gold Diggers of 1933), a newsreel presentation, a 'Haurel and Lardy' short and a feature presentation– He Done Her Dirt (And How!). Eventually Bosko gets caught up in the feature as his girlfriend, Honey, turns up as the damsel in distress. Attempting to jump into the screen, he instead decapitates the mustache-twirling villain and saves the day.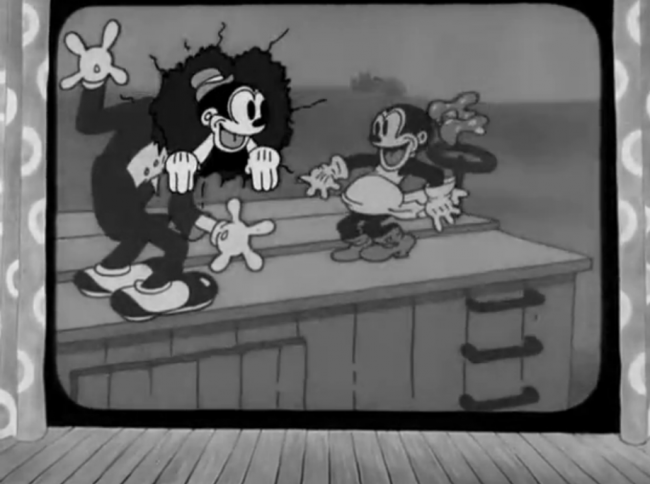 The references come fast and hard, from parodies of the MovieTone catchphrases, swipes at Californian weather, the League of Nations meeting being announced like a wrestling match, a jab at a decrypt Jack Dempsey (the Heavyweight Boxing Champ of 1919 to 1926; more here), and several appearances by the Four Marx Brothers. The 'Haurel and Lardy' short features a spot-on parody of the duo stealing a pie and then assaulting each other over the results– the parody is remarkably nasty in its sincerity, showcasing the usual antics of Laurel and Hardy stripped down and blatant.
(Side note: though Psycho may be the first movie to show a flushing toilet, "Bosko's Picture Show" may be the first to showcase a flushing organ.)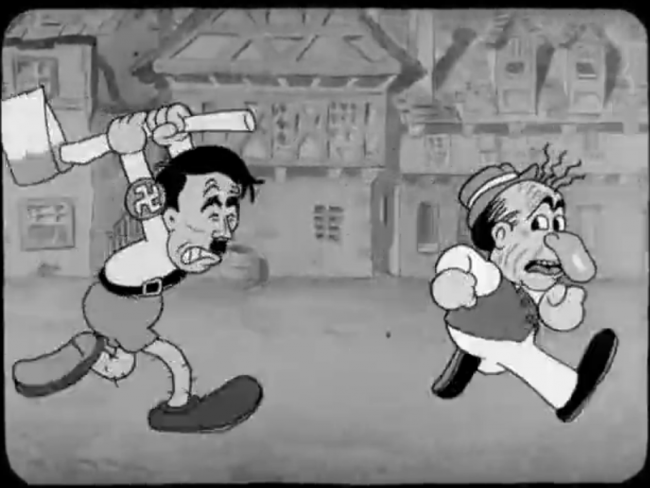 It should be noted that the version of the cartoon I found is missing one segment from the newsreel, and an important one as that. From Likely Looney, Mostly Merrie (who also has way better screenshots):
The next newsreel shows a "famous screen lover" on vacation in Germany. The "famous screen lover" term is of course, a famous movie star. It turns out that it is Jimmy Durante who is being chased by Adolf Hitler and Hitler is chasing him with a meat cleaver, and Durante is running away shouting "Am I mortified?" Of course, this would've been a very funny joke at the time – and I understand the gag. This short was released in August 1933, and back on January 30, (about seven months earlier) Hitler had been elected as Chancellor of Germany – and of course from the beginning, a lot of people knew about his hatred on the Jews. So, Hitler is assuming that Durante is Jewish (because of the big nose) and starts to chase him, when actually Durante was a Roman Catholic. Of course, this would be extremely politically incorrect today – but it's not making Harman-Ising or even Freleng anti-Semetic at all!
The scene is usually censored since the 'big nose = Jewish' joke isn't so fondly passed along to children these days. Another famous part of the cartoon is a brief sequence outlined here:
I don't really have a lot to add to that one.
"Bosko's Picture Show" is a lot of goofy, well made fun. The last Bosko short made at Warner Brothers before the series moved to MGM, it's place as a rather amusing footnote in animation is assured, as a finale– and a foul-mouthed one at that.
Awards, Accolades & Availability
Comment below or join our email subscription list on the sidebar!