Released by MGM | Directed By Jules White

Show Business: Nothing Like It
"Say, you don't need to get so high hat. Your ancestors swung through trees too."
Of all the Zasu Pitts/Thelma Todd shorts I've watched, "Show Business" is the one with the most screen time devoted to getting Thelma Todd strutting around in lingerie. It's also got the most silly excuse to boot– her clothes were packed on accident and she's in a rush to make the train, with only a flimsy coat keeping her decent until situations abound. I just figured this was a fair warning for those of you who, you know, don't enjoy Thelma Todd in lingerie.
This time the duo are a pair of vaudevillians whose act apparently consists of a musical monkey. I'm not sure if the monkey sings or dances, but he's their source of income, so they jump at the chance to hop a train and head to a show. They run into the show's star, Anita Garvin (played by Anita Garvin; no one spent much time on these names), a tempestuous egomaniac that quickly becomes a thorn in their sides.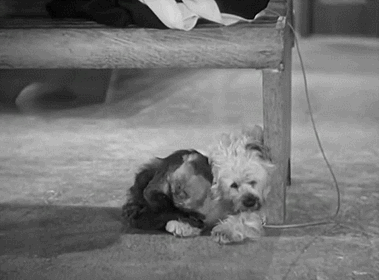 If Thelma's curves aren't enough to get you to watch, the adorable monkey that Todd and Pitts haphazardly own is pretty darn cute, whether its when he's cuddling a dog or causing havoc by screeching, forcing Pitts, who'd been told to put him in the baggage car, to pretend to have a serious case of the hiccups.
"Show Business" is one of the better shorts of the two, with some pretty cute gags, even if it's obviously playing for the cheap seats.
Awards, Accolades & Availability
This film is available on YouTube.
Comment below or join our email subscription list on the sidebar!