Hilda
Irene Dunne
Stingaree
Richard Dix
Mrs. Clarkson
Mary Boland
Sir Julian
Conway Tearle
Howie
Andy Devine
Mr. Clarkson
Henry Stephenson
Released by RKO
Directed by William Wellman
Run time: 77 minutes

Proof That It's a Pre-Code Film
Hilda is kidnapped into the bush by dashing bandit Stingaree, and she sheds her inhibitions.
"The very idea of empire is founded on a woman's virginity."
"Chastity, madam. Chastity."
Stingaree: Kangaroo Romance

"Music will ruin you, and bring you to a bad end. The stuff's poison!"
After the success of Best Picture winner Cimarron, it's little surprise that RKO would seek to capitalize on the re-pairing of hunk-o-beef Richard Dix and sly -smiling Irene Dunne. Their choice of projects gives the two a chance to showcase their chemistry, but the film sags under its loose plotting.
Set in Australia in 1874, Stingaree (Dix) is a charming bandit who steals from the rich, and, well, just enjoys it. He has an artistic streak, though, as even when he's kidnapping the well-known composer Sir Julian (Tearle), he's happy to chat about culture and opera.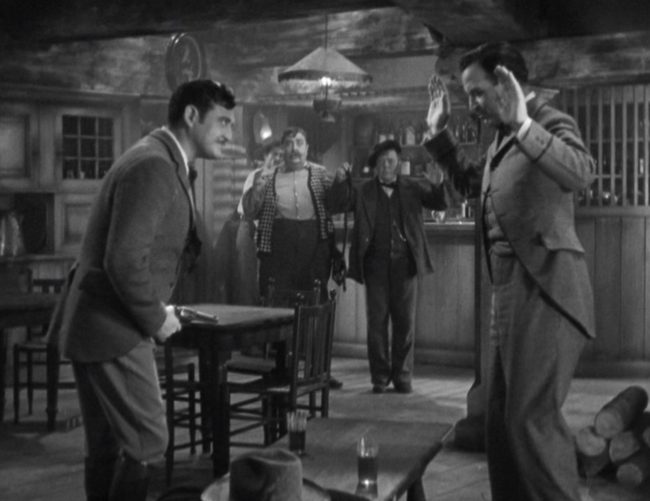 Hilda (Dunne) is a poor maid under the foot of Mrs. Clarkson (Boland), the wealthiest woman on the continent. Stingaree shows up to rob the place, but hears Hilda sing and becomes enchanted. He kidnaps her, they make love, and he holds up the place (again) to make sure the un-kidnapped Sir Julian hears her dulcet tones.
Stingaree is shot and arrested, but insists that Hilda follow Sir Julian and become a great singing star. So she does. But she still fantasizes about that night with Stingaree quite often– at least two or three times in the middle of a montage– and, years later, heads back to Australia to discover his fate.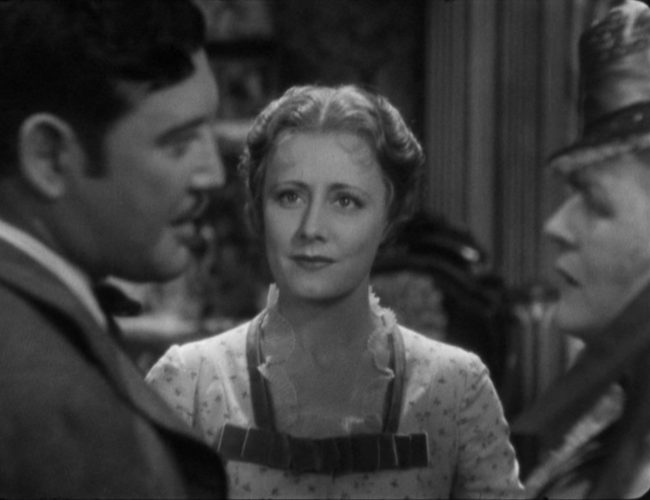 The problem with Stingaree is that something just doesn't click. Maybe it's because Dix disappears for the middle's lengthy charting of Dunne's rise. Maybe it's because cloying background music punctures so much of the dramatic tension throughout the film. The movie has no curve balls, nothing happens after the end of Act I that creates any tension.
Or maybe it's just another early-30s film that relied on long bouts of operatic singing to hold the audience's interest that just doesn't work anymore. The movie is a disjointed disappointment from William Wellman, its only really redeeming trait coming from the scenes where her portrays Hilda's ambitions as consuming her. She finds deep satisfaction in all of her artistic dreams coming true, which is the most emotionally pleasing note the film manages to hit.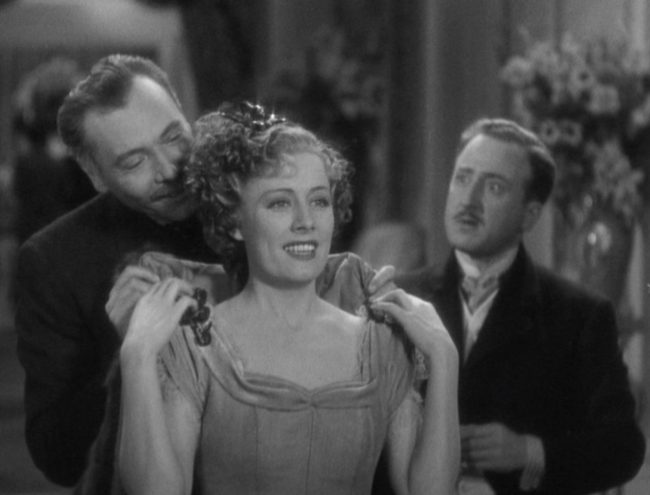 But still too much of the movie is merely Dunne fantasizing about Dix, and, frankly, all of her fantasizing are things that have already happened. It indicates a severe lack of imagination, not only on the part of the filmmakers but on hers as well. Years apart from your dream lover, and your most passionate dreams are a clip show?
Stingaree is handsomely made, and there is some wit about it. But it's missing a pulse of its own. Even if I'm no fan of Cimarron, Dix and Dunne both deserved better than this limp offering.
Screen Capture Gallery
Click to enlarge and browse. Please feel free to reuse with credit!
Other Reviews, Trivia, and Links
TCMDB outlines the history of the material, but the most interesting (and, for them, appropriate) history is on the complicated rights for the film, now one of the few movies that the network actually owns.
William Wellman's Stingaree (1934), a sublimely outrageous hybrid of musical and Western adventure (although set in the Australian outback), is one of six RKO films of the 1930s previously thought "lost" but rediscovered and restored by TCM. The films were sold out of the RKO library to producer Merian C. Cooper in 1946 and until now have not been part of the Turner collection. Extensive legal negotiations and a thorough search of the world's film archives allowed TCM to claim the films and create new, fine-grain 35mm prints in association with the Library of Congress and the BYU Motion Picture Archive. Before that, the last authorized screening of Stingaree was in brief television exposure during the late 1950s.
Mordaunt Hall in the New York Times' contemporaneous review likes the film quite a bit.
Stingaree, who is actually a brain child of the late E. W. Hornung, author of "Raffles," apparently robs, not to help the poor, but chiefly to satisfy his sense of humor. His devious activities, as one might surmise, need to be taken with quite a few grains of salt. […] The film, however, is nicely done and therefore its impossible happenings are highly entertaining.
When I revisited this film recently, I realized that it was categorized as a musical-and while it was not a flashy musical in the style of "Broadway Melody of 1936"-the film is much like "San Francisco" (1936). The bulk of the film is the romantic, melodramatic story sprinkled with quality operatic numbers. […]
I would honestly put "Stingaree" on your 'must see' list. For folks who don't like musicals, the songs are not overwhelming. It's a fun romp that is forgotten and under-appreciated.
Gary Tooze at DVDBeaver has plenty of more screenshots for your pleasure, and concludes about the recent blu-ray release:
Quite an interesting film – that Wellman treated as a comedy in many sequences. It's fun with a bit of adventure, musical numbers and romance. Overall I'd say unique in Wellman's filmography. Always a pleasure to see Irene Dunne… this obviously leans to fans to vintage era films – skirting the edges of Pre-Code. Those keen on Wellman should definitely indulge and the commentary is rewarding. Recommended to that select group.    
Variety's contemporaneous review is hard on Richard Dix ("Dix does not make the ideal titular character. He is too plump and contented looking[.]"), but flattering to Irene Dunne. They summarize, "it's smoothly, if illogically plotted, and should bring medium results. It does not promise to rise to greater heights."
Awards, Accolades & Availability
More Pre-Code to Explore