Terry
Lawrence Tibbett
Nenita
Lupe Velez
Romance
Ernest Torrence
O.O. Jones
Jimmy Durante
Crystal
Karen Morley
Elvira
Louise Fazenda
Released by MGM
Directed by W.S. Van Dyke
Run time: 86 minutes

Proof That It's a Pre-Code Film
The film starts with a pack of rowdy Marines down at the tattoo shop in Chinatown and quickly devolves into a fistfight.
Durante accidentally ingests castor oil, much to his consternation.
The film centers on a sincere interracial romance. Also, they have premarital sex and fall in love. DON'T GET TOO WORRIED, THOUGH.
Velez, as is typical around this time, has her clothes ripped off.
When the film flashes forward to the late-20s, Jones and Elvira are a pair of misbegotten bootleggers.
Cuban Love Song: Castrato

"Wake up! What're you doing, walking in your sleep?"

"Yes, maybe I am."
It's always weird to discover new film connections. Take The Cuban Love Song, a glossy MGM musical filled with downbeat undertones about a devastating world war and lost love, and compare it to It's Always Fair Weather, a glossy MGM musical filled with downbeat undertones about a devastating world war and lost love. There are plenty of differences between them in the plot, but both speak to a universality of an experience.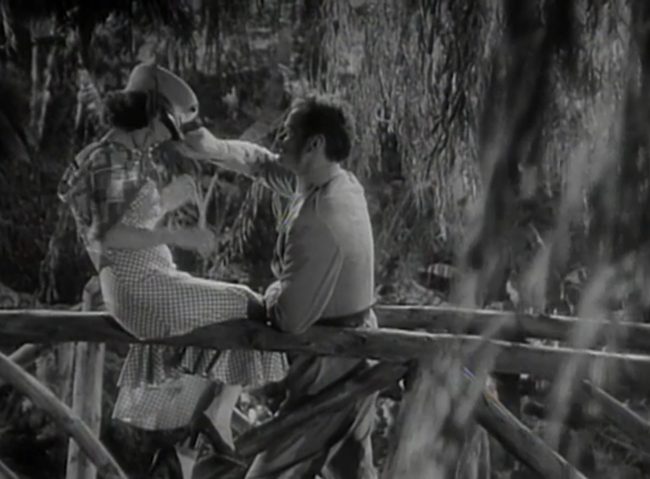 The Cuban Love Song is much more of a sad ode to innocence, in the vein of a number of other World War I films that had come and gone. Opera singer Lawrence Tibbett plays a hearty marine (ha), who, with his two dimwitted pals Durante and Torrence, are sent to lounge around Cuba and keep them in line. Unfortunately, they arrive in 1917, and the specter of actual doom hangs over them the whole time.
A chance car crash leads Tibbett into the romantic affections of Lupe Velez. She plays a young and sweet Cuban girl who makes eyes for chipmunk-faced Tibbett as he boasts. Like a number of old movie romances, it'll work best if you believe people fall in love only through singing and long, lingering two-shots. It's effective here– playful, sweet, and not too quick to be unbelievable.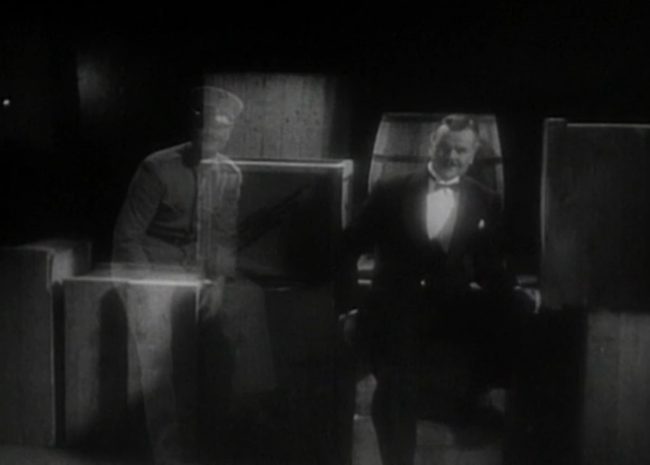 The war happens, and Tibbett is injured, staying with his enamored fiancee, Morley, for a decade as he recovers and melts back into his family's comforting riches. A moment of nostalgia at an old nightclub leads him back to his army buddies and finally to seek out the woman he'd been forced to leave so many years before. The movie layers this journey with nice notes of grief and frustration– Tibbett's character has finally reached some sort of post-War catharsis– but also manages to end it on a rather silly, silly note.
Director W.S. Van Dyke was still in the travelogue phase of his career, and here he is often emphasizing the exoticism of 'Cuba', visually setting the country apart with a lush visual charm far from the shadier Chinatown and disinfected American scenes. Despite the narrative's simplicity, the lighting and direction give it a much deeper feeling of life.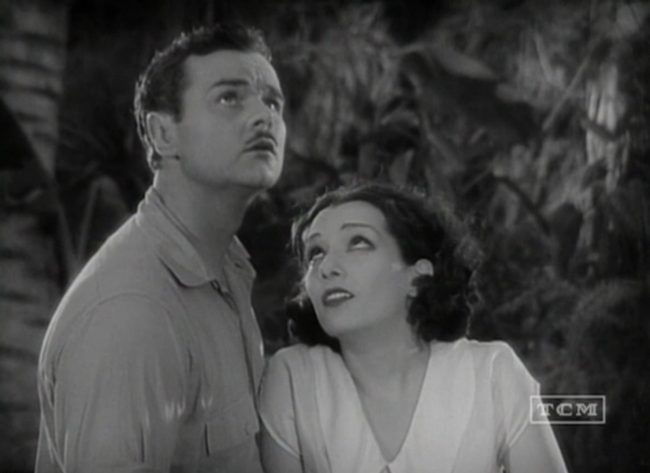 The music, mostly light operettas, is fine enough, even if microphones still struggled with some of Tibbett's range. The comic relief isn't too bad here, either. Tibbett has good chemistry with his co-conspirators, and Durante and Torrence play a good duo.
The Cuban Love Song is one of those ones that can go a lot of ways depending on how much you're willing to ignore or overlook its by-the-numbers script or whether one can find its atmosphere engrossing. The actors players make it though– Tibbett's moderate charms are fine, but Velez really shines here in a cliched part, but one full of life and vitality. With them, the movie works well-enough, sweet-enough.
Screen Capture Gallery
Click to enlarge and browse. Please feel free to reuse with credit!
Other Reviews, Trivia, and Links
The title song was a hit for Tibbett, even if the movie was not. Here's an excerpt of him singing it:
It is true that the story is uninspired and somewhat cumbersome, but there are bright lines in the dialogue and, what is ever welcome, Mr. Tibbett's gift of song.
At the end of the movie, the prop boys presented Velez with a hand-carved makeup box. She said, "Every man offer Lupe diamonds, which she no take, but no man ever made anything for her with both his hand[.]"
It's such fun watching these players at play that the uninspired story hardly matters. […] In a nutshell Hollywood alienated the exact audience it tried to attract with its Spanish-version films by not bothering with authenticity. THE CUBAN LOVE SONG suffers from the same malady in that the Cubans depicted in the movie have Mexican accents and use typical Mexican idioms throughout. While the fact doesn't diminish my enjoyment of the movie, it's worth a mention because it can be distracting.
Awards, Accolades & Availability
This film is an obscure one, but pops up on TCM every so often. I wish you luck in finding it!
More Pre-Code to Explore