Lou Larrigan
Richard Arlen

Ruth Morgan
Mary Brian

Windy Wallace
Sam Hardy

Released by Paramount
Directed by A. Edward Sutherland
Run time: 60 minutes
Burning Up: Pedal to the Metal

"The only things I get a kick out of are good food, smooth liquor, and easy money!"

"You passed up the ladies!"

"Yeah, I'm going to keep on passing them up, too! I never seen a dame yet you didn't add up to poison!"
Lou Larrigan (Arlen) is an ambitious car driver who gets roped into carnival gimmick race by Windy Wally Wallace (Hardy). He and a rival racer, Bullet (Francis McDonald) sweep into a town, gin up a rivalry, and Wallace takes bets on who the winner will be, tying up some handsome profits in the process.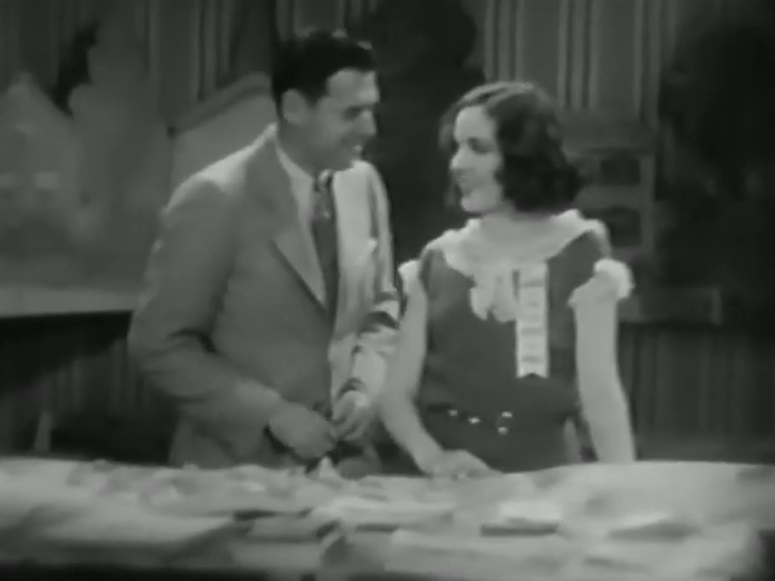 In the town of Carfax, Larrigan attracts the attention of city employee Ruth (Brian). The two have a series of jagged encounters, something like "mutually assured meet cutes" where one ends up embarrassing the other until they both end up soaked in a giant puddle laughing their asses off. Bullet gets an eyeful of Ruth and tries to split them up, setting up the two men's mock race into being something much more serious.
For all the fascination of the early 1930s with aerial feats of daring-do, there are relatively few racing movies to compare to– this and The Crowd Roars are all that come to mind. Obviously there is plenty cinematic about car racing, and Burning Up even has a great early sequence where Bullet and Larrigan race each other on motorcycles inside a giant cylinder. The racing finale is also surprisingly tense for what amounts to a pretty feather light film, with lots of interesting shots devised, sometimes seeming like a direct precursor to the Frankenheimer classic Grand Prix (1966).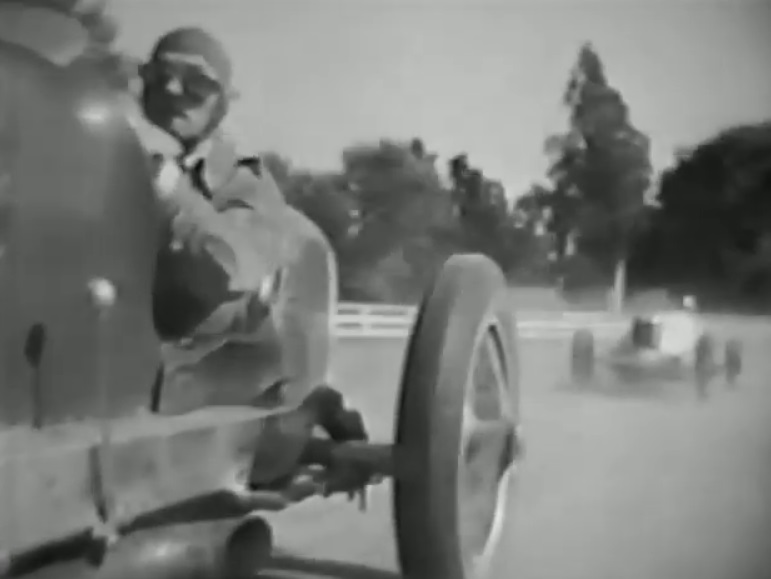 The film's only other notable sequence is right after Bullet has accused Larrigan of being a serial philanderer, putting Ruth in a tizzy. Larrigan and Ruth chase one another in the darkness, arguing about how he really is, and the audience sees nothing until a car's headlights appear and show the lovers reuniting in a kiss. Kind of a nifty idea for a scene, an experimental one pushing what could be done in talking pictures but would have been completely mystifying in a silent.
The rest of the movie has some charm but is pretty bare bones– at 60 minutes, you're getting a lot of generic banter. Arlen is doing a lot of smart-aleck talk which just doesn't suit him well, and Brian's role is standard issue stuff.
This movie is marginally enjoyable, and serves as an interesting gateway to the Cagney-dominated mode of men in the 1930s that would spring up from somewhat the same template. But, like, you could also watch something else.
Screen Capture Gallery
Click to enlarge and browse. Please feel free to reuse with credit!
Other Reviews, Trivia, and Links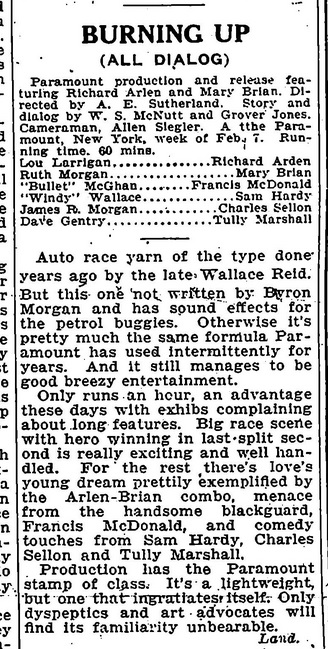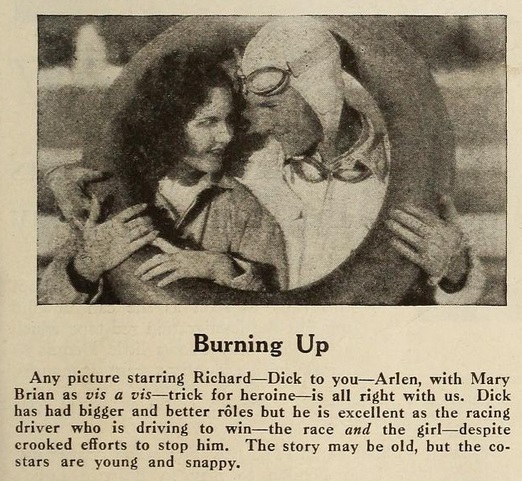 Awards, Accolades & Availability
More Pre-Code to Explore