Dan
Louis Wolheim
Larry
Robert Armstrong
Mary
Jean Arthur
Released by RKO | Directed by George B. Seitz

Danger Lights: Training Day
"Look here. This means sidetracking everything along the way. The Olympian, the Pioneer… the whole timetable! Why, this will cost a fortune. And all for one man."

"For one man? You don't seem to understand. This isn't only Dan Thorne. It's every railroad man everywhere."
A few weeks ago, my wife and I took a trip to a small village named Chichibu on the outskirts of Saitama prefecture. We were there for a special trip. The Chichibu Railway operates, on special occasions, an eight decade old steam engine. People gathered to take pictures of the train arriving and quickly swarmed on board. It was a nice, quiet trip through the green hills, with the sound of the hissing steam engine gently taking the passengers into the past.
Railroad travel like that was once not only common but a necessity 85 years ago when Danger Lights came out. Air travel was still limited to single man biplanes, often lost to bad weather or faulty engines. The large paved interstates that we cherish today were still two decades off, leaving quiet, rarely paved dusty roads connecting the coasts. Trains were the workhorses of America, moving men, goods and ideas from coast to coast in a few days' time.
Danger Lights captures the rail industry at its peak, a time where it was the still the Iron Horse that had built America and a veritable pulsating heartbeat to the American machine.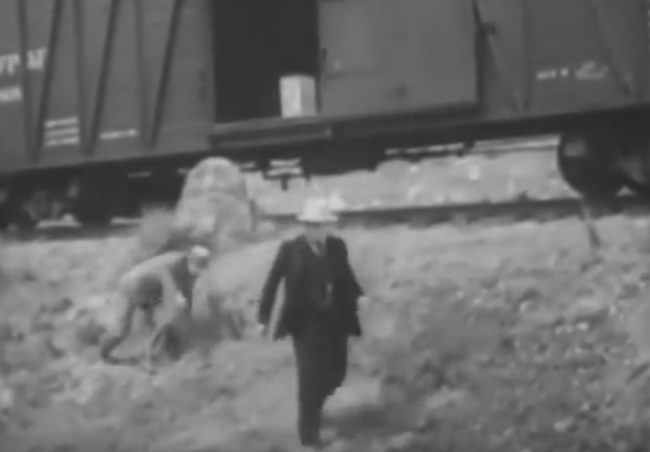 The plot: Larry is a former engineer who's hit the skids. Dan decides to give him a second chance, with encouragement with his fiance, Mary. The problem? Mary falls for Larry. Dan is heartbroken, but saves Larry from a train accident at a critical moment but critically injuring himself. To save Dan, they have to get him to Chicago in just a few hours and the only available brain surgeon. Will they make it? Will Mary end up with the right man? And what of the rail company and its woes?
Similarity to William Wellman's Other Men's Women are striking, but there are noticeable differences. The friendship in Other is more pronounced, where here it's merely about mutual respect. The affair here is pre-marriage, and Dan's position is different– manager rather than co-worker. And then the ending is different, too, with Other requiring sacrifice while Danger paves over the finale with a good hearted joke. Other is more effective out of dramatic frustration and poetry.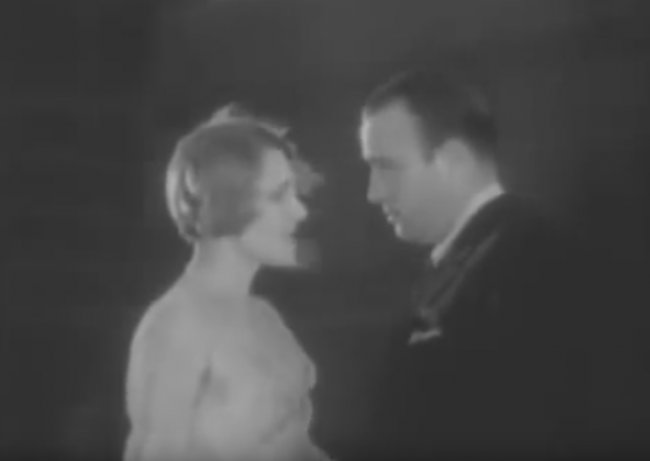 Danger Lights, however, does succeed in spectacle. This is clearly a showcase film, showing off both in terms of cinematic technique and scale. On-location shooting in the rail yards is impressive, and only occasional sound problems come up, as sound mixing was still being perfected. There are several other visual feats, such as massive locomotive tug-of-war done in full scale and a long sequence that follows a train rushing along the Chicago waterfront.
Along with the railroading culture it showcases, from the battles against the elements to the camaraderie of the workers, that makes Danger Lights an interesting document in the history of early sound cinema. Like John Ford's Airmail, it captures an era of transportation long past, though with Airmail it's looking at flying in its infancy; here is the public's fascination with train travel at its peak. Here, they're thundering monster, virile symbols of the country's strength and unity.
This reverberates throughout the screenplay itself, with that locomotive tug-of-war more than just there for a good show. The country's libido is at stake! Who wins out, upper management or the good honest folk on the bottom?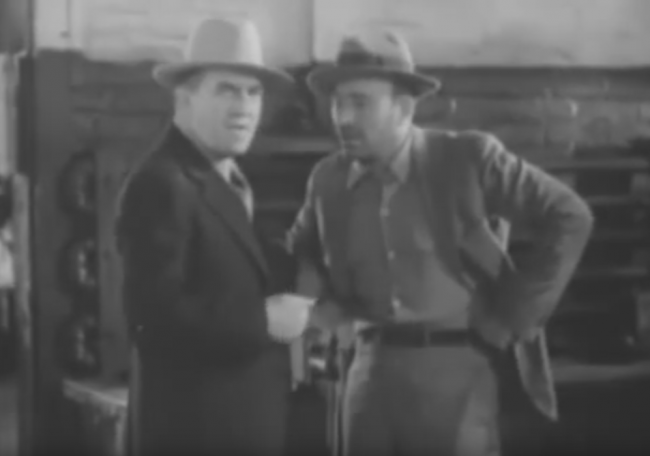 A couple of things factor in to make the movie annoying for most of its runtime rather than just a fascinating artifact. Robert Armstrong's performance is tone deaf– almost literally. He never figures out to play Larry as either a lovable idiot, a kind hearted gentleman, or somewhere in between. Though he's supposed to be the audience surrogate in some respects, it's hard to tell if he's off his nut. Jean Arthur, just coming out of the silents but still a long way from the screwball comedies that would make her famous, isn't called upon to do much but look pensive and meek.
Wolheim, who is often recalled fondly for his powerhouse role in All Quiet on the Western Front and unfortunately passed away shortly thereafter, here again proves that he was taken far too soon. He has a gruffness and anger to be sure but was extraordinarily capable at keeping that measured and inside. He's complicated, both gregarious but spooky.
Danger Lights is a lot of fun for railroad enthusiasts– it's an interesting time capsule to be sure. As a film, it's too cliched. But, man, that Wolheim could act.
Gallery
Hover over for controls.
This slideshow requires JavaScript.
Trivia & Links
Danger Lights when you watch it nowadays won't seem very special to you, as it's in the standard 35mm Academy ratio. However, it was originally filmed in two versions, the one we currently have and a widescreen 63mm version that only played in Chicago and New York. That version, unfortunately, is considered lost.
TCMDB talks more about the use of widescreen on this film:
For Danger Lights, Struss was working with a new 'wide stereoscopic' film process that was invented by George K. Spoor and P. J. Berggren. It employed the use of 63.5mm film as opposed to the standard 35mm format and allowed for greater depth and detail in screen composition. Unfortunately, Danger Lights was the only [feature] film to use this new process due to financial drawbacks. Theatre owners would have to purchase special equipment to show films in the 63.5mm process and with the Depression at its height few exhibitors could afford to shoulder this extra financial burden. It wasn't until the fifties that wide screen movies like The Robe (1953) or Around the World in 80 Days (1956) became popular but at the time of its release Danger Lights was perceived as only an interesting novelty.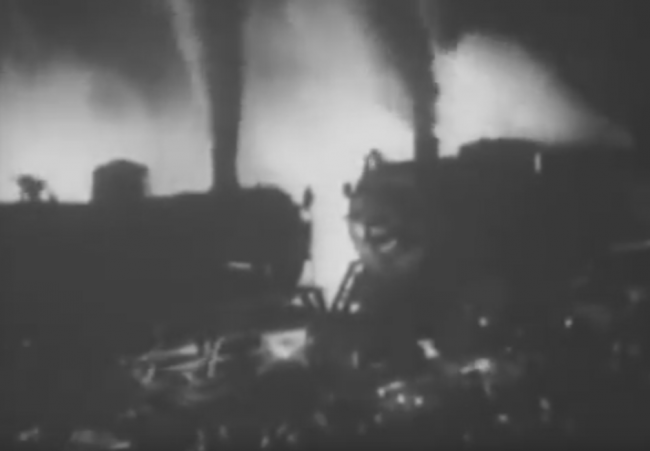 Mordaunt Hall in his contemporary review watched both versions, and
There is a good deal to admire about this new wide film, which fills a screen from side to side of the Mayfair stage. It is noticeable, however, that while the persons occupying the centre of the stage are in focus others in the background seem more out of focus than usual. Moreover, the assembling of some of the scenes might be a good deal smoother. But the views depicting a locomotive and one car making a fast run to Chicago are most impressive, for, like other wide-film results in the open, there is an illusion of depth and distance about these stretches.
Another Old Movie Blog has a great rundown of this film (much better than mine 😉 ), and she runs through the film's high points.
Louis Wolheim was about 50 when this film was released (he died the following year), and was known for his beat-up mug that got bashed in when he played college football. The story has it that Lionel Barrymore helped him out and advised him to try theater, that his ugly mug—or rather, his face would be his fortune, as they say. He was a success on Broadway in Eugene O'Neill's The Hairy Ape among other hits, and when Hollywood called, this urbane, multilingual former college math teacher made a career of playing Neanderthal palookas.
Mondo 70 takes this and Louis Wolheim's last film, Sin Ship, and dissects them admirably.
I probably shouldn't admit this, but I'll be honest in the sense of fairness– I probably would have liked this movie if I'd seen it in the widescreen version. That's the danger in reviewing these old movies– fuzzy, incomplete versions can breed contempt.
Awards, Accolades & Availability
In the public domain. This film is available on YouTube.
Comment below or join our email subscription list on the sidebar!