Sarah
Irene Dunne
Gordon
Clive Brook
Tono
Nils Asther
Released by RKO | Directed by Elliott Nugent
Run time: 66 minutes

Proof That It's a Pre-Code Film
A grumpy Gordon buys a ton of naughty postcards and rips them up. Because he's grumpy.
The two main characters are in loveless marriages and decide divorce and affairs are the way to go.
"Well, darling, you know where you can go."
"Why you blundering old jackass!"
If I Were Free: Love in the Afternoon
"You're trying to be funny, aren't you?"

"No, I'm just trying to keep going until the undertaker comes."
A kitchen sink sort of drama, If I Were Free is one of many RKO-weepies in the early 30s that puts a woman through the ringer for the audience's catharsis. A pair of bad marriages have two incredibly depressed people until they meet. Gordon Evers (Brook) is a barrister hiding out in Paris and drinking himself to death while his wife cavorts back home. Sarah (Dunne) is introduced being held at gunpoint by her cavalier husband, Tono (Asther). But when Gordon and Sarah meet, their eyes light up… well, at least as much as Brook ever lights up.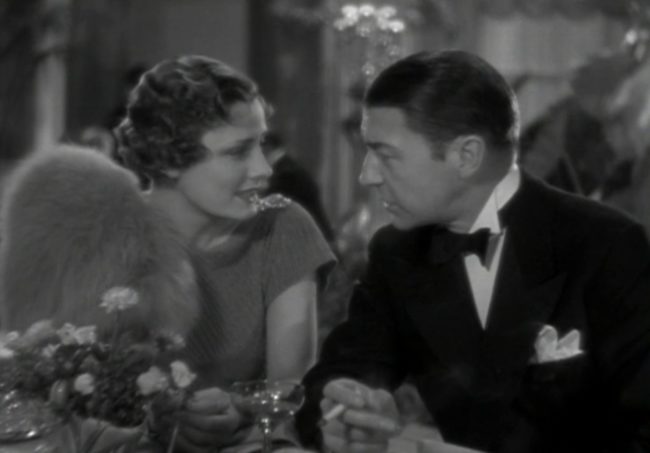 Brook is stuffy to the point, and Dunne, as in many of her early 30s dramas, plays the emotional notes with all the versatility of a virtuoso. She doesn't embody sadness like Helen Twelvetrees or buck under it like Constance Bennett, but dances with it. Hope flirts with her, and she's smart enough not to view it as black and white. Brook is the perfect match, his reserve often bordering on the opaque. But he finds some humor in Gordon, and their chemistry, while unusually straightforward, is the best part of the film.
The staging, however, is pretty silly. The opening shot of Dunne at gunpoint seems comical at first rather than dramatic. Director Elliot Nugent prefers medium shots with a few punctuated closeups, and he rarely finds an image worth framing outside of the pastoral– much of the movie seems confined to very blatant, samey sets.  While there are some excellent lines in the script, the plotting itself is schizophrenic. The villainous other-partners in both marriages are underwritten and spring in only to gum up the works; after Tono spends the first few minutes threatening his wife's life if she ever leaves him, he gives her a divorce off-screen. Later he swoops in for some blackmailing that also goes nowhere. Though the film's premise of love between two married people is scandalous on the surface, the movie deemphasizes it with rigorous certainty, sticking to a more uppercrust telling of the events with the minimum of fuss.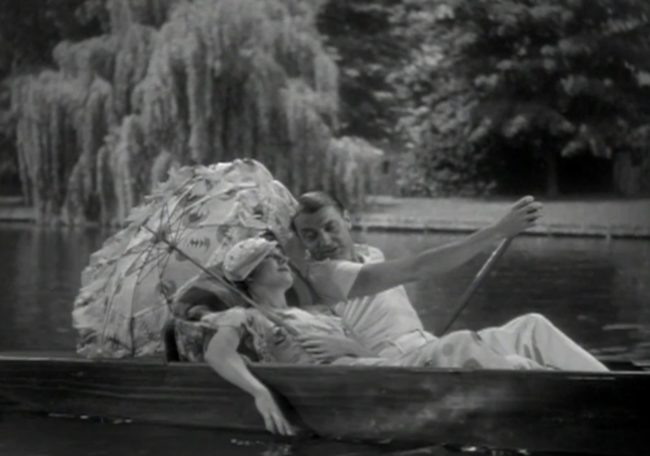 All of this tries to generate romantic tension between the main couple, but they're so sublimely in sync that there's no real conflict. The film's ending, which includes a 100 to 1 surgery and one last spiteful act on behalf of Gordon's wife, also manages no thrills since it's merely a hiccup that buttons their romance. This is a movie where a downer ending may have been welcome– it may have made some of the 66 minutes here remotely meaningful.
Still, the acting is fine and solid. It's hard not to like Dunne and Brook, which is surprising, and the moments the movie spends on uniting the two lovers outside of a remote church in a sun dappled park works. Not so much the rest of it.
Gallery
Click to enlarge. All of my images are taken by me– please feel free to reuse with credit!
Trivia & Links
For women who responded (there were plenty), Brook's was the art of holding back, reticence as route to romance. His was a promise of stability, and surely that was valued currency during a Great Depression.
NYU's film notes are brief, but do note that the film's ending was changed from the original (downer) play.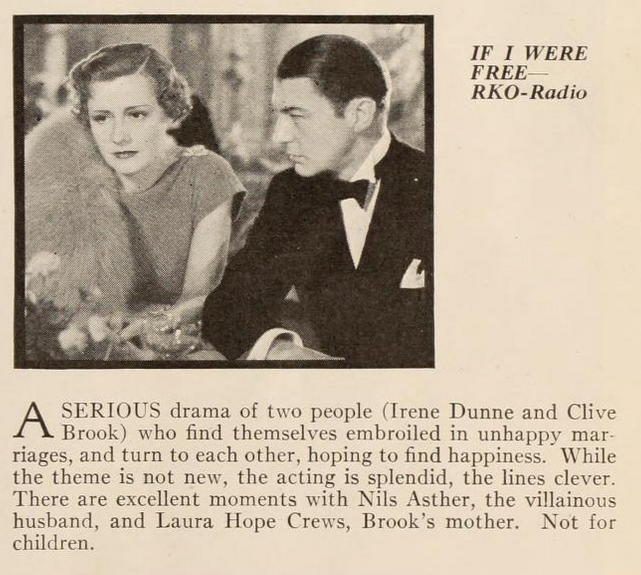 Awards, Accolades & Availability
More Pre-Code to Explore