Uncle Dudley
Jack Holt
Bob Dudley
Richard Cromwell
Dorothy
Joan Marsh
Released by Columbia
Directed by Edward Sedgwick
Run time: 68 minutes

Maker of Men: Fumbles
"When you're talking against football, you're talking against me!"
"Wow," I muttered about 20 minutes into Maker of Men. "My desk is filthy!"
Fifty minutes later and my desk is cleaner and the movie, mercifully, ended. Gazing over my notes, the highest compliment I managed for Maker of Men was "lots of outdoor shots", which isn't that great when most of us can get the same experience for free.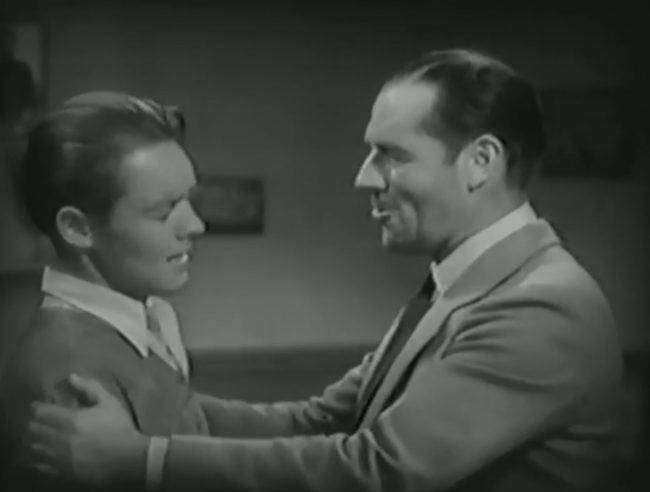 Big Jack Holt plays 'Uncle' Dudley, the football coach for Western University. His wimpy son, Bob (Cromwell), has finally gotten old enough to join the team's ranks, but is intimidated. He is terrified of the tackle, infuriating his father and girlfriend, Dorothy (Marsh). He's eventually drummed from the team, earning a vicious slap from his hard-driven father. Bob gets his revenge by joining Western's rivals and defeating them in the big game, ensuring that his father gets fired from his job. But, darn it, he's finally proud of Bob.
I don't mean to give much away, though the meager plot is hard to care about as it's wedged in between interminable football scenes. There's a 20 minute football game in the middle of the film, half of which the main character isn't even playing. We're literally just sitting there, watching a 1930s football game in real time. It's not a critical game. It's just… a football game.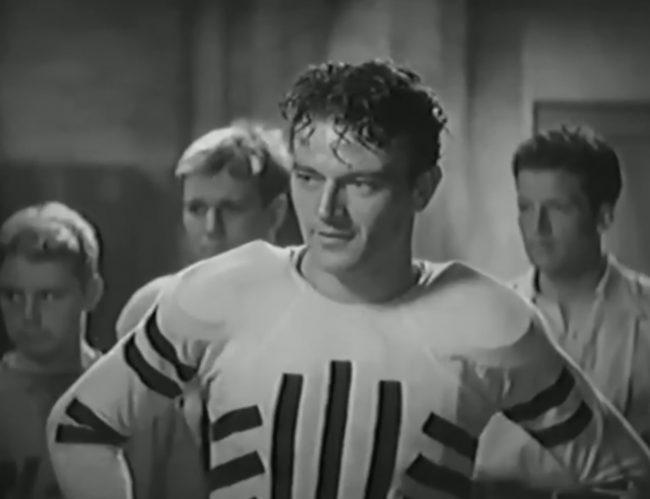 I don't know why I'm supposed to care about any of this. The plot is predictable. As far as I can remember, Dorothy only shares two full scenes with Bob, one in which she is charmed by him and one in which she rejects him after his failures on the field. The rest of the time she's being quizzed by friends or fretting nervously over the object of her affections; she's literally fitted in as a way to kill time between yet another lengthy football scene.
The actors are fine, but have no depth to work with in a film where the only route to personal success is slapping. Ward Bond and John Wayne make appearances as fellow football jocks. So there's that.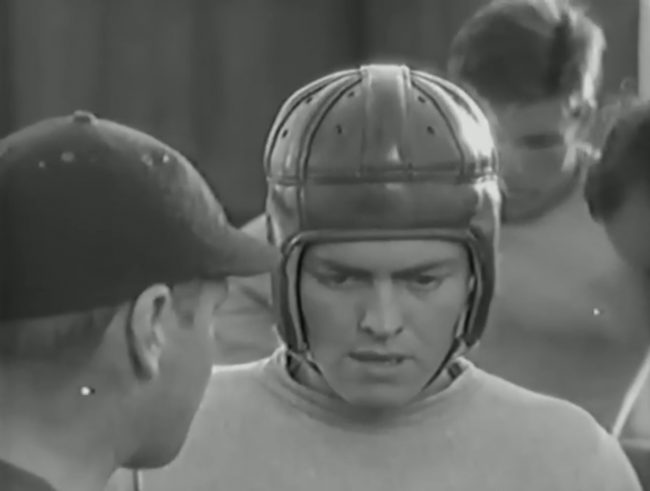 Maker of Men is all dull machismo. It was quite instructive watching this after Men Must Fight, which contemplates violence versus inaction and how men have to choose their own ways in the world. Maker of Men is nothing but toxic, slow-moving chest thumping. The only insight here is into just how boring a movie of this type can be.
Screen Capture Gallery
Click to enlarge and browse. Please feel free to reuse with credit!
Other Reviews, Trivia, and Links
The AFI notes explain that some of the movie is reused football footage (*gasp*) and was shot at UCLA.
Awards, Accolades & Availability
This film is an obscure one. I wish you luck in finding it!
More Pre-Code to Explore