And I'm back! It's the most wonderful time of the year in Hollywood, any time the smell of urine is even mildly diluted. And with the crazy-ass winds whipping through town this week, you're in luck! Hollywood has never smelled better.*
Yes, it's time for the 2019 Turner Classic Movies Classic Film Festival (or #TCMFF for short– that extra 'Classic' is in there just to keep you on your toes). It promises to be a four-day whirlwind of connecting with friends, watching old movies, eating poorly, catching some kind of disease, and possibly seeing the contents of my stomach again.
Haha, just kidding. I hope.**
My wife and I continued our tradition of taking the 4-hour train ride down to Los Angeles via Amtrak, which involves two hours of quiet coastline travel and blessed quiet. We left Tuesday, so that we would have plenty of time to explore and enjoy the city.
My first thing to do was to finally grab a Lyft over to Amoeba Music, over near the Cinerama dome. This massive warehouse is filled with new and used albums and movies. I ended up grabbing the soundtracks to Charade, One Hour with You, and the awful 70s version of Lost Horizon on vinyl. That last one is mostly as an avenue of self-torture.
Staying on brand as much as I can. pic.twitter.com/c1KGDP77Y6

— Pre-Code.com (@PreCodeDotCom) April 9, 2019
Our second order of business was my wife's long-desired trip to the Magic Castle. For those of you who don't know, the Magic Castle is a 100+ year-old-mansion located a block north of the Chinese Theater. It's a private club operated by the Academy of Magical Arts. Inside are a half dozen bars, a number of optical illusions, and a few stages where different acts play throughout the evening.
To get in involves either knowing a club member, getting on a months-long waitlist, or staying at the Magic Castle Hotel. And long time readers will know where we like to stay during our TCMFF trips.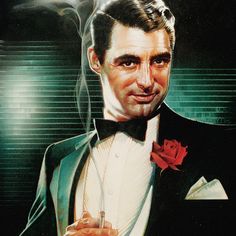 Now, I have no pictures of the inside of the Castle, as it allows no photography. I learned this rule came from when Cary Grant would come bring friends and family to the club and occasionally perform as 'Carini' for bemused guests. Grant still has a table there and a display dedicated to him.
The Castle also has an array of fascinating displays and vintage posters, including a number of tributes to Laurel and Hardy. It's expensive to visit, but the staff and ghosts were all very welcoming, and the shows were very trippy.
Wednesday was pretty laid back. I slept in until 6:30 (way to turn of my alarm), and went to the early preview of the TCM Boutique in Sweet. I picked up my festival magnet, and marveled at the selection of hats that tie into the new Forbidden Hollywood book about pre-Code Hollywood.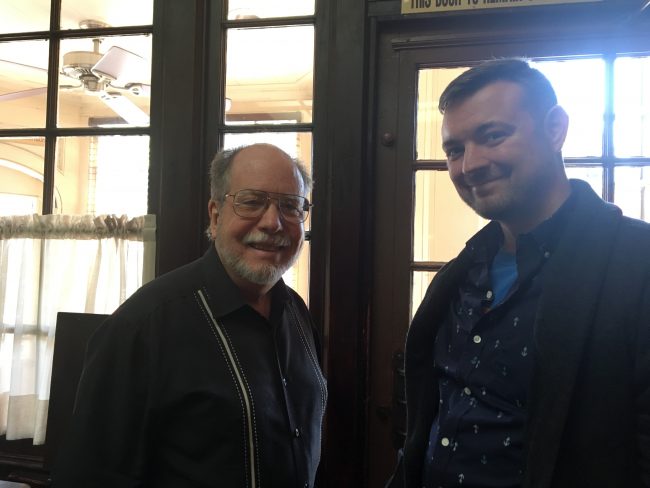 Speaking of, I then had lunch at Musso & Frank's with Mark Vieira, the book's author. We chatted about the frustrations in finding old movies, dishing on George White Scandals of 1934 and Cock of the Air. I learned about Vieira's relationship with Jack Vizzard and his hoped-for future projects. It's always fun to nerd out with someone about pre-Code, so this was a great time.
Next on my to-do was the TCM Social Ambassador program they're running this year. Social Ambassadors are various fest-goers who will be broadcasting about the fest on different platforms. You can identify us by the red lanyards, and can ask us all manner of questions, big or small.
Some other things I heard:
Asked @denker about some #TCMFF tidbits. TCM picks their annual theme in July and whittles down their list of opening night films based on cost and prestige. They contact talent around September to start to arrange the big opening night film. pic.twitter.com/kQ1CgsRMsi

— Pre-Code.com (@PreCodeDotCom) April 10, 2019
Also learned from @denker that Ted Turner's appearance came after he'd visited the Turner Campus and talked about how he'd known, in his gut, that a 24-7 commercial-free movie channel would be a hit. #TCMFF pic.twitter.com/2T2EV0UHjq

— Pre-Code.com (@PreCodeDotCom) April 10, 2019
Also, all the smoking in old movies drives Ted Turner nuts. I guess he's not a Now Voyager fan? pic.twitter.com/qKENSOMJvn

— Pre-Code.com (@PreCodeDotCom) April 10, 2019
Lastly, asked @denker about GONE WITH THE WIND. He said that presenting it with a panel and introductions at #TCMFF help provide context. The channel feels an ownership of the movie since it plays such a huge role in their founding. pic.twitter.com/LEK29beyCy

— Pre-Code.com (@PreCodeDotCom) April 10, 2019
It sounds like the closing night showing of GONE will also include Robert Osborne's original intro, and there may be other recorded Osborne introductions that pop up around the festival. #TCMFF pic.twitter.com/nAhiZ3Iewd

— Pre-Code.com (@PreCodeDotCom) April 10, 2019
The rest of the day, besides my wife's demand we out at a Russian restaurant a staggering block-and-a-half away from the Roosevelt, included this tidbit:
We walked past Shirley Jones on the stairwell. My wife is now frantically reading Wikipedia to learn why 20 grown women just squealed. #TCMFF

— Pre-Code.com (@PreCodeDotCom) April 11, 2019
And a ton of catching up with other bloggers and friends. A sampling:
Rare to see such an amazing group of people have such little idea where the camera is. https://t.co/9dbY8EwBIx

— Pre-Code.com (@PreCodeDotCom) April 10, 2019
My wife and @IrishJayhawk66 matching down to the fingernail polish! #TCMFF pic.twitter.com/fqpn9Y6inr

— Pre-Code.com (@PreCodeDotCom) April 11, 2019
God this baby #TCMFF @HIFilmFest pic.twitter.com/FIQGSBTVH5

— Pre-Code.com (@PreCodeDotCom) April 11, 2019
Going very Spielberg with this shot of me and @TheDarkPages! #TCMFF pic.twitter.com/nknPOUv5ov

— Pre-Code.com (@PreCodeDotCom) April 11, 2019
Had a great time at the social producers meetup with the likes of @Home2Hollywood, @heskethmeg, @sales_off_film, @IrishJayhawk66 and @jenTCM! #TCMFF and no i do not look like jeremy renner pic.twitter.com/Nl4xm4uusM

— Pre-Code.com (@PreCodeDotCom) April 11, 2019
Someone also drunkenly accused me of looking like Jeremy Renner. Still reeling from that one, fam.
My throat is a little sore from yelling over bar noise, but otherwise I am pumped for Thursday night's films and events. Bring it on!
Other Relevant Tweets
Just a group of us trying to convince @BenMank77 to watch ALF 😂😂 #TCMFF pic.twitter.com/v73wEYntmq

— Jessica Pickens (@HollywoodComet) April 11, 2019
Cora Sue Collins and Ted Donaldson telling stories at the #TCMFF pre-festival party pic.twitter.com/DiXDUCcuxK

— Heidi (@HollywoodHiDee) April 11, 2019
Lot's of great merch at the #TCMFF boutique.

Opens in 20! Find it one flight up from the IMAX @ChineseTheatres! pic.twitter.com/Liu61asR4n

— TCM (@tcm) April 11, 2019
Coming Up
Thursday is the big day! The Festival kicks off with 'So You Think You Know Movies', Night World and more! Follow along with me on Twitter as @PreCodeDotCom. If you're new to the festival and following along, check out my guide to attending. You may also see what my picks are for the festival. Or, hell, maybe you just like clicking on hyperlinks. I don't judge!
* – This is a lie. I hope.
** – This time.