Margie Nichols
Dorothy Mackaill
Myrtle Nichols
Joan Blondell
Allen Crane
Walter Byron
Eddie Adams
Conrad Nagel
Harry Gleason
Joe Donahue
Walter Nichols
H.B. Warner
Released by Warner Brothers | Directed By John Francis Dillon

Proof That It's Pre-Code
"They padlock a speakeasy one day and the next day the same people are around the corner and open for business."
An unplanned pregnancy and "miscarriage" (?).
A woman offers to sell herself for sexual favors for $5,000.
The Reckless Hour: Knocked Up and Down
"You can hardly blame the salt in the turkey!"
Dorothy Mackaill is a wonderful actress. Confident but filled with darkness, there's something gorgeous about her face and the way it holds so much weight under so much pressure. Mackaill contains an essence of world-weariness that carries through all aspects of her performance. It makes it all the better when that glimmer of optimism kicks in– hard won in her movies, but so much the better.
And it's pretty hard won in The Reckless Hour, the story of the daughter of a bookstore owner who falls for the wrong rich cad and must reconcile her own foolishness with what her heart desires. She's torn between her family, including her complaining mother who doesn't get her, a quiet but kind father, and a spry and sexy kid sister, and what she wants to do wit her life. Which, at this period of time, just revolves around who she's going to end up marrying.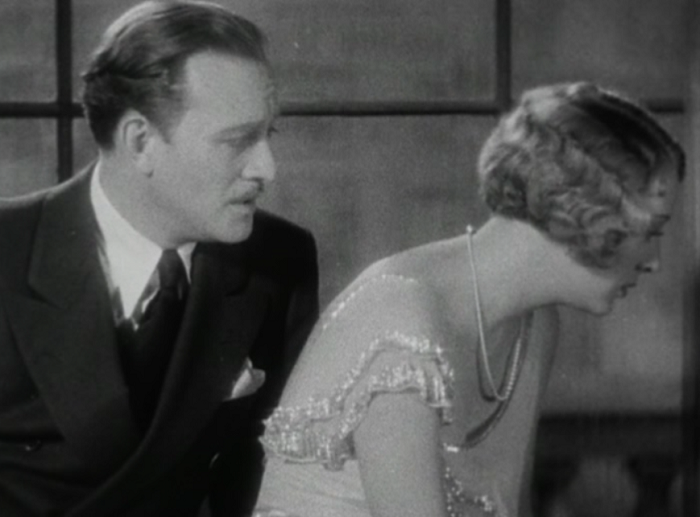 The Reckless Hour constantly tries to play with audience expectations with limited avail. The opening scene, with Mackaill lounging on a fainting couch in a gorgeous outfit and doting what-appears-to-be maid, is setup to make the audience think that she is an upper class lady before revealing she's merely a model. Margie's initial interactions with Eddie also playfully acknowledge the cliches of the rich young man seducing the beautiful model– inevitable downfall winked at before it honestly occurs.
So Margie and Allen split after she learns his proposal of marriage was dishonest. He retreats to Europe, and Margie's father helps get her to a rest home to help take care of a unwanted guest. To do this, Margie's meek father has to mortgage his bookstore to a nouveau rich businessman. Meanwhile, Margie is reapproached by one of Allen's friends, Eddie, to pose for a painting– and possibly a love affair. But Margie has one problem– her pride– that becomes a sticking point in the relationship. Bitter over her earlier mistreatment, Eddie can't break through. But when her father's investment dries up and threatens to put the whole family out on the street, Margie offers Eddie her virtue for a meager cash sum. Will Eddie and Margie end up together– honestly? Or will the cash settlement make him see her as, you know, a prostitute?
The Reckless Hour very much feels like it's cashing in on the success of 1930's Ladies of Leisure, featuring once more an artist's model who knows the world and has to decide if the swarthy, sexy artist is really all what he seems or if she's going to be burned again. Reckless lacks the subtle touches of Capra's feature, and while it's more family focused, its points are more blunt and far more wrapped in fairy tale. Its finale requires on several circumstances and reversals that are fairly ludicrous, and the main romance that's showcased in the last act isn't given enough time to breathe to work properly.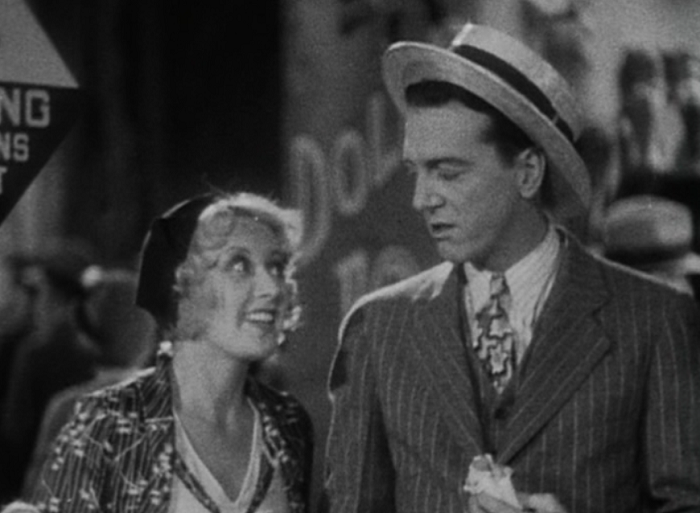 The movie itself is a pretty blatant morality fable, carefully laying out the difference the 'good' upper class and 'bad' upper class. Allen and the swindling Jennisons are the people who either have gotten their money from their parents or gotten it from speculative trading and they are either callous or laughably dumb respectively. Eddie is the sole representative of the 'good' rich, a man who has earned his money and class from work and kindness. Even if Mark goes to speakeasies and, something definitely pre-Code, is already married, it's his goodness that matters, not the extenuating circumstances. He's honest in both his business and his personal life, and that's why he's the right man for Margie.
The biggest problem with Reckless Hour was certainly unintentional: Joan Blondell steals every scene she's in. For every scene that Mackaill is hanging her head in the foreground, Blondell seems to be doing the Charleston in back. Her big smile, quick wit, and able to sling copious amounts of slang make her impossible to look away from. While I love Mackaill, Blondell has star written all over her, and the camera just loves her more. And, outside of Mackaill and old pro H.B. Warner, the rest of the actors may as well be behind Blondell, blending in with the wallpaper.
And for the Mackaill fan in me, that's hard to take. There are moments of the movie that are well modulated, and Mackaill's performance is honest, if unfortunately obtuse. The movie is an old story with some good stars but not much variety. As much as The Reckless Hour wants to play with its own cliches, it instead feels trapped by them.
Gallery
Hover over for controls.
This slideshow requires JavaScript.
Trivia & Links
Awards, Accolades & Availability
This film is available from Amazon and Warner Archive on the two disk Dorothy Mackaill Pre-Code Double Feature along with Bright Lights.
Comment below or join our email subscription list on the sidebar!