Doris Blake
Carole Lombard
Jimmie Martin
Chester Morris

Ridgeway
Cary Grant

Released by Paramount
Directed by Alexander Hall
Run time: 69 minutes

Proof That It's a Pre-Code Film
Lombard plays a clothing model who frequently strips down and hangs out in the dressing room.
Doris Blake (Lombard) becomes a kept woman to rich louse Eric (Walter Byron).
A depressed woman decides to "take a pill" for "a good long sleep."
Sinners in the Sun: Love Bites

"I want you to have ambition! That means more than just money. That means everything."
As we near 700 reviews on this site (still, barely a drop in the pre-Code bucket!) there are some films that have completely erased themselves from my memory. Just inconsequential, no-frill movies with generic titles that evaporated as soon as I slapped "Publish" on the review.
Sinners in the Sun gave me that vibe about halfway through. I have little doubt, years from now, I'll look at this review and question if any of this happened. And if this review disappears… well, maybe I'm doomed to watch this again someday. That's enough to put a shiver in my spine.
Okay, that's a tad melodramatic, but Sinners in the Sun deserves nothing but loud, grand pronouncements. Made in 1932 when a fifth of the country was out of work, it's yet another peon to "love conquers all" without much else of interest to guide it.
Doris (Lombard) is a clothing model so hard for cash she still lives at home with her cantankerous family. Doris wants her boyfriend Jimmie (Morris) to gain some ambition beyond working at a service station, but he'd rather marry and let love take care of itself. After a tiff, she ends up beginning an affair with married playboy Eric (Walter Byron), while Morris becomes a chauffeur cum lover cum husband for eccentric rich charmer Claire Kincaid (Adrienne Ames).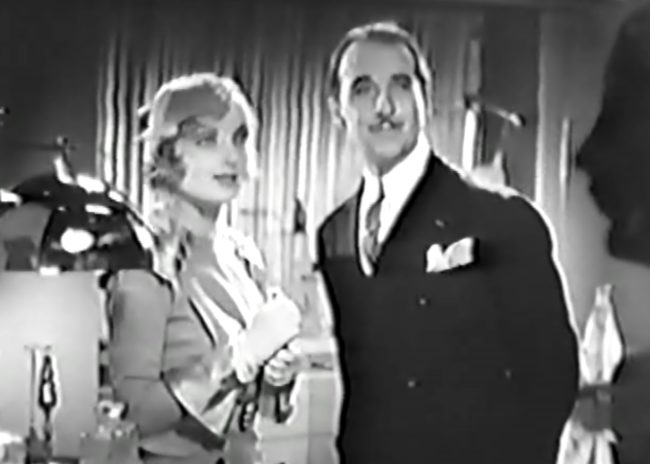 Let's highlight some good things about the picture: there are several excellent montages featuring Carole Lombard living it up. She wears some gowns that are divine and she is, as you can predict for this period, often barely dressed; even in the VHS of a TV recording that's clearly been duped a half dozen times screenshotted here, her stunning couture still shines through.
And then the level of honesty in the picture is fine. One scene finds a jealous Jimmie watching Claire, his wife, casually kiss a man on the dance floor. The man standing next to him sneers; he used to be a shoe clerk and is now on his umpteenth society wife. Jimmie is just new to the process of being a gigolo; just be glad he still has a young one.
Cary Grant has a very early role here as Ridgeway, another society type who develops a thing for Lombard. (I still think it's funny that Grant and Lombard, the king and queen of screwball comedies, were in 3 movies together, all dramas.) There is one nicely brutal moment as Lil (Rita La Roy) kills herself as Grant won't give her a second look, but it's handled with such thudding foreshadowing it gives the film its richest laughs.
The structure of the movie is all wrong too. It's impossible to believe that Morris and Lombard are that destined for one another, especially since all of her concerns about him, about his lack of ambition, are absolutely on the money. Following both of them is just doubly depressing; watching a movie about suddenly rich Chester Morris having to pretend to be happy isn't doing me much good right now.
Now that the United States is once again hurtling once more towards a depression (or maybe it's just a recession, if we cross our fingers and pray to Bob Hope), I can both see why this sort of story is appealing while also being able to acknowledge how it's executed is irritating. The only thing that changes in either character through their glittery love affairs is how badly they want to be together. There's no personal growth, just a simple reversal of priorities and we fade out with a happy ending.
While I can't say for sure why this film is so obscure (I'd presume rights for the source material, but I can't say), Sinners in the Sun is of interest and worth tracking down to precisely the following groups people:
People who are watching every pre-Code ever made. (I wouldn't necessarily recommend this course of action.)
People who are watching every Carole Lombard film.
People who are watching every Cary Grant film
That one person out there who is way, way too into Chester Morris. (Shine on, you crazy diamond.)
Otherwise, move on. The nice thing is that there are always many, many more movies to watch, most of which you haven't seen before. Probably.
Screen Capture Gallery
Click to enlarge and browse. Please feel free to reuse with credit!
Other Reviews, Trivia, and Links
The AFI Notes for this one give an interesting portrayal of a film gone amuck, mostly reshot and rewritten after filming began:
William C. de Mille directed this film for the first two weeks of shooting, but according to a February 23, 1932 Hollywood Reporter news item, conditions were not to his liking and he walked off the set. Los Angeles Herald Express reported on February 22, 1932 that de Mille took the job reluctantly because Paramount needed a director, but as the shooting progressed, he decided David Burton would be better suited to handle the "wild, jazzy stuff." Variety reported on February 23, 1932 that William Schorr was to "stage the dialogue," but no evidence that he worked on the production has been found.
By March 9, 1932, Hollywood Reporter announced that the story had to be rewritten, that much of the early scenes had to be reshot, and that the shooting would require eight weeks instead of the scheduled three to four. It is not known if any of de Mille's footage was used in the final film.
Although Paramount had announced David Burton as the replacement director and he was listed as director in an ad in Film Daily on March 24, 1932, Alexander Hall actually did the job. The Motion Picture Herald and Variety reviews credit Vincent Lawrence along with Waldemar Young and Samuel Hoffenstein with screenplay.

One of the members of Doris' extended family gets handed the movie pages, with a nice big shot of Paramount contract star Marlene Dietrich on there just to remind you what studio's movie you're watching.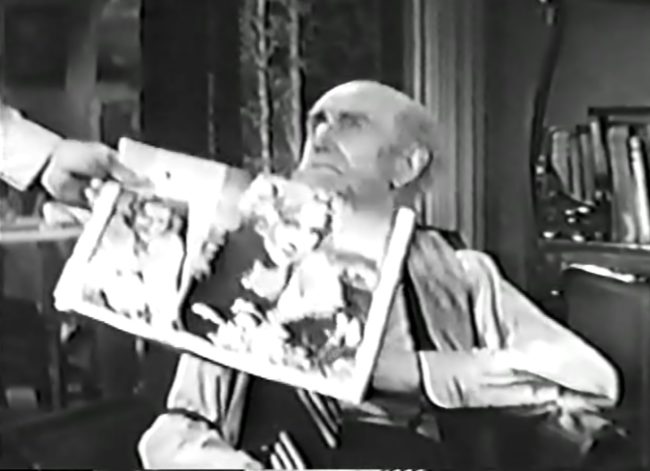 In screen form it is a lavishly produced, trivial story with an abundance of acrimony. […] Miss Lombard acts competently. Mr. Morris is miscast.
Awards, Accolades & Availability
This film is an obscure one. I wish you luck in finding it!
More Pre-Code to Explore