Stan
Stan Laurel
Ollie
Oliver Hardy
Charley
Charley Chase
Released by MGM | Directed by William A. Seiter
Run time: 66 minutes

Proof That It's a Pre-Code Film
"I'll put you in jail first with the rest of the sons of a– Sons of the Desert!"
The guys get to jive along to "Honolulu Baby" along with some scantily clad dancers: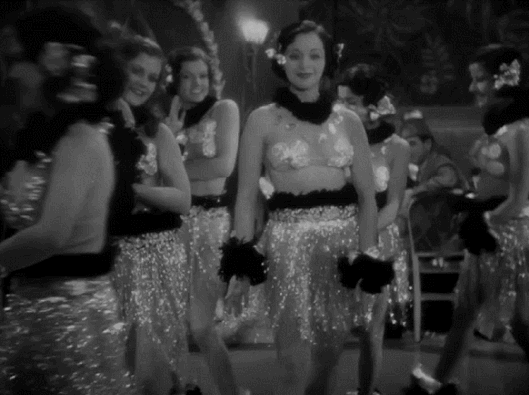 Sons of the Desert: Another Fine Mess
"That's our story, and we're stuck with it!"
I'm going to reiterate right here at the beginning that I have trouble believing there's anyone not familiar with Laurel and Hardy even in this day and age. Hell, the mascots for the tire repair shop down the street from me are clearly modeled on the duo– and I live in Tokyo.
If you are somehow unfamiliar with them, Sons of the Desert is probably among their best features to start with. The gags all feel fresh, and the level of sponteniety is exciting. The duo, portly Ollie and slender Stan, are clearly working at the top of their game.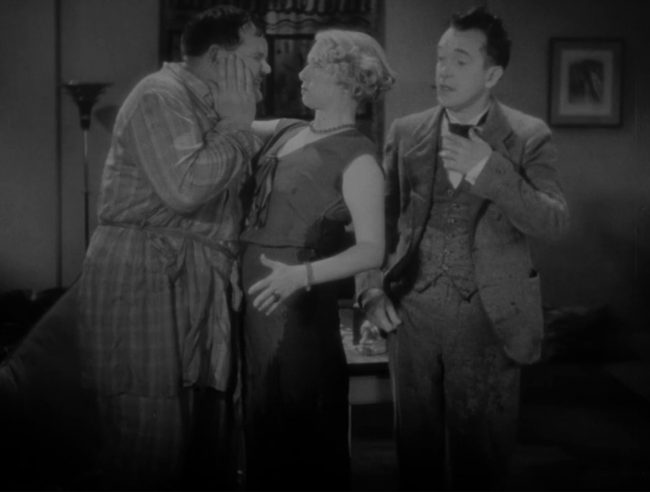 Two saps pledge to go to a lodge convention in Chicago, even though they know that it won't make their wives happy. Oliver is a chauvinist ("Every man should be the king in his own castle!"), while Laurel all-too-eager to placate his wife. This means someone ends the film getting a whole cabinet full of plates thrown at their head, and, boy, do they deserve it.
Most of the reviews of the film blame the duo's antics on trying to escape their 'domineering' wives, but let's be honest– the wives aren't domineering. They're adults dealing with children. The two seem befuddled by the most simple of social interactions, from actually entering the correct house to not giving away their idiotic charade to get to go to Chicago. Some of the comedy bits include the incredibly uncomfortable sequence where Laurel munches on a piece of wax fruit, a rather egregious mishap with a bucket of warm water, and one spectacular reaction shot from Hardy after Laurel notes, "Well if she didn't go to the mountains, then Mohammad would have to come here." What?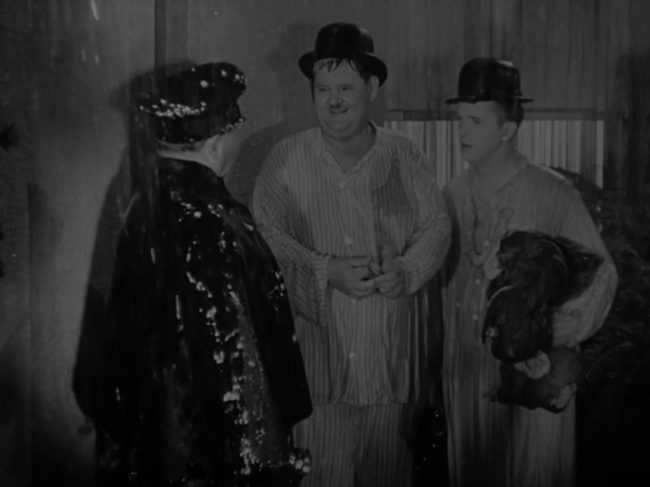 It's all very lovable somehow. While they're childish, they're also childlike in many ways. Two ids in search of the next easy, simple pleasure.
Like the Marxes' Duck Soup, this is a mostly-distraction-free experience for fans of the comedy duo. There's no romantic subplots, musical numbers, or even much of an extensive plot to get in the way of the gags. This means that the sequences, that are mostly funny, live or die based on your own humorous instincts.
Sons of the Desert has always felt a bit clunky, if just because of the lack of plot, but in terms of what counts, the movie is funny. Very funny.
Gallery
Click to enlarge. All of my images are taken by me– please feel free to reuse with credit!
Trivia & Links
In 1965, Laurel and Hardy biographer John McCabe and a handful of others founded, with the blessing of Stan Laurel, an appreciation society called Sons of the Desert. In tribute to the movie from which it takes its name, each local chapter of the organization is known as a "tent," and there are countless "tents" all over the world, bearing such names as Below Zero Tent (Anchorage, Alaska), Berth Marks Tent (Harlem, Georgia, Hardy's birthplace), Tit for Tat Tent (one of eight in Germany), Another Fine Mess Tent (one of 40 in the UK), and four Music Box Tents (Phoenix, San Antonio, Pennsylvania, and Luxembourg).
The immaculate Movie Diva goes into the appeal of the comic duo:
Laurel and Hardy's funny faces and funny bodies provide both a contrast and a background for their deft physical comedy. Some, like "Big Business" and "Leave 'Em Laughing" are among the funniest examples of the form. Neil Sinyard explains their appeal as an "absence of malice, which makes them sympathetic, and their absence of intelligence, which makes them hilarious." At the same time, they are extremely dignified, no matter what indignities they are suffering. They introduce themselves as Mr. Laurel and Mr. Hardy, and are always properly topped off in their derby hats. And, because they are both equally funny, each joke has three payoffs, first the situation, when one reacts and then the other. As Gerald Mast points out, the starting point for all their films is that they are overgrown children (how they ever got married in the first place in Sons of the Desert is a mystery). And, in their world, many other people are equally childish. The measured pace of Laurel and Hardy's films are unique, as they go about their destructive behavior with a deliberate slowness that builds to a satisfying climax, a specialty of Leo McCarey and the Roach Studio comedy technique. It was no secret that Laurel was the comedy brain behind the partnership, in fact, Hardy did not even think he was funny. His taking everything that happens to the pair so seriously is one of their comedy secrets. Luckily for them, their voices enhanced their screen characters, unlike so many silent comedians who found it difficult to make the transition to sound films because of their incongruous voices. Laurel's English accent and Hardy's Georgia drawl provided yet another comic contrast.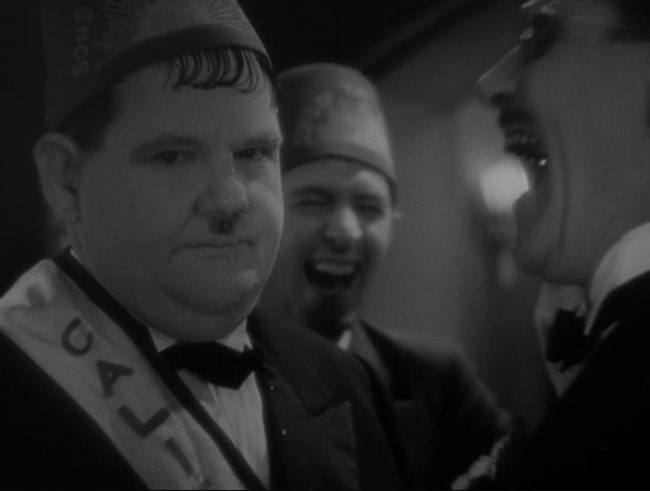 Pretty much all of the trivia and details you could ever want over at TCMDB. The movie was filmed in under three weeks! My other favorite bit:
Despite the antecedents in a number of earlier Laurel and Hardy shorts, plot elements for Sons of the Desert, at least according to articles in the Spring 1933 trade journal Film Daily, may have been inspired by a trip Roach took to attend an MGM sales division meeting in Kansas City. Not only was the gathering an occasion for partying, much like the Sons of the Desert national convention in the picture, but Roach's flight back was plagued by a terrible storm, which he claimed gave him an idea for a new comedy. The experience may have suggested the ship-downed-by-typhoon motif and the heavy downpour on the roof that ended up in this picture.
Awards, Accolades & Availability
More Pre-Code to Explore