Mary
Sidney Fox

Gus
Paul Lukas
Lewis Stone
Mr. Jones
Released by Universal | Directed by John M. Stahl
Run time: 90 minutes

Proof That It's a Pre-Code Film
The first act takes place in a speakeasy.
A man and woman are living together before marriage. I mean, they're living with his parents, too, but still.
"I love it when the darkies sing at night!" Southerner Mary's views on the races is… unsurprising.
"Just when cotton got high, women stopped wearing underwear!"
"If these dagos weren't around here to stick knifes in my back…"
"I'll teach you to behave like a little–"
Mary doesn't mind sleeping over with men. But that may be because she's a little dense about what sleepovers mean to cityfolk.
"What are your intentions towards me?"
"Strictly dishonorable!"
"I forgot to ask you Henry– are you pure?"
Strictly Dishonorable: Bed & Board
"I read in a book of psychoanalysis once that nothing is immoral except–"

"Except what?!"

"Oh, lordy, I plum forgot!"
Sex is comedy, but serious, but also comedy. Based on a Broadway hit penned by Preston Sturges, Strictly Dishonorable is a lot broad jokes packed into the story of two strangers who agree to share a bed for the night.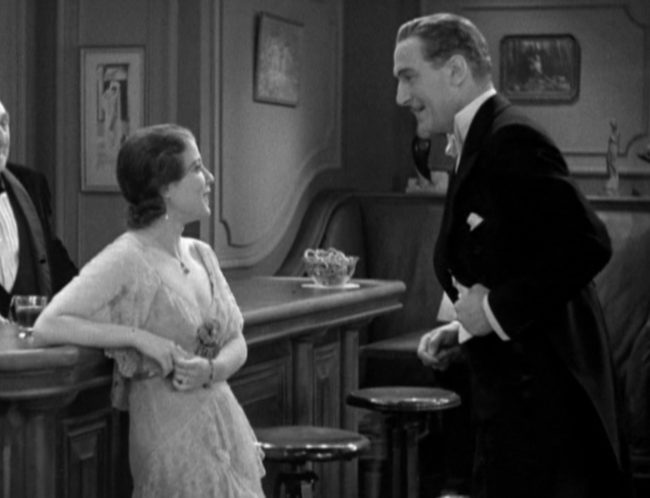 Mary (Sidney Fox) is engaged to uptight dolt Henry (George Meeker). The dichotomy between the two is quickly established; he chides, "You think the sun shines just so you can go picnicking. It doesn't. It shines so you can have vegetables." He's aggressive and surly, she's bright and hopeful; he rescued her from a small corner of a once-expansive plantation, and now is happy to survive in whatever way presents itself.
She heads into a speakeasy, where ex-judge Lewis Stone holds a bemused, if slightly tipsy court, and an opera star named Gus juggles his conquests. When Mary and Henry arrive, Gus wedges himself in and manages to talk Mary into coming up to his apartment for the evening. "What are your intentions?" she asks. He offers the film's title with a smirk.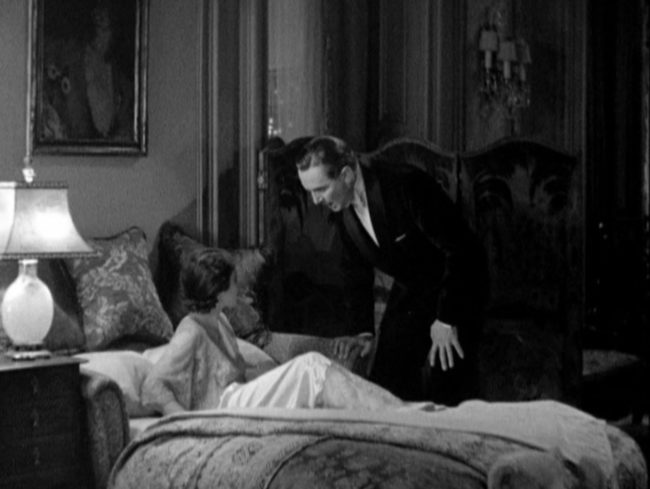 Because this is a pre-Code, much of the tension comes from what a man and a woman can get away with in a bedroom when they're unmarried. Mary hits this upon the head: "Don't you think it's better to be very happy for a little while than to never be happy at all?" Photos of ex-lovers dot Gus' apartment, and a mistress named Lily keeps the phone lines ringing most of the night. Can Gus maintain the ruse that this might mean more than a one night stand? Or is he just fooling himself?
With the name Preston Sturges attached, it'd be fair to expect something if not madcap, at least zippy or honest. Unfortunately, it's still a bit of a rough 1931 production– stagey with static cameras, marking a notable problem with tempo.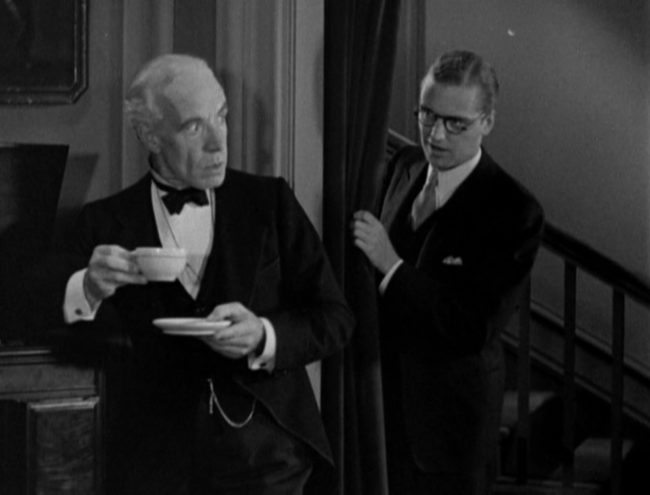 The movie lacks a certain amount of subtlety, unable to unite Sturges' love of the absurd with the staid cinematic sensibilities of the day. Mary throws a fit, literally wriggling on the couch with a giant teddy bear crying "I am not a baby!". This is contrasted by a scene a few minutes later where Lukas has his knees up to the chin, gazing at stars out the window and declaring his love. Combined with Henry, who seems to have stepped out of a Bugs Bunny cartoon, it's still too over-the-top for its more nuanced sexual maneuverings.
I won't say Lukas is miscast, because I can't quite imagine anyone pulling off this role; maybe Douglas Fairbanks Jr. on a good day, though the required Italian accent would do no American performer any favors. Sidney Fox, most famous in my world for being the first recipient of a Bette Davis onscreen slap in Bad Sister, has a few moments of wiseacre bliss, but she, too, can't seem to get the romance of it all across. Lewis Stone adds a level of sophistication to the proceedings.
There's a nice atmosphere to the movie, and you can appreciate the film's structure– it's technically competent and the actors are good actors. It's a lot of good pieces, just not strictly perfect.
Other Reviews, Trivia, and Links
As mentioned above, this was based on a hit Broadway play by Preston Sturges that ran for over 500 performances. Sturges sold the play's rights for an amazing $125,000 to Universal and liked the consequent film adaptation. He wrote, in a letter to Carl Laemmle Junior, "I arrived in the projection room with a very superior feeling … and presently found myself deeply interested and admiring my own play. Nothing could be lower than this." You can read more about the play's origins and the subsequent adaptions in Madcap: The Life of Preston Sturges.
Fox is an odd actress; she can seem passive, but if you spend enough time watching her, her subversive nature begins to reveal itself and you begin to understand who is in control. This isn't as steamy or playful as it should be, but it's cute.
In a 'blink and you'll miss it' moment, the couple in the opening shot drives by a theater showing The Smiling Lieutenant.
Some context for the movie: Lewis Stone at one point helps turn Stanley Toler's police character against George Meeker's by accusing him of being 'an orangeman'. For those curious, this did not mean that Meeker spent too much time at the tanning salon, but rather was a member of 'The Orange Order', a sectarian Northern Irish Protestant group that was no friend to the Catholics. You can read more about why an Irish immigrant would have no love for them over at Wikipedia.
The reason this one is out on Warner Archive is because MGM purchased the rights to the original in the early 50s for a remake starring Ezio Pinza and Janet Leigh. And because it's an MGM film, they took the plot and, of course, really hit the opera angle hard. Fun fact: Lewis Stone appears in the remake, too, but that's because Leigh and Ezio at one point go to a packed movie house and catch Gilbert and Garbo in A Woman of Affairs (1928).
Awards, Accolades & Availability
More Pre-Code to Explore