Pre-Code.Com Site News for January 2016
And so that wraps up another year here at the site. It was a busy, fun year, and will only increase in craziness next year as I start school (both teaching and attending) as well as, of course, having a baby. So I hope you enjoyed this year of regular updates– we'll see what happens next time!
I did this last year, so this seemed like a good thing to continue. Here's a list of my favorite pre-Codes I saw for the first time in 2015:
And I guess that about does it for now. I'll be back in two weeks with more reviews, of course.
January on TCM is a huge improvement for pre-Code fans, with a day dedicated to Kay Francis and lots of random jewels to pick from throughout, including Don't Bet on Women which showed back at the TCM Film Festival earlier this year.
Anyway, hope everyone out there gets to stay in with a few good movies this winter. Merry Christmas and a happy new year!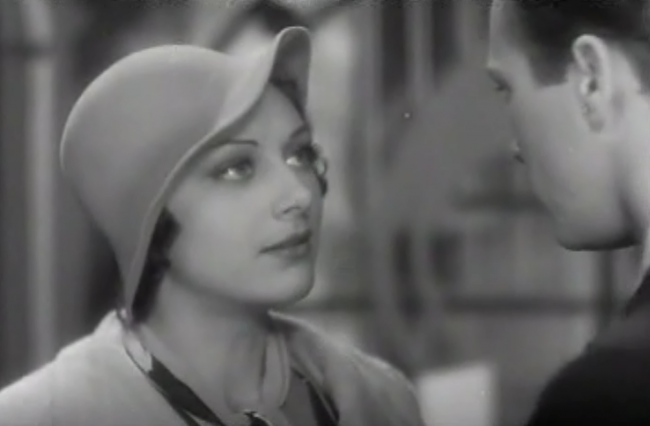 Pre-Code Hollywood Movies on TCM in January
Please note: All times are Eastern. This schedule is subject to change. See the full listings here. To watch TCM online, check out their TCM Watch site.

---
3rd, 10:15 AM
Imitation of Life (1932)
A widow and her housekeeper go into business together but almost lose their daughters.
---
5th, 8:00 PM
King Kong (1933)
A film crew discovers the "eighth wonder of the world," a giant prehistoric ape, and brings him back to New York, where he wreaks havoc.
---
7th, 9:15 AM
The Conquerors (1932)
Newlyweds go West and build a banking empire.
---
7th, 11:00 AM
Prosperity (1932)
Feuding mothers almost wreck their children's marriages.
---
7th, 9:45 PM
Chandu the Magician (1932)
Bela Lugosi does his thing.
---
7th, 11:00 PM
Alice in Wonderland (1933)
All-star version of the famous story. Cary Grant plays an egg!
---
---
12th, 9:45 AM
The Lost Squadron (1932)
Veteran flyers get work as stuntmen.
---
---
12th, 11:00 PM
Don't Bet on Women (1931)
Rare, great Fox pre-Code. Worth checking out.
---
13th, 7:30 AM
A Notorious Affair (1930)
A woman gives up her position for a louse.
---
---
---
---
13th, 7:30 AM
I Loved a Woman (1933)
A meat-packer tries to keep a rein on his social-climbing life.
---
---
14th, 12:30 PM
The Pay-Off (1930)
A gentlemen thief falls in love.
---
14th, 1:45 PM
Too Many Cooks (1931)
Bert Wheeler solo comedy.
---
14th, 3:15 PM
Way Back Home (1932)
A New England preacher shelters a young boy.
---
14th, 7:30 AM
After Tonight (1933)
A female Russian spy falls for the enemy during WWI.

---
15th, 6:30 AM
Abraham Lincoln (1930)
Weirdly, it's about Andrew Johnson.
---
15th, 8:15 AM
One Romantic Night (1930)
A princess falls for her brother's tutor.
---
---
19th, 6:00 AM
Hell Harbor (1930)
A pirate's descendant tries to force his daughter to marry for money.
---
21st, 11:15 AM
Crooner (1932)
David Manners rises to fame and great ego as a singer.
---
21st, 12:30 PM
The Famous Ferguson Case (1932)
Two reporters are interested in different stories about a murderer.
---
23rd, 7:45 AM
Skippy (1931)
Boys try to raise money for a dog license.
---
---
25th, 2:45 PM
Freaks (1932)
It's messed up. Part of a Tod Browning day.
---
---
28th, 9:15 AM
The Merry Widow (1934)
A prince from a small kingdom courts a wealthy widow to keep her money in-country.
---
---
29th, 9:30 AM
As the Earth Turns (1934)
A young couple face the hardships of farm life.
---
---
---
29th, 3:30 PM
A Modern Hero (1934)
A circus rider gets rich through cars.
---
Questions? Comments? Or do you just want to bug me? Leave a comment below!