Upperworld: Taking It From the Top
I've watched a number of movies from 1934 now, but it still surprises me how completely schizoid many of them are. A few months ago I talked about Search for Beauty, a film that painfully embodied both the sleazier aspects of the Pre-Code era as well as the holier-than-though moral attitude that came to define the films in the last half of the decade.
Upperworld manages much of the same feat, but whereas Search for Beauty blended the two elements into one frightening cocktail of madness, Upperworld is a different breed: one half pure Pre-Code immorality and salaciousness, one half prim and proper.
In fact, the disparity is so jarring that it wouldn't surprise me if enforcement of the Production Code simply happened halfway through its running time.
Well noted scoundrel of the Pre-Code era Warren William stars as locomotive tycoon Alexander Stream. He sleeps in late, stays up late, and still manages to make deals that changes the course of nations. He feels a little left out by his wife, Hattie, and her burgeoning social life, but he's still got a darling son and an obscene amount of money to play with.
This goes in the crapper once he meets Lilly, a beautiful chorus girl who swam out too far from shore. He rescues her, and soon the seduction is on. He visits a burlesque to watch her perform, and then flies her around in his airplane– a pretty impressive trip for the early 1930's.
Unfortunately, she has a scummy manager named Lou who wants to force Lilly into blackmailing Stream for all he's worth. Lilly resists, and when he's confronted by Stream, he shoots Lilly and Stream shoots him.
The title, Upperworld, is a play on the common idea of the 'underworld'. It sounds goofy, but you quickly see how it plays into the film at large. While the crime film output of the 1930's focused on the gangsters and the thugs, as we all know, the people with all of the money make the rules.
Up until Stream pulls the trigger is the first half of the picture, which plays with a lot of ideas of the rich and lazy and a number of interesting nods towards looking at how libertarianism defines Stream's lackadaisical moral code. His boat's captain rallies against public beaches, Stream complains about taxes, and he even has a police officer fired for daring to pull him over, etc. While he's a butterball whenever Lilly shows up, one can't shake the impression that there's something nastier that's going to emerge.
There's even one boisterous scene where Warren William dons the disguise of the Big Bad Wolf and sings along to Lilly's excited piano playing. "Here he is," the movie says. "One sadistic immoral bastard!"
Then the gunfight. And then we're in a different film. Nothing set up in the first half pays off, and, in fact, rarely does it make sense.
Spoilers begin.
Immediately after the murder, the film switches gears and becomes about the cop that Stream had fired trying to pin the murder on him. Stream bungles things almost immediately, switching ammunition between guns and trying to make it look like an inexplicable murder suicide. The cop has his number, and even has proof that Stream is covering it up.
Alex Stream is arrested. He turns to his wife, who had recently repledged her love to him… and Alex squarely puts all of the blame on her.
Suddenly, the film is no longer about how childish Alex is. It's not about him carrying the affair on behind his wife's back, or the man he killed. He puts the blame for all of his actions at Hattie's feet because she was too busy to have time for him, and, outrageously, the movie seems to go along with it.
This is an extremely Code enforced sensibility muscling into the film. The brief early 1930's era of liberated women was quickly coming to a close, and the films shift from blaming Stream's uncomplicated and unsavory personality to Hattie's desire for fun comes across as reductionist. Especially since Hattie had suffered no moral lapses in the course of the picture!
Worse, the film's premise about corruption and power is also quickly jettisoned. Police Officer Moran's investigation is clearly based on getting revenge on Stream for getting him demoted and essentially ruining his life, but since the point of his revenge is to prove the man guilty of murder which the audience knows Stream did commit, it becomes simply aggravating when the film ends with the officer in a jail cell and Stream contently going on his way as if nothing had happened.
Even worse yet, the film's themes of power and corruption going hand in hand absolutely dispels by this point, so when Moran's commanding officer accidentally destroys the evidence needed to prove Stream's coverup, it's not the film furthering the themes of collusion, but lacks any overt indication one way or another.
"You're as much of a child as Tommy is!" Stream is told in the film. What Upperworld ends up being about is neither a bully getting his comeuppance nor an adolescent growing up. It's a kid getting smacked on the hands for stealing a cookie, him claiming he never wanted the cookie in the first place, and everyone praising him for it.
Spoilers end.
Even if Upperworld is schizophrenic, there is some enjoyment to be had. Ginger Rogers, in one of her earliest roles, is fun as the carefree but loving Lilly. She never comes across as cheap or disingenuous, and her enthusiasm is infectious. Warren William also manages the best he can, and could certainly play a cad with a heart of gold in his sleep by this point.
The other actors are game too, with Andy Devine as the inept chauffeur getting a couple of fun moments. He becomes Stream's confidant, and explains his theory of picking up women at libraries; there they read too many romance novels and it goes to their head.
Again, all of that being said, the movie is just a mess. If the movie were a joke, the first half would encompass, "Guess what?" and the second half would proudly announce, "Chicken butt." That's what you get from Upperworld.
Mary Astor: Most Certainly in This Film
I picked this movie to discuss for the Mary Astor Blog-A-Thon hosted by R.A. at Silver Screenings and Dorian at Tales for the Easily Distracted. Astor is second listed in the cast, and even gets a number of fun outfits
And that's about all I've got for her. She plays the dutiful but frivolous wife, and does about the best that can be done with such an undercooked part. She's sweet when she wants to be but mostly just an obstacle and hindrance here, shocking considering she preoccupies so little of the movie's attentions. She probably has less than ten minutes of screen time in the 73 minute film, with Ginger Rogers and her bubbly enthusiasm running away with the film's best parts.
I've seen Astor in other parts– Red Dust and Other Men's Women come immediately to mind– and she's always a reliable presence, someone who embodies grace and generosity in her roles.
When Upperworld was made, her personal life was preparing for a turbulent change of course. She was a year away from being sued for divorce by her second husband, whom she had met when he had been the therapist attending her after the death of her first husband. This would result in a huge scandal as many of her affairs would be publicly revealed, but the publicity also helped promote her next picture (and one of her best remembered), Dodsworth.
Dodsworth is also worth mentioning here as it follows the same plot outline as Upperworld, though in that case Astor is playing the woman who makes the rich man sit up and appreciate life. If you want a studied measure in contrasts between intelligent and sloppy film making, it may be worth to put the these two films together.
Proof That It's Pre-Code
A very blatant extramarital affair is at the center of the story.
The murders in the film aren't gory or horrific, though showing how Stream tried to get away with it would be a no-no later on.
Skeezy Lou smacks Lilly around when she pulls a gun on him. From my readings, Ginger Rogers fans don't seem to like this very much.
Lastly, the Burlesque show is really… burlesque-y. Here they are rocking out to "Shake Your Powder Puff":
Gallery
Here are some extra screenshots I took. Click on any picture to enlarge!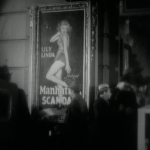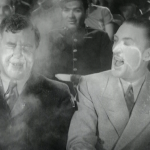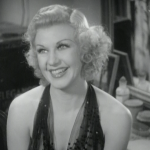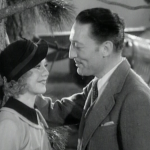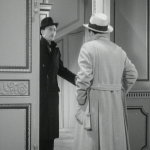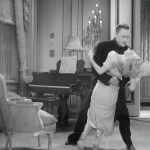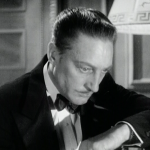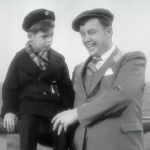 Trivia & Links
As noted above, this post is a part of the Mary Astor Blog-A-Thon, which probably has many much more distinctive entries about Astor herself available.
WarrenWilliam.com (run by some joker named Cliff Aliperti) goes into the details on this one, but even he admits that Rogers waltzes off with the show.
TCM, in fact, bases their entire essay on the film on Rogers and how she was on the cusp of stardom with this role.
Andrew Wickliffe at The Stop Button gets right down to the brass tacks and hammers this one good. He, too, likes the William and Devine chemistry, but also agrees with Cliff that the film feels split in two.
Glenn Erickson over at DVD Savant smells a mystery in the air and tries to figure out just why the film has such a schizophrenic ending. He points out that IMDB lists several parts that were cut, and theorizes about different ways the plot could have gone in. It's entertaining and interesting, even if it's a long shot.
Mondo 70 calls the film William's last great Pre-Code role, and is one of the few people to agree with me on Officer Moran's character arc and Toler's performance. See, I'm not completely nuts. Usually.
The Warren William page on Facebook (which I know I follow) pointed out a cute in-joke: during Stream's drive around the city early in the film, he passes a  billboard for the 1933 comedy Goodbye Again— which Warren William also starred in.
Awards, Accolades & Availability