Mae Thorpe
Dorothy Hall
June Thorpe
Judith Wood
Joseph Von Schrader
Paul Lukas
Directed by Dorothy Arzner
Released by Paramount Pictures
Runtime: 77 minutes
Proof That It's Pre-Code
One of our leading ladies gets fired for not sleeping with boss; of course, this is the 'nice guy' who later reneges on his decision.
Not really a specifically pre-Code moment, but one character gets asked if she wants cigarettes and she laughs, "Whaddya take me for? Of course I smoke!"
The women in the story live at a boarding house in New York City and must "sign the book" every time they're staying out overnight. One resident visits her aunt in New Jersey every Saturday night, giving all the other girls a big wink as she leaves.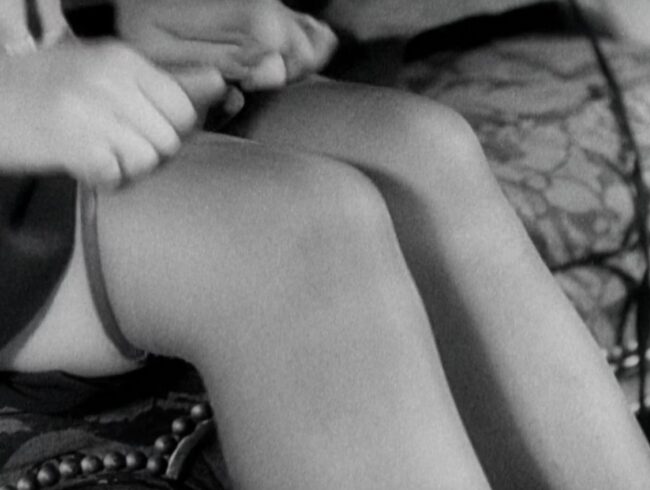 A wispy Zasu Pitts-lookalike runs the boarding house's elevator and seems to have a fascination with Mae in certain scenes.
Lots of ladies dancing together.
When things are getting wild, it's time to break out the gin. Yes, even for the pregnant woman.
Pregnancy outside of wedlock.
Working Girls: What a Way to Make a Living
"Have you got a gun? We're going to a wedding!"
When I first started writing and reading about film outside of just watching them (gasp, can you imagine), Dorothy Arzner was often relegated to less than a footnote. Yes, there was a single female director active during the fabled "Golden Age" of Hollywood, but she wasn't that impressive, don't bother tracking down her films, and, of course, were made by Paramount, owned by Universal, and thus impossible to find.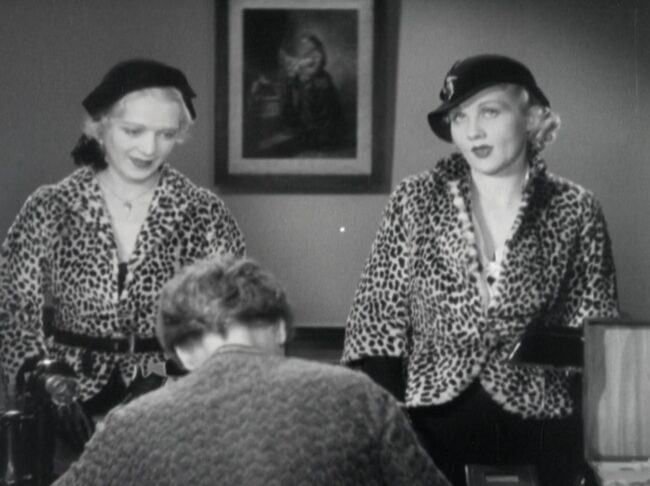 Opinions have evolved over the last twenty years, as people outside of New York and Los Angeles get a chance to see her films once again on top of a genuine movement to highlight and celebrate diverse viewpoints in film making. Arzner's Working Girls, made during her busy early-30s period, has a lot of nice, subtle touches. While it's easily identifiable to being a product of early 1930s studio system filmmaking, there are enough delicate touches that reveal a deeper understanding of the trouble these characters are suffering through. Coming from a woman director, woman screenwriter, based on a play by a woman based on a book by the same woman… well, it's undeniably unusual territory for a film of this time.
Working Girls concerns the Thorpe sisters. They've recently arrived in New York from the Midwest, and both eagerly seek two things: jobs and men. They immediately set themselves up in an all-women boarding house that operates under strict moral rules, but just so long as the manager is around. Hardboiled June Thorpe is out for a good time, happy to take what she can get in the romance department, while her sister, the delicate Mae, is on the hunt for a husband, the more handsome, the better.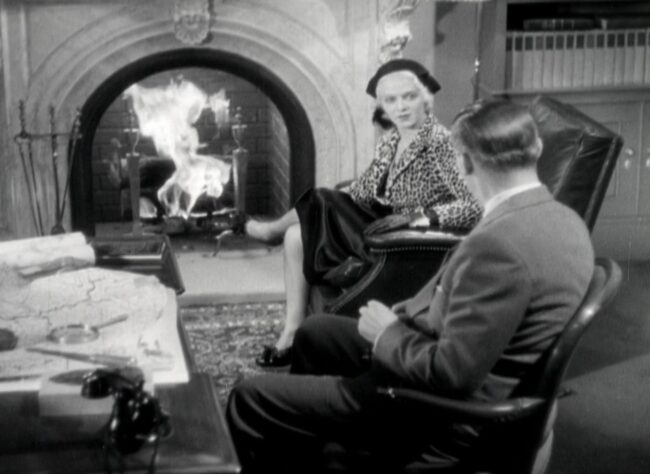 Well, Mae gets what she wished for in a man with Boyd Wheeler (Charles "Buddy" Rogers), but June is skeptical. Meanwhile, Mae also gets a job taking dictation from Dr. Joseph Von Schrader (Lukas), though he only offers the position to her after he sees her wet shoes and log legs. June, meanwhile, finds a well-paid saxophonist named Pat (ever-reliable Stuart Erwin), and she takes him to town, shaking him down for perfume flowers, and lots of fun nights at the club.
Mae gets serious about Boyd– the two fondly call each other 'big frog' and 'little frog' if you were looking for a reason to retch this paragraph– much to Von Schrader's chagrin, as the older gentleman had fallen for his flighty charge. She gets fired and decides to wait for the proposal from Boyd, even if that means starving. When he returns to town after a binge without notifying her, things take a dark turn in her life and June must help navigate with all of her hardboiled wits.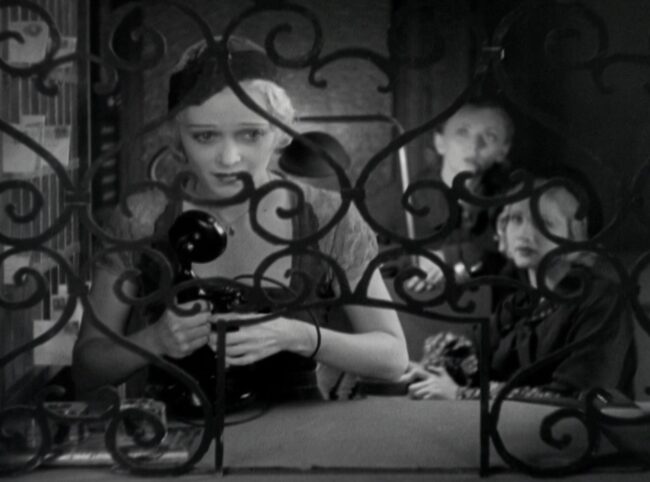 The sisters represent two sides of the new argument of the independent woman: is it better to love sincerely and invest yourself in the career of getting hitched, or is it smarter to develop a hide of iron and take love as merely another opportunity for riches and fun? This type of story isn't uncommon for the era, with plenty of similarities to glossier fair like Three Wise Girls springing to mind– the double dose of platinum blonde hairdos on the leading ladies certainly do little to keep any Harlow comparisons away.
But without any major stars at the helm (except you, Paul Lukas, you are always a major star in my heart), Working Girls exudes a rough hewn charm. Everything, from the cheap and identical cheetah-print coats Mae and June arrive in to the stuffy boarding house to the chip on June's shoulder have a chunky reality built in.
One of the most demonstrative moments of the film is a short one, completely unrelated to anything in the film outside of the themes of an omnipresent patriarchy. Around the 64 minute mark in the movie, June is walking down the street absorbed in thought when an unseen cabbie hurls a "Hi, cutie!" at her. Though she doesn't respond, she's obviously been shaken out of her thoughts, enough so that she bumps into a fence as she turns the corner. She continues until she runs into Boyd and begins to chastise him for his treatment of Mae. The moment is a beautiful example of a character beat, completely unrelated to the story but still saying so much about June and the world she inhabits. These types of things were especially rare in the rat-a-tat world of studio filmmaking, so it being here genuinely thrilled me.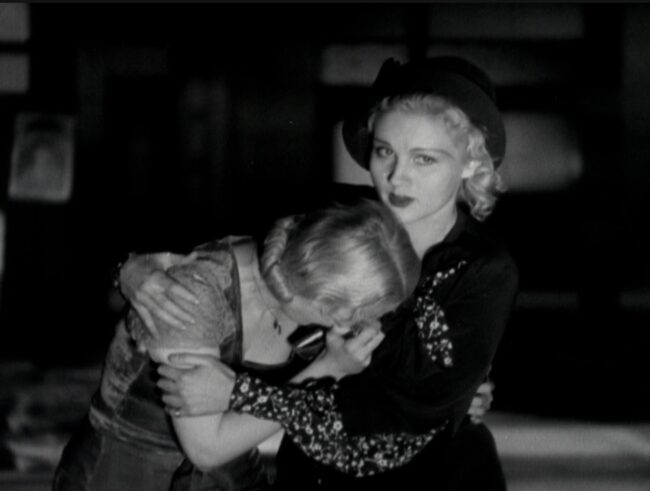 Unfortunately, for all of its attempts at raw emotional display, the film flubs its finale. While I'm not saying all movies have to have unhappy endings (The Wizard of Oz probably earned a happy ending, maybe), the final ten minutes features a reversal by one character that seems manufactured, and the contrived wedding that results makes a lot of the film seem pointless in retrospect.
That speaks to another weakness of the film, Dorothy Hall's jittery performance as Mae. Mae is a mess of a character, someone who looks like she's copping Harlow while yodeling a number of her lines. As the naive side of the coin, she's perhaps too innocent for the era, or any, really, and the performance undercuts some of the movie's pull.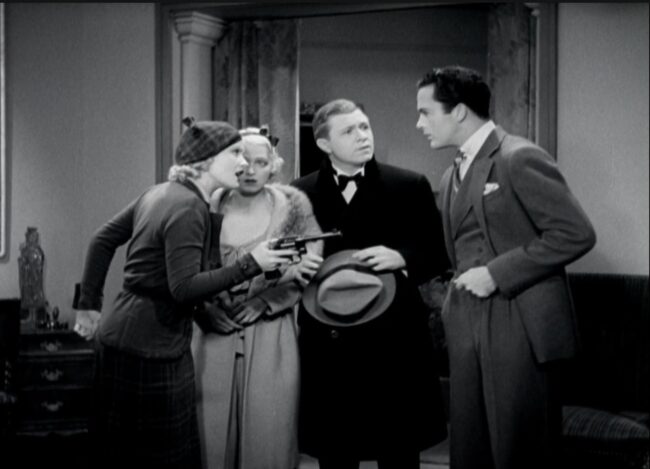 On the flip side, Judith Wood as the other central performance does an excellent job showcasing both vulnerability and the shell she's built up. The rest of the supporting cast is good too, from a loquacious, handsome Paul Lukas to a truly scummy Buddy Rogers. Also, shout out to Frances Dee, here in an almost-silent role as Rogers' high society fiance who manages to explain her character's entire relation to him with a single look from the couch.
Arzner excelled at finding little moments and characters that tell the story– think the corkscrew wedding ring in Merrily We Go to Hell— and that's the genuine pleasure to be found in Working Girls as well. It's a sumptuous, playful film with a lot of heart to boot.
Screencaps
Trivia & Links
Over at Senses of Cinema, they call this "a brutally honest film" and talk about its bonafides:
Arzner depicts the drab life of these women, and the men who flit about them, with a great degree of compassion and dry humour. Zoë Akins' screenplay is based on a play, Blind Mice, written by veteran Hollywood scenarist and novelist Vera Caspary, working with Winifred Lenihan, which in turn is based on Caspary's novel Music in the Street, featuring a nearly identical plot line, and many of the same characters. It is worth noting that Caspary went undercover at a rooming house for real life "working girls" to do research for her novel[.]
Since I couldn't cram it in above, I did want to note that character actress Claire Dodd has a very brief role as a woman who is a head taller than every other person in the movie.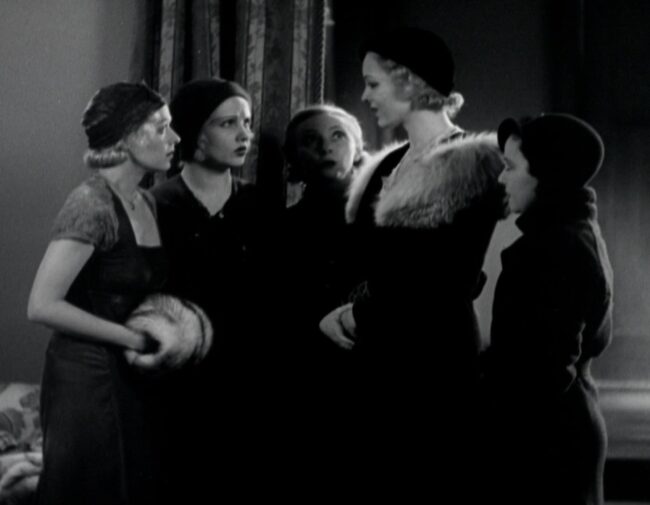 Awards, Accolades and Availability
A rare one, Working Girls is currently available on the Criterion Channel for a limited time.
More Pre-Code to Explore