Joe Holt
Joe E. Brown
Alice
Ginger Rogers
Sam
Allen 'Farina' Hoskins
Released by Warner Bros. | Directed by Lloyd Bacon
Run time: 70 minutes

Proof That It's a Pre-Code Film
There's a bird poop gag, but that's the most I can muster.
You Said a Mouthful: Toothy
"Suppose you thought a man was a great swimmer, and it turns out he couldn't swim a stroke. Would you care any less for him?"

"I certainly would!"
I'm really worried that Joe E. Brown may be growing on me. The large mouthed comedian, whose usual modus operandi is simply a high pitched yell as he's tossed from one indignity to the next, gets a nice respite in You Said a Mouthful in the form of an unexpected sidekick.
That's Allen Hoskins, or, as he was known with the rest of "Our Gang", Farina as Sam. Here he's the accidental adopted son of hapless inventor Joe Holt (Brown). What's nice? No one seems to really notice Farina's race. He's a wacky, bossy kid who gets to push our hero to greater things. He's a sidekick, but smarter and save's his 'father's butt more than once– even if it involves dropping an anchor on his head.
Joe is terrified of swimming and will do anything to avoid it, leading him to create an unsinkable bathing suit. Hijinks ensue when he's mistaken for a world champion swimmer, with the possibility of beautiful Alice (Rogers) being the prize. The mistaken identity leads the cowardly Joe into a number of situations where he desperately tries to fake sick or cheat, but he ends up making a treacherous marathon swim from Catalina to the shore while Alice and Sam cheer him on.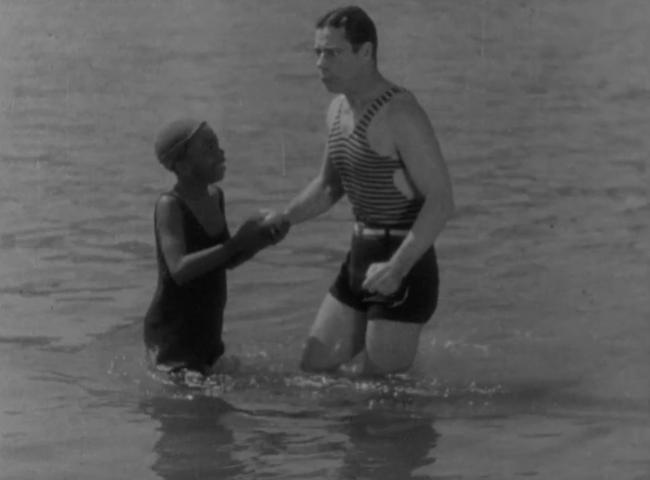 There's nothing spectacular here to recommend seeking it out, but if You Said a Mouthful happens to be on, it's a pleasant diversion. Bacon's direction is fine, there's some great location work at Catalina, and Brown playing a nerd is kind of cute in that Jerry Lewis way. It also helps that Ginger Rogers, who is at her peak perkiness, is adorable as the love interest and not completely helpless as these ladies tend to be.
Oh, and Brown gets a couple of self serious monologues where he reflects on himself like a high pressure radio announcer. There's a weird, joyful energy to the whole thing, and the moral– what we believe can sink or swim us– is pretty adorably articulated to boot. Nothing great, nothing terrible, but better than the average Brown programmer by far.
Gallery
Click to enlarge. All of my images are taken by me– please feel free to reuse with credit!
Trivia & Links
TCMDB talks about Brown and Rogers' relationship:
A former circus acrobat, semi-pro baseball player, vaudevillian, burlesque comic and Broadway star, Joe E. Brown became one of the favorite comedians of the early talkie period, and one of Warner Bros.' top moneymakers. Ginger Rogers had arrived in Hollywood in 1930, working first at Paramount, then at Path. By 1932, she was dating Warner Bros. director Mervyn LeRoy, who suggested her as Brown's love interest in The Tenderfoot (1932). In her autobiography, Rogers recalled Brown's kindness to her. "Considerate, friendly, kind and thoughtful, he was everything you could wish for in a colleague. Though he was the star, he took the time to make sure I was okay and kept thinking of ways to turn my face to the camera." So she was delighted to work with him again a few months later in You Said a Mouthful (1932), and found the experience equally gratifying.
Awards, Accolades & Availability
More Pre-Code to Explore