Death
Fredric March

Grazia
Evelyn Venable

Sir Guy Standing
Duke Lambert

Released by Paramount
Directed by Mitchell Leisen
Run time: 80 minutes
Proof That It's a Pre-Code Film
"I'm too restless for marriage. Besides, I've had that once."
Death Takes a Holiday: Knocking on Heaven's Door

"A moment ago I only knew that men were dust and their end was dust. And now suddenly I know for the first time that men bear a dream within them, a dream that lifts them above their dust… and their little days. You have brought this to me."
There are few very self-conscious pre-Code 'art' films: I Am Suzanne, Strange Interlude, Zoo in Budapest, The Sin of Nora Moran, and a few other films made by high-minded studio executives who attempted to graft the experimentation of Broadway onto studio-built motion pictures. Often these are made as outreach to city audiences– surely no one in Peoria was clamoring for Strange Interlude— and to itchy producers. If you were making an art film, you could, it is argued, be making art.
Death Takes a Holiday is a very self-conscious foray of moving the metaphorical into film. While not as mechanical or stilted as Strange Interlude (nothing is), Death is a beautiful if creaky fable brought to life with all the haunting beauty Paramount, arguably the most artistic studios of the era, could bring to bear.
The film begins with a celebration, as a group of aristocratic revelers are headed home from a festival and partying among the rabble. On the way home, Grazia (Venable) sees a shadow in the road as the group's roadsters swerves through the hills. "The strangest shadow is following us," she intones, as her fiance Corrado (Kent Taylor) grows concerned; her obsession with what lies beyond the natural world unnerves him.
Back at the palace, after his guests have gone to bed, Duke Lambert (Standing) is startled when that ghostly shadow arrives and announces itself as Death. It will be staying with him the next three days so that he may learn why men fear him so, and he will take on the disguise of Lambert's already-expected friend Prince Sirki.
Lambert is petrified– Death is already equal turns peevish, obtuse and morose. Now Lambert is stuck hosting a sudden screwball comedy under his roof as every eligible woman eyes the newly incarnated form of Death (looking suspiciously like Fredric March) with ravenous eyes, even if "Sirki" is almost completely unable to contemplate the point of any of the earthly pleasures being presented.
Death Takes a Holiday is an interesting mix of sober pontificating and pointed comedy. Much is made not only of Death's absence (around the world, disaster reports are accompanied by the disbelief that there are no casualties) but of his complete confusion with the ways and even niceties of mankind. Grazia's own morbid proclivities are what finally throws Death through a loop; what does it mean when a love of Death transcends death itself?
If you're getting a headache just reading that, I don't blame you. Death Takes a Holiday is a trip. Sometimes the movie fascinates, sometimes the movie drones. The film's atmosphere is dreamlike and airy, dancing about like shadows and whispers. But it also doesn't really contain much of an insight, other than shooting hypotheticals ("has it ever occurred to you that death may be simpler than life?") across the bow and letting them marinate in the audience's head.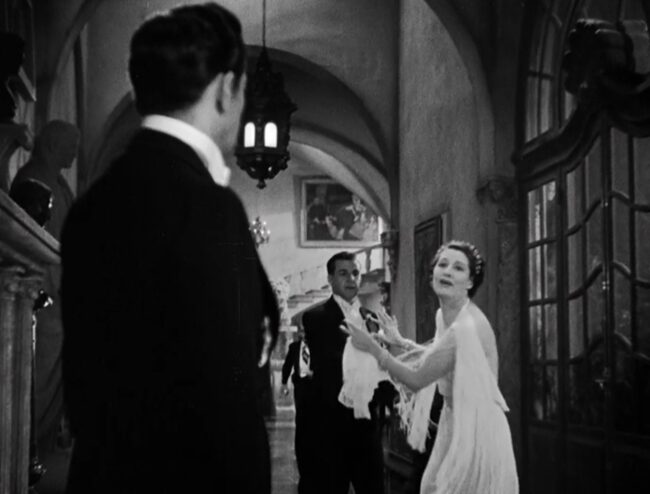 The whole thing is propelled by its concept, and if you can't find yourself invested, there's not much else to enjoy– besides, of course, Fredric March in a tight uniform, tickling that Hungarian accent.
For all its interminability, Death Takes a Holiday may be the most appropriate watch to help wrap up the year 2020. Are we not facing death every day? Isn't it nice to watch a movie where you can at least lob a few questions at it and then drift off into the great mystery on your own terms for a bit?
Screen Capture Gallery
Click to enlarge and browse. Please feel free to reuse with credit!
Other Reviews, Trivia, and Links
Remade as a TV movie in 1971 (with Myrna Loy and Melvyn Douglass no less). It was also made into an off-Broadway musical that I can't bring myself to watch. And in 1998 it was retooled as Meet Joe Black (what a title) starring Brad Pitt and Claire Forlani. The latter is famous, of course, for having what little of its box office success achieved by having the first trailer for Star Wars: Episode I: The Phantom Menace attached. Wow, this whole bullet is kind of a downer.
TCMDB talks about the film's creation and reception, focusing on special effects and its origins:
Death Takes a Holiday (1934) is based on a play by the Italian writer Alberto Casella; the English-language version, written by Walter Ferris, opened in New York in 1929. Although the play was a commercial success, Ferris subsequently found more of a steady career writing screenplays such as the Shirley Temple vehicles Heidi (1937) and The Little Princess (1939) and the adventure classic Swiss Family Robinson (1940). In the film adaptation by Gladys Lehman and the playwright Maxwell Anderson, the stylized flavor of the play's dialogue is retained, but the action is opened out and the dialogue flows more smoothly.
Weighed as entertainment, 'Death Takes a Holiday' will tip high for some, not so high for others. It is the kind of story and picture that beckons the thinker, and for this reason is likely to have greater appeal among the intelligentsia. […] The tendency to sermonize, at times by long stretches of dialog that will go over the heads of many filmgoers, is evident throughout.
Evelyn Venable, whose sweet, regular features look like they came straight out of a Victorian postcard, is best remembered as the voice of The Blue Fairy in Pinocchio. Here, as the love interest Grazia, she's quite convincing as an innocent, dreamy girl who seems to be yearning after something bigger than what life can bring her. She uses that beautiful, fluting voice of hers (a little like Eliza Doolittle, post-education) to great effect in her scenes with March, giving Grazia an out-of-the ordinary quality that makes his interest and her fate believable. Her character's attraction to Death can be taken as a sign that love can cross all boundaries. Or it can be seen, disturbingly, as a metaphor for a beautiful, sensitive girl being slowly drawn to suicide. The film leaves it open to be interpreted either way, but the suggestion of tragedy to the Grazia character gives the film a fascinating new element (not surprisingly, the modern remake made her a much more straightforward love interest).
Here's the film's original theatrical trailer:
Awards, Accolades & Availability
More Pre-Code to Explore