Proof That It's Pre-Code
"The son of a–!"
Disparaging why there has to be an even mix of men and women: "They're invited for dinner. Not for mating."
Extramarital sex:
"I know how many times you've been married…"
"I'm still married!"
"Why you dirty little–!"
"Don't say it!"
"… so and so…"
The film's ending conversation between Jean Harlow and Marie Dressler is very pre-Code. I guess I'll be the only person on the internet who doesn't spoil it for you, but it's almost worth sitting through the whole film for.
Dinner at Eight: Drama is the Appetizer
You know, a lot of days I think I was too hard on Grand Hotel. The great MGM ensemble that won Best Picture for 1932 certainly had its flaws, but it had charm. Dinner at Eight, which features a number of the same actors and the same vignette-styled structure, doesn't leave nearly as indelible of a mark, even if it's got a few more stars and a bigger tableau to show off.
That may be because there's more stars, more plots, and more just plain 'more' that the whole thing becomes like Homestyle Buffet. Lots that you would theoretically like, but it's all overcooked. And there seems the distinct possibility that people have sneezed on it. … that metaphor fell apart, I apologize.
I've been subject to overwriting plot descriptions lately, so let's make this easy. Nine characters, nine paragraphs of plot summary. Let's go.
Mrs. Jordan (Billie Burke) is preparing for a fanciful dinner to celebrate the arrival of a big businessman to the city. She's beset by a number of issues– a husband with a heart issue, a daughter who seems to be losing interest in her fiance, servants who keep stabbing each other, and, of course, dinner guests who keep forgetting that they're supposed to come for dinner.
Oliver Jordan (Lionel Barrymore) is her long suffering husband who's the third heir in a shipping line. His company has been hit hard by the Depression, and someone is sneaking around, buying all of his company's stock under his nose. He's getting antsy about it, which isn't helping his heart condition.
Carlotta Vance (Marie Dressler) is one of the majority stockholders. An old stage actress, those stocks are the only wealth she's got left. Oliver had proposed to her many years ago, and she remembers it fondly– just like all of the other male admirers over the years. Now though she mostly spends her time with her precious pekingese and desperately trying not to dwell on the past.
Carlotta is duped out of her stocks by Dan Packard (Wallace Beery). He's a wheeling and dealing businessman who's angling for a cabinet position. He's going to get there by buying out his competition and making all the money he can get his paws on.
His brutish nature is complimented by his wife's lasciviousness. Kitty Packard (Jean Harlow) spends most of the film in her luxurious apartment wearing nearly transparent nightgowns. She may sound like an airhead, but she's just as merciless as Dan. She sees an invitation to the Jordan's party as a sign of kindness, and sets out to use it to teach her husband manners.
This may or may not involve an affair with Dr. Talbot (Edmund Lowe). Talbot's a weak man, who can't keep his stethoscope to himself, a sad fact that his wife lives with. They're still very much in love, and she promises to remain his doormat as long as he promises to keep coming home to her.
Talbot's a good family friend to the Jordans, and that includes their teenage daughter Polly (Madge Evans). She's engaged to a young man of some societal importance, but she's in love with an actor. Bad luck for her, he's a ham.
Larry Renault (John Barrymore) is such a ham, in fact, that the transition from silent film to talkies have left him completely in the dust. Better known as 'The Great Profile' (exactly like the actor that plays him), Renault is still living above his means in hope that he'll snag a part on Broadway, but his alcoholism is holding him back. He knows he's washed up. That's the tragedy of Larry Renault.
Kane (Lee Tracy) is Renault's long suffering agent. He's already $500 in the duff on him, and his last attempt to get him a part in a show sees Renault's ego kick into overdrive. When he finally realizes that Renault is nothing but a spiteful alcoholic, he tells the entitled star what he truly things of him. After his departure, Renault has to finally come to grips with the reality of his situation.
And, eventually, most of these people have dinner together. That was a painless nine paragraphs, right?
Between that massive wall of plot, we're left with a lot of actors doing a broad mix of comedy and drama. MGM brought out many of its biggest guns here, and it's surprising to see whose work floats to the top.
Well, maybe not that surprising. Director George Cukor was well known for his emphasis on female actors, and that half of the cast here gets nothing but the best. Carlotta is a nice change of pace for Dressler; normally confined to charming portrayals of down-to-earth women, here she gets to show off a more burlesque personality. Billie Burke's self-absorbed mother figure is quite funny, but grounded in a sweet way. Madge Evans does a good job of towing the line between spoiled brat and lovestruck fan as well.
And I'd be remiss not to mention Jean Harlow. Her face is all over the posters and publicity for the movie for a good reason. She'd perfected her 'gold digger lacking a heart of gold' persona by ways of Red Dustand Red-Headed Woman, and Kitty Packard takes it to the next level. Not only is she a double dealing cuckolding wife who gets pretty much everything she wants, but she gets several occasions to completely dominate and humiliate her husband, played by the brusque Wallace Beery. Not an easy task.
John Barrymore is often singled out for praise for his role here as a washed up alcoholic actor, since, in retrospect, many film historians see a great deal of his own life in the performance. Barrymore wasn't quite as washed up at this point in time (he was still one of MGM's biggest stars), but his drinking and ego would soon catch up to him. A lot of the film's plot becomes focused on his Renault, though, who is a character of such ridiculous bad luck it's nearly impossible to care about him. After a sequence of several different people marching into his hotel room and forcing him to face reality, it's surprising the devil himself doesn't show up to rub his butt on Renault's face.
Cukor's a director whose visual style I've never really seen eye-to-eye with. He doesn't concentrate on visuals but on coaxing performances out of actors, and while good acting is all well and, uh, good, it usually results in kind of a flat looking film. Dinner at Eight is based on a stage play, which if you didn't read in the credits, you would have picked up on fairly quickly. His direction often undermines the pacing, and while these actors are acting well, you still can't escape the sneaking suspicion that you are watching actors act.
The most annoying thing about it, though, is that Dinner at Eight finally comes together beautifully at the end. The laborious dramatic grind has come to a close, and as soon as we see the different stars take turns flirting with each other's expectations waiting for the appetizers to be served, the movie finally becomes the sparkling comedy that it was always drifting towards. The film briefly becomes some level of undeniably great… and then it ends.
After all of the dramatics have been concluded and the table has been set, what does it all mean? Mythical Monkey believes the moral is simply "evolve or die", while TCMDB posits that it's about how people deal with the loss or potential loss of status. I think it's a good mix of both, showing how the men and women of the Depression were coming to grips with the choices they'd made in assuming that prosperity would never end. However, it's important to note that while the Packards pretty much end in a relationship mainly consisting of blackmail, Mr. and Mrs. Jordan succeed in spite of their foibles. The ability to care for one another and to be kind to others, even reluctantly, puts them ahead in terms of wealth and happiness than most of their contemporaries.
The relics do get left behind, but a big hiccup comes in Polly's plot line. It's not about status, but simply learning a truth about the human condition: some people become obsolete. Now we can argue whether or not Renault's final scene is romantic or foolhardy, but one can't escape the fact that the man has entered such a spiral that he has barely any recourse but the choice he makes.
The film's complications make it richer, though its many dilemmas are still too stilted to matter much. Dinner at Eight is fascinating at worst, but the film is about watching great actors act and not looking at the details too closely.
Gallery
Here are some extra screenshots I took. Click on any picture to enlarge!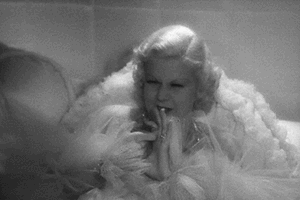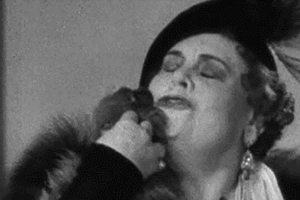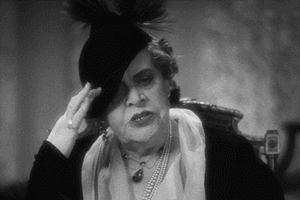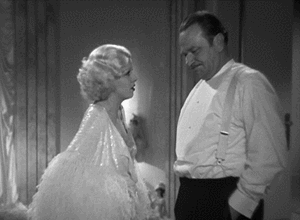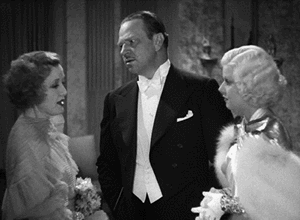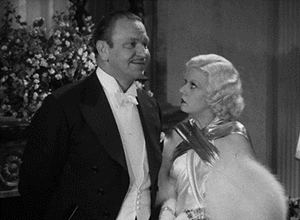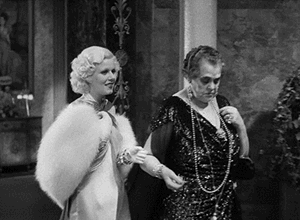 Trivia & Links
If you get the DVD, it includes a short satire of the movie called "Come to Dinner". There's a couple of good jokes in there and some of the likenesses are eerie (I couldn't tell if that was really John Barrymore at first!), but 1930s satire seems to mostly revolve around musical numbers and women in incredibly short skirts. If you're wondering why MGM seems to be mocking their own product– well, they're not. The short was made by Warner Brothers.
Also on the DVD is a short documentary from TCM called Harlow: The Blonde Bombshell. Sharon Stone is the slightly awkward host that covers Harlow's life from her small role in The Saturday Night Kid to her breakout performance in Hell's Angels and through many of her hits. It's a pretty decent overview that recounts a lot of memorable bits, as well as her many tragic love affairs. If you really want to get bummed out, watch some of the clips from Harlow's works post-1934; her persona lost her verve.
The always well-written Mythical Monkey chalks up John Barrymore's performance as the best of 1932-33. He explains his theories on 'ham' acting, how Barrymore embodies it, and then how Barrymore embodies it in a character so much like himself that it becomes tragic. He further notes, "Barrymore's Renault is by turns buffoonish, arrogant, reflective, bullying, anxious, humiliated, and ultimately, by remaining true to his idea of himself to the very end, somehow heroic." It's a very well-written argument.
GlamAmour lists this film among their 'style essentials', dissecting the fabulous gowns Harlow wears and discussing their fashion designer cred.
Film Fanatic is among the many on the middle of the road on this one– like Grand Hotel, no one agrees on which actor steals the show– and has some good links and comments about the film as well.
Marie Dressler's biography, My Own Story, is up for free on Archive.org, so dive into that if it so suits you. She doesn't mention this film much as it had just completed production when the book was being published.
There's a small in-joke here for movie buffs, as Mrs. Jordan's aunt bemoans her husband's anti-social activities. "Ed hates anything that keeps him from going to the movies every night. I guess I'm what's called a Garbo widow." Garbo, of course, was in Grand Hotel with several of the other cast members here.
I know I'm probably the only one, but John Barrymore's character is sleeping with the daughter of Lionel Barrymore's character kind of struck me as weird. But that's probably just me!
If you notice some bad dubbing when Dressler talks about her dog named Tarzan, that's because it was originally named "Mussolini". Someone, somewhere, picked up that it probably wasn't a good idea to equate the dictator of Italy with a dog. At least not in 1933.
The Big Parade has a bunch of images for you, including one of the cast drinking Coke for an advertisement that's incongruous to say the least.
Lastly, I was impressed and delighted that they managed to fit in a cameo of MGM's trademark icon, Leo the Lion:
Primary Sources
Thanks to the Lantern Archive from Archive.org, a number of film magazines are free and searchable on the web. For kicks, here's a few things I found about the film from the fan magazines of the day. Click on the 'View Full Image' in the corner to be able to read the whole thing. Enjoy!
Awards, Accolades & Availability
This film is available to buy or stream on Amazon, and can be rented from Classicflix.