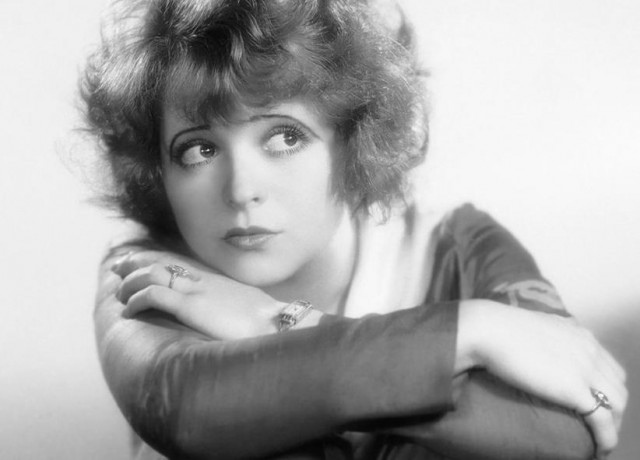 Clara Bow was an icon in 1929. She's appeared in more than 40 silent movies and was Paramount's biggest box office draw. Her big expressive eyes, hourglass figure, and madcap sensibilities captured the energy of the Roaring Twenties. In 1929, Paramount told Clara Bow it was time to start talking on the big screen. And she had two weeks to figure it out.
Born in Brooklyn in 1905, Bow grew up interested in athletics and feeling left out at school. Her love of movies led her to compete in a nationwide acting contest in 1921 where she landed a role in a film– but had all of her scenes cut out. She continued to pursue her dreams of being a star and landed a small part in Down to the Sea in Ships (1922) which got her career rolling. She moved to Hollywood in 1923 and her roles as one of the big screen's first flappers as well as her comedic sensibilities made her a star. She had her first starring role in Wine in 1924, and was soon signed by Paramount. 1927 would be the pinnacle of her career, with the starring role in It defining her as the generation's sex symbol.  That year she would also appear in William Wellman's Wings, which won Best Picture at the Academy Awards.
But 1927 was also the year that Warner Brothers premiered Don Juan and sound films went from novelty to mandatory. Bow had trouble with the conversion, as the clunky recording technologies often limited the energy of the direction. On her first talkie, The Wild Party, she also had trouble not looking at the microphones that hovered around her. Her popularity endured the transition, however, but Bow's free-spirited personal life and refusal to censor herself in the press led to rampant rumors about her, often sexual and uncouth due to her sexy screen image. Due to the added stress of her screen work, public haranguing, and the pressures of fame, Bow checked into a sanatorium and got out of her Paramount contract. At 25, her career was considered over.
Bow married actor Rex Bell in 1931. Though her popularity was still strong, she was growing tired of Hollywood's impossible standards and the continued hounding of the tabloid press. She had a few film offers after her rest. She finished out her career at Fox making the looney and memorable Call Her Savage and followed that with the unremarkable Hoopla. The last shot of Hoopla is of Bow dancing in front of a crowd, overjoyed as her fictional love affairs work themselves out. The look on her face is transcendent in those final moments, a touching end to a career that was often boundary pushing and taxing.
After her retirement in 1933, Bow never returned to film. She had psychological issues later in life, including paranoia and a suicide attempt in the 1940s. She died of a heart attack in 1965. But her legacy as a carefree flapper and one of the first sexually liberated sirens of the screen, continues to inspire.
Clara Bow's Pre-Code Filmography
The Wild Party (1929)

Dangerous Curves (1929)

The Saturday Night Kid (1929)

True to the Navy (1930)

Paramount on Parade (1930)
Love Among the Millionaires (1930)

Her Wedding Night (1930)

No Limit (1931)

Kick In (1931)

Call Her Savage (1932)

Hoop-La (1933)
Studios
Videos of Clara Bow

Bow has had a good share of documentaries about her. Here's a clip from Why Be Good? that talks about her transition to sound:
Here's a full documentary on Bow's life from the BBC:
Lastly, because if you haven't seen it, you should, here's her in the silent 1927 film It:
Biography of Clara Bow

Clara Bow: Runnin' Wild


by David Stenn
Clara Bow Sites and Links
Other Actresses to Explore