Wilbur
Bert Wheeler
Mary Marsh
Dorothy Lee
Ganzy
Robert Woolsey
Released by RKO | Directed by Edward F. Cline
Run time: 75 minutes

Proof That It's a Pre-Code Film
"Conjigating."
"He wants a room with exposure!"
"Are we going to allow that here?"
Ganzy's name keeps becoming 'Pansy'.
"This stuff makes you see double and feel single!"
Jobyna Howland goes through her list of husbands; the best she can say about her fourth husband was that he was nondescript.
During the action packed finale, Woolsey thinks he got shot in the rear end.
Hook Line and Sinker: Fishing for Fools
"I've just given birth to an idea!"

"My, how you must have suffered."
At some point you just do a comedy set in a hotel. You get the guests, you get the ghosts, you get all that. If  you play it right, there may even be some explosions.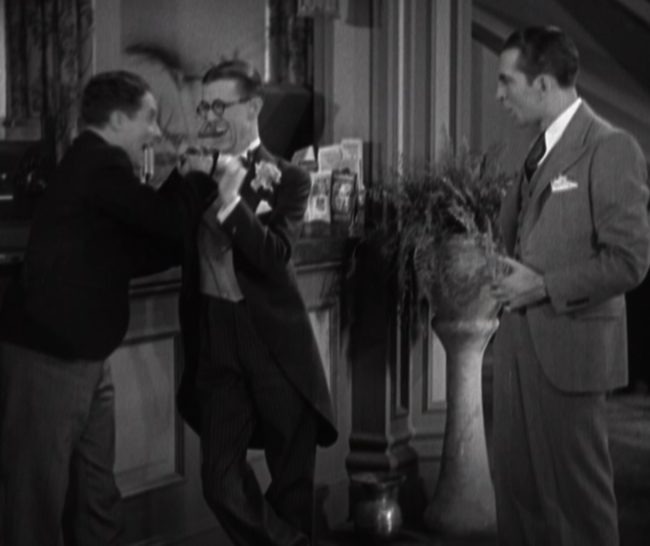 The first Wheeler & Woolsey collaboration to verifiably slip out of the realms of reality, Hook Line and Sinker gives the duo plenty of opportunities to let loose with their comedy instincts. There are good gags ("I think I'm right when I say you're wrong!") and bad ones ("I love the name of Marsh! It's so mellow!"). Some extended comedy bits work (the boys mistakenly misinterpret what 'being taken for a ride means' and get excited for a day out in the country) and some that really don't (the overblown finale that can't seem to pay attention to itself).
Here's the plot in case you're worried I'd skip it: Wheeler and Woolsey are a pair of insurance chiselers who meet Dorothy Lee's Mary Marsh by the side of the road. She's trying to escape marriage to a creep (played by Ralf Harolde), and is thus taking over her family's failing hotel. The boys offer to help her out with the endeavor, even if one of the newspapers on the hotel's front desk is still trumpeting McKinley's reelection.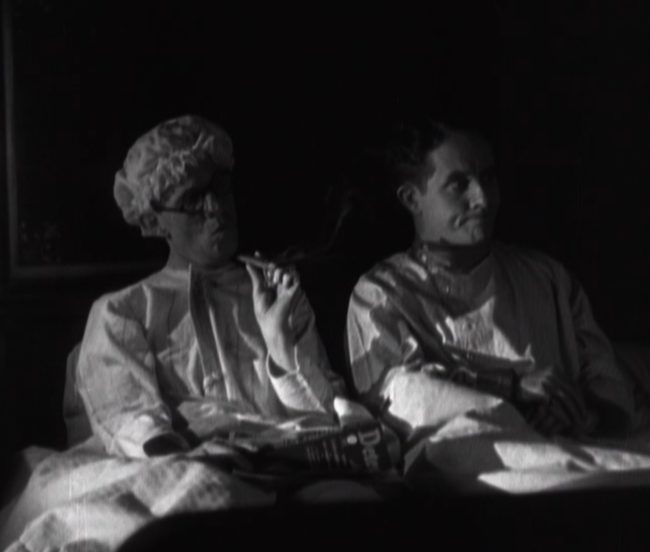 There's no musical numbers this go-around, but plenty of characters to help fill up the fairly-static frame. And some bits are great; I really like this banter in spite of myself:
"I think I'll commit suicide."

"That's the best idea you've had since you've got here."

"Do you think I'd hit my brain?"

"You'd have to be an awful good shot…"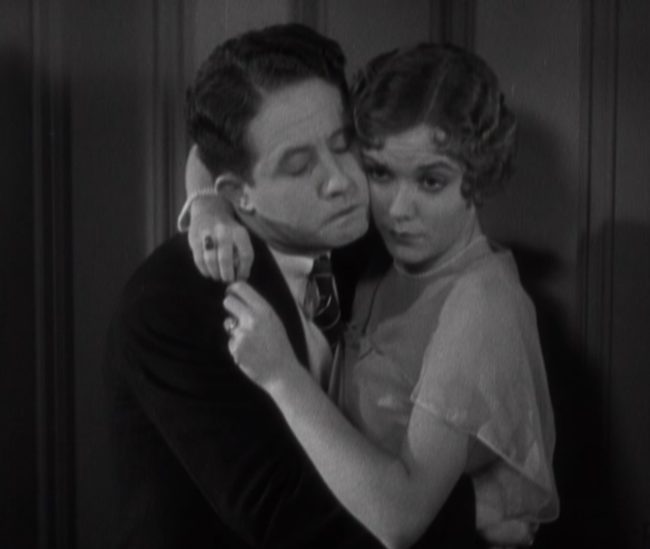 The biggest hiccup in Hook, Line and Sinker is that it lacks any forward momentum. While more and more characters arrive, there's rarely time for them to work out their gags, let alone get much in. Threadbare may be a good name for the aesthetic, and the movie, despite being clever in spots, still feels in want of something.
This places this one near the middle of the Wheeler & Woolsey pack, especially since it lacks much in way of imagination but can still produce a chuckle or two. All I'm saying is that if it's already in the DVD player and you're locked in the room anyway, you may as well give it a go.
Screencap Gallery
Click to enlarge and browse. Please feel free to reuse with credit!
Other Reviews, Trivia, and Links
Ed Watz's great Wheeler & Woolsey book shows him having a much different take on this one from me. While he calls the film "lesser", he assures his reader "it is no musty antique." Besides director Edward Cline bringing a comedy sensibility to the duo's work (their previous films were definitely filled with more overt grandeur), he also calls the climax, "an eye-opener, a thirteen-minute tour-de-force brimming with noirish overtones." Okay, Ed. He adds that Hook Line and Sinker was one of RKO's top grossing films of the year despite bad press, and it was only three weeks until most of the same cast and crew started shooting Cracked Nuts.
Awards, Accolades & Availability
More Pre-Code to Explore