Eva Lovelace
Katharine Hepburn
Joseph Sheridan
Douglas Fairbanks Jr.
Louis Easton
Adolphe Menjou
Released by RKO | Directed by Lowell Sherman
Run time: 76 minutes

Proof That It's a Pre-Code Film
Louis Easton gets involved with an actress– who stays the night.
Morning Glory: Delusion Du Jour
"My star shall never set; I've sworn to that too."
At one point in Morning Glory, budding, struggling starlet Eva Lovelace (Hepburn) gives a pair of Shakespearean performances to a gathered assembling of guests. They applaud, while C. Aubrey Smith, in all his fuddy duddy glory, whispers to one (and the audience) that she's just given a star-making performance. This is in spite of the evidence to the contrary– our own eyes and ears, where Katharine Hepburn is giving a performance like clockwork, with each spring whirr plainly audible to the audience at home.
In her Oscar-winning role (what), Hepburn plays Lovelace as a hopelessly principled girl with aspirations. She's thrown away her privileged upbringing to make it as an actress in New York City, and her dizzying level of self-denial is impressive. She falls into the orbit of theatrical agent Louis Easton (Menjou) a thoughtful Broadway producer who is still led around by the pull of his groin. He's accompanied by the more urbane but timid Joseph Sheridan (Fairbanks Jr.), a writer who aims for highbrow tastes against the grain of the other Broadway denizens.
Eva believes that Easton is her key to greatness, despite his smirks and lack of actual help. She attends that party I mentioned before and, drunk and half-starved, she spends the night with him. Easton regrets what he did, but Eva grips firmly onto her delusions and sees it as a sign that they're meant to do great things together. By the end of the film, where's she's done the Ruby Keeler bit and become a star overnight, Eva's going full Norma Desmond on her newfound success. (Watch the faded Broadway star's facial reaction as Hepburn shouts hallelujah to the stars in the film's final seconds– I think she knows she's seeing Eva's dream envelop her.)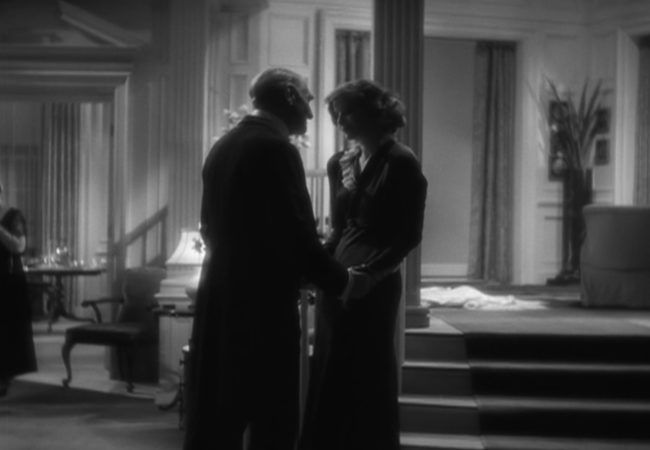 The part of Mary Duncan's Rita Vernon is somehow the most compelling in the film, a woman. She's seen everything and "knows where the bodies are buried". She's an acidic blonde, Bebe Daniels from 42nd Street kicked up to 11. In her best moment, she decides to leverage the show's popularity to negotiate a pay raise 15-minutes before the show opens. She's defeated– she is the villain– but her push for a decent stake in the production that she's made a success seems far more noble than sinister.
Fairbanks Jr. also turns in a good part as something a bit quieter and less overtly romantic than usual. It's interesting to see him play someone distinctly disliked for his own quiet intelligence– he sees through people, and that annoys everyone but the more easy-going Easton.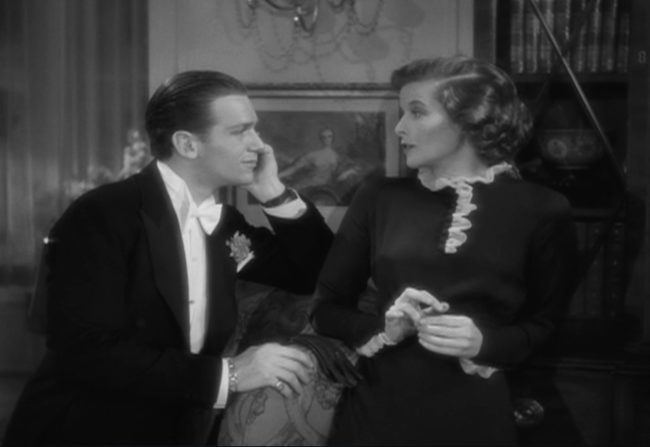 The movie itself is a bore, one of those pictures that feels like its entire story could have been told with just as much weight at Warner Brothers in a sixth the time. It's theatrical, with all of its energy focused on making Hepburn's character a bit of everything — prickly but likeable, intelligent but naive beyond all reason.
At one time in our history, the level of innocence Eva exudes must have seemed charming or romantic. Now it's outright dangerous at best. Hepburn's performance is just the type the Oscars love– one that does nothing but call attention to itself, it's own tics and neurosis. Hepburn is so much better in so many other films that this is best left in the remote dredges of her filmography, as best as one can.
Screencap Gallery
Click to enlarge and browse. Please feel free to reuse with credit!
Other Reviews, Trivia, and Links
One day while waiting to meet with producer Pandro Berman in his office, she saw the script for Morning Glory on his desk and began reading it. She was instantly enthusiastic, telling Berman, "That's the most wonderful script ever written for anybody." Berman told her it was intended for Constance Bennett, but Hepburn demanded it for herself. […]
Director Lowell Sherman understood actors; he had been a leading theater and film actor himself before turning to directing in the early 1930s. (One of his best performances was as the alcoholic director in 1932's What Price Hollywood?, his final film as an actor.) Sherman rehearsed Morning Glory like a play, and shot it in continuity in 18 days, skillfully developing the actors' characterizations.
 They have succeeded in delineating interesting characters, which is one of the strong points of the film, for, although one may not be greatly surprised at the ending, the actions of the various persons involved are never lacking in interest.
Fun reference: Rita Vernon sneers at one point, "Oh, I see. Wheeler and Woolsey playing straight for each other!" Wheeler & Woolsey were RKO's biggest moneymakers at the time.
Really, without Katharine Hepburn, we'd probably not even still be viewing Morning Glory today. Her take on Eva suggests more than a passing knowledge of obsessive-compulsive psychoses. When Eva starts on one of her talking jags, Hepburn freight-trains through it, barely breathing but still hitting the right marks, shifting into the various tangents as if they were the most logical choices for where to go next. The speeches are revelatory, not just as pieces of great acting, but for the character, revealing her vulnerability, her intelligence, and the power of her singular belief. It's the most complicated kind of denial, as Eva believes her own rationalizations even as she betrays them by calling them false. Hepburn never rings a bum note. She's just splendid.
Awards, Accolades & Availability
More Pre-Code to Explore