Mary
Ginger Rogers
Jack
Norman Foster
Eckbaum
George Sidney
Released by RKO | Directed by William Seiter
Run time: 73 minutes

Proof That It's a Pre-Code Film
We're introduced to Ginger Rogers via her slowly putting on a pair of stockings.
Foster gets in on the act as he's forced to run around in the rain in just his raincoat and boxers. A few ladies get an eyeful, too.
Jewish building manager Eckbaum catches his son drawing swastikas on the wall in chalk. He chases him off, even as his son cries, "Papa, it's for luck!" As TCMDB explains:
Although the father is understandably upset, the boy naively refers to the symbol's early history as a sign of good luck. Today it seems shocking that, even at so early a date, the Nazi threat could have provided the basis for a comic scene involving Jewish characters.
Mary has a date with her boss and has to use another person's apartment to greet him in. Unfortunately, that apartment is covered in nude photos of women, and, despite her protestations, her boss comes away thinking she lives with a drunkard as a kept woman. It's quite silly.
Just as silly– though less intentionally so– is a scene where Ginger Rogers enters the room and removes her blouse to reveal a bare back. When there's a reverse angle, we see her wearing a rather strategically placed scarf. She continues to undress for the shower, which is, as I'm sure you know, absolutely crucial to the plot.
Rafter Romance: High and Slighty
"Are you two married?"

"No, just living together!"
I think the word "charming" may be the most appropriate to pin onto Rafter Romance. An RKO picture of astonishing complexity for the time, it traffics in cultivated parallels to draw its humor, as well as plenty of cheesecake and corny winks to help.
The duality begins at the start: Jack (Foster) is a painter by day and a nightwatchman at, well, night. Mary (Rogers) is a telemarketer by day and at least she gets to sleep at night. Neither can afford to pay their full rent to Mr. Eckbaum (Sidney), so he crafts an arrangement: she gets the creaky roof apartment by night, and he gets it during the day. The two don't and can't meet, and quickly the invisible roommates begin to resent one another.
Needless to say, the two meet on the outside and a romance blossoms, though it's based on lies and plenty of miscommunication. Meanwhile, Mary is being chased after by her ruthless boss Hubbell (Robert Benchley, milking every laugh), while Jack is being pestered by a rich drunk woman named Elise (Laura Hope Crews, also stealing scenes) who could use a good gigolo in her life.
The two suitors with money represent a wealth of Depression-era temptations, while both of our characters obstinately remain their own persons. Jack stubbornly smokes a pipe and tries to ingratiate himself with Mary using a series of lies– it would probably be totally be off-putting if he didn't also deliver lines like "You'll never know how lovely you look framed by salami." with a dreamy grin.
Mary has some of the same troubles. As a young single lady, every man seems to imply (and hope) her situation is dishonorable, even though she's clearly fighting her way though the concrete jungle every day. Luckily, Mary has wit and a guardian angel in the form of Fritzie (Guinn Williams), a taxi driver who helps the many abused women of New York out whenever a good punch to a fresh fella is needed.
The result of these intersections is a movie that feels highly contrived, but one that still works thanks to the film's attempts to create a real world for the characters to inhabit. Mary and Jack live in a Jewish neighborhood and meet outside the local deli. Later in the film, there's a company picnic that the two attend, where we're treated to 1930s corporate team building, and it's a hoot– men sing the company's jingle and no one cleans up the trash afterward. Our leads rent a boat, glide across the water, and fall deeply in love.
Moments like this give the film a delicate air that helps surmount the sheer implausibility of its premise. The central performances are cute, and the interplay a lot of fun, as the two characters are both completely obnoxious and flirting madly with each other, little to the other's knowledge. Rafter Romance is a nice hidden comedic gem, one whose age and complications simply charm.
Gallery
Click to enlarge. All of my images are taken by me– please feel free to reuse with credit!
Trivia & Links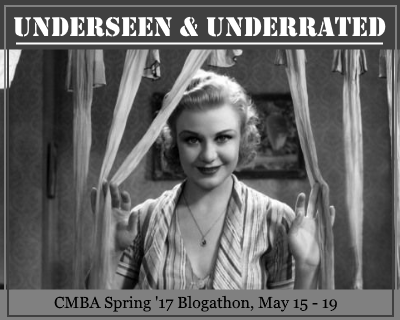 This one recent played at the 2017 Turner Classic Movies Film Festival in Los Angeles. I caught it there, and here's, uh, me on the film's strange rights history:
The movie was introduced by several TCM staffers and Leonard Maltin who discussed the difficulties involved in obtaining the film's rights. Marian C. Cooper bought them from RKO for remake purposes after he'd left, but he later gave away the film's copyrights as a tax shelter. That this movie and several others (including One Man's Journey and Double Harness) in legal limbo for decades. Funnily, the clearing of the legal rights were all kicked off by a letter to TCM that sent the staff there searching these rare films out and negotiating the rights to show them.
Then married to Claudette Colbert, Foster would later wed Loretta Young's sister and emerge as a director of many films (including the 1943 Joseph Cotten/Orson Welles Journey into Fear) and television shows. He also served as a writer on many of his film projects. During his tenure as a leading man in films of the 1930s, he appeared in two other films with Rogers, Young Man of Manhattan (1930) and Professional Sweetheart (1933).
Remade in 1937 as Living on Love with James Dunn and Whitney Bourne.
Awards, Accolades & Availability
More Pre-Code to Explore